The Republic of Georgia – a country as diverse as it is distinct.
Still largely unknown to tourists outside of Eastern Europe, when Georgia finally gets the international attention it deserves, it will be as an outdoor and adventure travel hotspot. From the peaks of the Caucasus mountains to Kakheti's rolling semi-deserts, the stony Black Sea coastline to Imereti's lush inland forests, there's a landscape and a slew of activities that go with it to suit just about every taste.
Add to this a vivid history of kingdoms and conquest, a brutal but imperative Soviet past and a progressive arts and food scene, and there's a serious case to be made for Georgia's towns and cities, too.
It's true: In this traveller's humble opinion, Georgia might just be the perfect all-rounder. To help you experience the best of what the country has to offer, here are 10 essential spots to incorporate into your itinerary.
Discover our Georgia Trips
The top 10 places to visit in Georgia
Tbilisi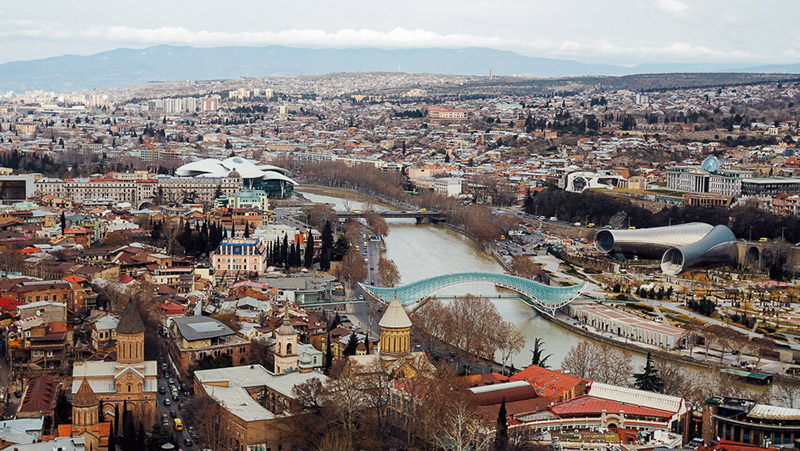 Europe, Asia or the Middle East? Georgia's capital city, Tbilisi, is a hybrid of different influences. You'd be forgiven for feeling a little disorientated.
It may be at a crossroads (both geographically and symbolically), but that doesn't mean Tbilisi is struggling with its identity – far from it. The religion, the culture, the food, the vernacular architecture and the very way of life here is all fundamentally Georgian. If you have no idea what that means, you'll have a wonderful time finding out.
The tumbledown courtyards and elegant balconies of the old town. Abanotubani's Turkish-style domed baths and right next door, Betlemi Street, Tbilisi's Jewish quarter. Soviet-era taverns, underground bakeries, converted factories and world-class restaurants. Provocative street art, and a fashion and electronic music scene that is coming into its own. From Bangkok-style food markets to Parisian-style boulevards, Georgia's biggest city offers up an enticing blend of East and West. Spend at least a few days getting to know Tbilisi, an up-and-coming capital to keep an eye on.
RELATED: 8 MUST-TRY GEORGIAN DISHES TO EAT IN TBILISI
Kazbegi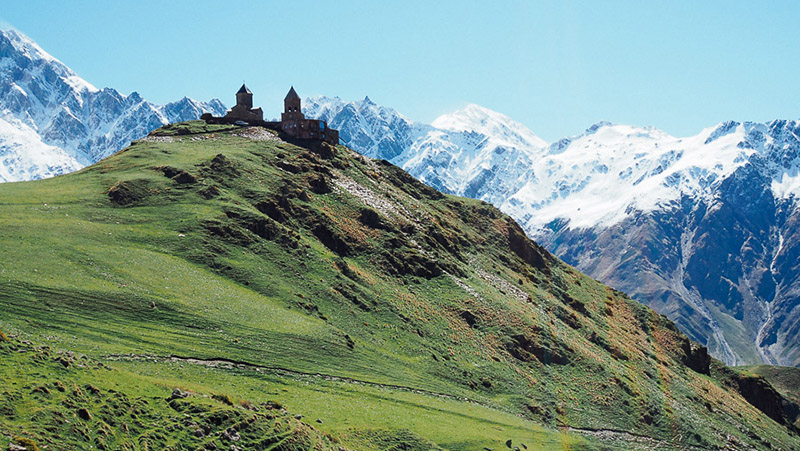 Just three hours north of Tbilisi via the spectacular Georgian Military Highway, Kazbegi (also known by its new name, Stepantsminda) has long been a popular high-altitude retreat. If you're on a tight timeline, it's the perfect place to get a taste for Georgia's dramatic mountain scenery without straying too far from the city.
The small town of Kazbegi is encircled by the surreal, perennially snow-capped Greater Caucasus mountains. Gergeti Trinity Church – perched over Kazbegi at 2,000m above sea level – is a must-see. Outside of winter, you can reach the church on a two-hour climb through alpine meadows. For the more intrepid, there are plenty of single and multi-day hikes that push deeper into the mountains and glaciers along the Russian border.
Back in town, relax at a homestay or treat yourself to a suite at Rooms Kazbegi, a former Soviet spa that has been transformed into Georgia's premier boutique hotel.
Kakheti
In case you didn't know, wine is kind of a big deal in Georgia – one of the first countries in the world to pioneer viniculture. Georgian wine is made by fermenting whole grapes (stems, skins and all) in an underground clay vessel called a qvevri. After a few days in Kakheti, Georgian wine country, you'll be very familiar indeed with this unusual technique and the distinctive vino it yields.
Base yourself in historic Sighnaghi, a charming town protected by high stone walls and watchtowers. Organise a driver and trace your way between dozens of wineries and cellar doors, including favourites Kindzmarauli and Shumi. The impressive Khareba winery consists of a series of long tunnels cut into a mountainside. It was supposed to be a bomb shelter; turns out the natural climate control creates the perfect conditions for storing wine!
Wine and worship go hand in hand in Kakheti. The area is also famous for its churches perched proudly on mountain tops, including Gremi and Nekresi Monastery.
Lagodekhi Protected Areas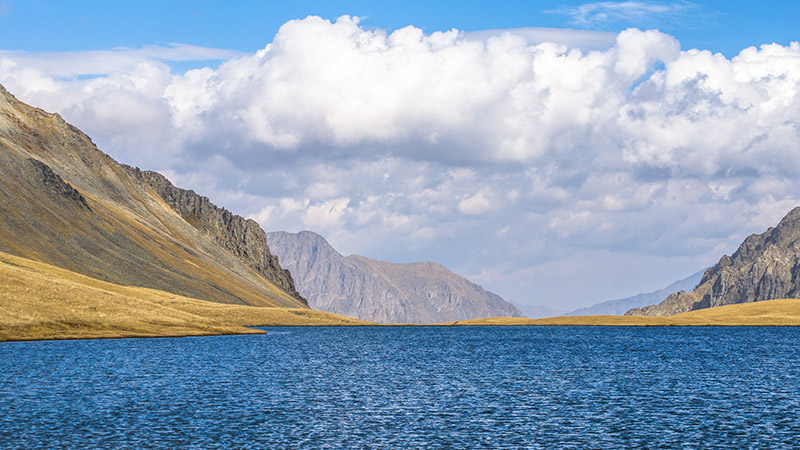 Located at the tripoint of Georgia's Kakheti region, Azerbaijan and Dagestan (Russia), the Lagodekhi Protected Areas cover 24,000-hectares of pristine forest and prime hiking territory.
Georgia's oldest nature reserve includes beech forests and alpine zones and is home to East Caucasian tur and brown bears. Of the four hiking trails (Black Grouse Waterfall, Ninoskhevi Waterfall, Machi Fortress and Black Rock Lake), the latter is the park's main drawcard. The 50km circuit can be completed in three days, sleeping in shelters along the way. The lake itself is shared between Georgia and Russia; you don't need a visa, but you will need to carry your passport in case you're approached by border patrol. All trails are weather dependent so make sure you do your research and check in with the visitor centre in Lagodekhi before setting off.
Vardzia
Georgia's position at the crossroads of Asia and Europe has meant living under the constant threat of invasion. In centuries past, Georgians looked to cloisters and hidden settlements for protection – none of them more impressive than Vardzia, a colossal self-sufficient 'cave village' in the country's south.
Set on the slopes of Erusheti Mountain, Vardzia was constructed in the 12th century by locals seeking sanctuary from invading Mongols. In its heyday, Vardzia stretched for 500m and was 13 tiers high, boasting more than 6,000 individual grotto apartments, an irrigation system, a church, and a throne room for Queen Tamar, the monarch who decreed this incredible feat of engineering. Most of the complex was destroyed by an earthquake less than a century after it was finished, but much of the stone architecture can still be seen and appreciated today.
Gori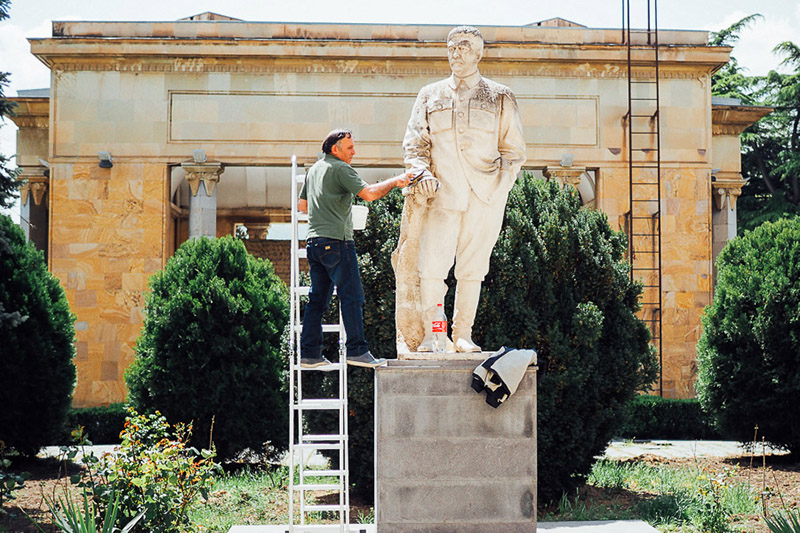 If you're not one to shy away from dark tourism, pay a visit to the hometown of one of Georgia's most notorious exports, Joseph Stalin. The infamous leader of the Soviet Union was born and raised in Gori, less than 100km east of Tbilisi. Unlike just about everywhere else in Georgia, in Gori, the former dictator is not entirely hated.
One of the first things you see after arriving in Gori is a massive Stalin poster advertising the local grocery store. The eponymous main avenue still bears Stalin's name, as does the city park and a number of civic buildings. The zenith of Gori's Stalin subculture is the Joseph Stalin Museum, an institution wholly dedicated to preserving his memory through photographs, documents and memorabilia. On the grounds of the Museum is the wooden house where Stalin was born and the personal armoured train carriage he used later in life. Tour guides do a suspiciously good job of glossing over the gory aspects of Stalin's reign in favour of portraying him as a benevolent leader.
RELATED: 5 NEW UNESCO WORLD HERITAGE SITES WORTH A VISIT
Chiatura
Another blast from Georgia's Soviet past, Chiatura was once a thriving industrial town where 60% of the world's manganese was mined. Now a shadow of its former self, Chiatura is a wonderfully off-beat destination that you won't find listed in your Lonely Planet.
Its main attraction is the network of ancient cable cars that crisscross the deep valley. 'Stalin's ropeway' as it's sometimes called was constructed on the leader's orders in 1954 to improve productivity in the mines. Seventeen separate cable cars linked Chiatura's colourful apartment buildings and marketplace with mines set high above the town. Incredibly, a handful of the original cars are still running today. The rusted cables may inspire fear in the most seasoned of travellers, but if you can muster the courage, a jaunt on Stalin's ropeway is an unforgettable experience (ride at your own risk!).
Chiatura is best visited as a day trip from Kutaisi. If travelling by marshrutka (public minibus), ask the driver to stop at Katskhi pillar on the way so you can take a look at this most unusual monastery.
Martvili Canyon
The lush, forested landscapes of Georgia's western Imereti, Adjara and Svaneti regions are a sharp contrast to the country's east. Nowhere is this more apparent than in the waterfalls, caves and canyons around Kutaisi.
Okatse Canyon is famous for its ropewalk that rises 140 meters above the valley floor. The nearby Martvili Canyon is lesser-known but every bit as impressive. Mossy and overgrown, this exquisite landscape of countless shades of green was once revered as a site of Pagan worship, and later used as private baths for the noble Dadiani family. Today you can tour Martvili by foot on the paths and pretty bridges that interlace over the canyon – or better still, jump in a canoe and paddle down the waterway for a closer look at the rock formations and trickling waterfalls.
Batumi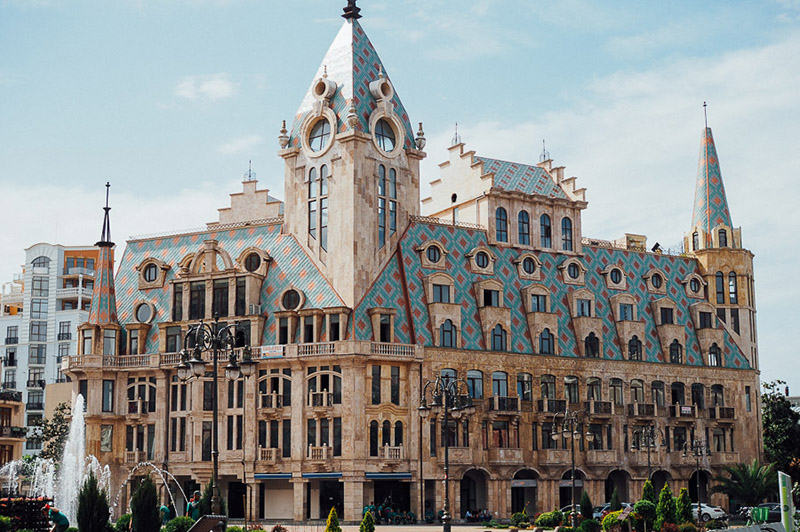 Batumi, Georgia's Black Sea resort town and the capital of the autonomous Adjara region, is commonly thought of as a mecca for gamblers and sun worshippers. Much more ostentatious than other parts of the country, it's not for everyone; but Batumi has its own peculiar charm.
The architecture is imaginative and downright whacky – from Alphabet Tower, an homage to the Georgian mother tongue, to a world-famous McDonalds and the Disneyland-esque Europe Square with its belle époque facades. Batumi is home to the stunning Orta Jame mosque (around 30% of Adjarians are Muslim), a great international restaurant scene, two lively local markets and the world's second-largest botanical garden. One of the best things to do is rent a bicycle and cycle along the promenade. If you're up for a challenge, you can negotiate the 16km water-front ride all the way down to the Turkish border crossing at Sarpi.
Svaneti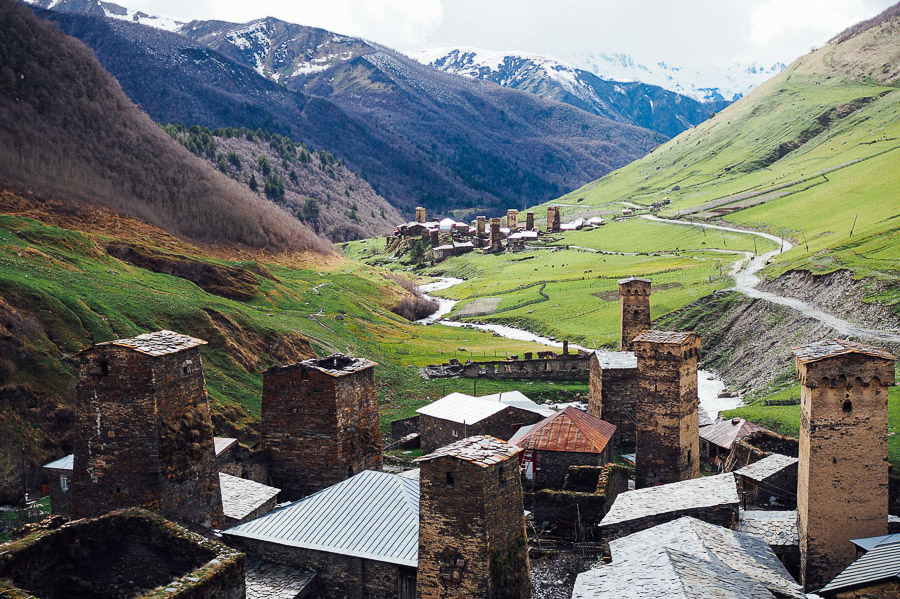 The ancestral home of the Svans – an ethnic group who have dwelled in Georgia's mountains since time immemorial – Svaneti is where you'll encounter some of the country's most breathtaking scenery and unique cultural experiences.
Set in sheltered valleys, Svaneti's remote hamlets are characterised by their stone towers. These aren't fortresses but in fact family homes, a few of which are still occupied today. Mestia, Svaneti's main centre, has great tourist infrastructure and a delightful ethnography museum. From here, you can embark on hikes around the region, including a popular three-to-four-day trek to Ushguli – by some measures, the highest village in Europe. The perilous cliff road that connects Mestia and Ushgul is not for the faint hearted, but when open, makes it possible to visit Ushguli as a day trip.
Ready to eperience Georgia's highlights for yourself? You need an Intrepid small group adventure!
—
Words and images by Emily Lush, you can follow her travels at @emily_lush
Feature image: Shutterstock
Discover our Georgia Trips