If you're a wine lover, you'll be on cloud wine nine in Barossa Valley. Here are 11 wineries and cellar doors to tick off your bucket list.
Home to rolling hills, endless vineyards and quiet winding roads, Barossa Valley is up there with the most beautiful wine regions in the world. It also has some of the oldest vines in the world, and there are centuries of history and winemaking traditions in every glass. Top names like Penfolds, Wolf Blass and Jacob's Creek all had humble beginnings in the Barossa.
Red wine steals the show. The region is world-famous for its bold and intense Shiraz, Cabernet and Grenache varieties. But it also produces some delicious white varieties including Riesling, Chardonnay and Semillon – perfect for those balmy summer evenings. With 180 vineyards and 80 cellar doors to visit, one trip will never be enough. But hey, you have to start somewhere! Whether you're a wine-loving novice or connoisseur, here are some of our favourite wineries to visit on your next trip.
You can't go to the Barossa and not go to Penfolds. Founded in 1844, it has more than 170 years of winemaking history and their flagship wine Grange – one of Australia's most renowned and collectable wines – was listed as a South Australia Heritage Icon in 2001.
At Penfolds Barossa Cellar Door, we recommend doing the Taste of Grange Experience ($150 per person) to learn about Penfolds' philosophy and sample a selection of their most renowned wines, including the one and only Grange. If you fancy a more hands-on experience, why not do the Make Your Own Blend Tour ($85) where you'll step into the lab and concoct your own blend of Grenache, Shiraz and Mataro (something that'll taste like Penfolds' Bin 138 blend). Now that's what you call a great holiday souvenir… if the wine makes it home, that is
Ask a non-Australian to name an Australian wine, and they'll probably say Jacob's Creek. The story began back in 1847 when Johann Gramp planted his first vines on the banks of the creek. His dream was to create delicious wines that express the character and flavours of Barossa. Mr Gramp did just that, and Jacob's Creek has made its mark on the world wine map as a result.
This isn't a run-of-the-mill cellar door. Oh no. It features a restaurant, native garden, bicycle trails and heaps of space to have a picnic overlooking the vineyards. There's even a tennis court and ping pong table to keep the kiddos entertained while you enjoy a glass.
Keep it simple with the Jacob's Creek Tasting Experience ($5-20 per person) or see how Shiraz and Cabernet Sauvignon taste before and after additional maturation in whiskey barrels on the Doube Barrel Experience ($65 per person). You can also pick a spot to enjoy a picnic ($120 per hamper) packed with food sourced from local producers and a bottle of Jacob's Creek wine. Once you've quenched your thirst, take a stroll around the estate or head down to the banks of the creek where it all began.
If fortified wine is your thing, get yourself over to Seppeltsfield. Seppeltsfield is best known for its Centennial Collection of vintage Tawny. And it's the only winery in the world that continues to release a 100-year-old vintage every year. They're also known for experimenting with cool weather styles including Australia's first sparkling Shiraz, and crowd-pleasing table whites and reds.

The drive up the palm-fringed Seppeltsfield Road takes you to the impressive estate and historic cellar door. Do the General Wine Tasting Experience ($15) to sample six wines from the daily tasting list or taste Para Vintage Tawny straight from the barrel of your birth year on the Centennial Cellar Experience ($99). You could even splash out on the Seppeltsfield FINO Signature Experience ($259) to enjoy a wine from your birth year followed by a long lunch. For the adventurous types, there's also the Segway Tour ($99) through the vineyards and hidden areas of the estate… maybe hold off on the wine tasting until after the tour!
From school runaway to world-renowned winemaker, Wolfgang Blass definitely made the right decision when his parents told him to go back to school or begin a three-year winemaking apprenticeship. And he made an even better decision when he moved to the Barossa in 1961. Blass' artistic vision is just as impressive as his winemaking, and the sleek cellar door and grassy courtyard are a welcome change if you prefer a modern vibe.

Enjoy the ultimate expression of Wolf Blass' winemaking with the Luxury Expression Experience ($45), sip on a glass of Black Label (Wolf Blass's most renowned red blend) straight from the barrel, or indulge in a wine and cheese picnic overlooking the idyllic Wolf Blass Wetlands ($40 per couple). Make sure you check out the installation of life-size artwork, titled 'Wolfie' in the cellar door.
Six generations of experience, passion and embracing the unknown is what Yalumba is all about. The family-owned winery allows nature to run its course in their winemaking, and they're also a pioneer in winemaking sustainability. We reckon wine tastes even better when you know it's been produced sustainably.
The cellar door is located in an impressive estate with well-groomed gardens and historic buildings – perfect for enjoying a bottle with friends in the sun. There's also the cosy Yalumba Wine Room built in an old brandy store for those cool winter evenings. Yalumba's flagship wine is The Signature – a classic blend of Shiraz and Sauvignon – which encapsulates the history and values of the family.
Enjoy a Best of Barossa Tasting Flight ($15), the Rare & Fine Tasting Flight ($20) or a Yalumba Estate Picnic ($150) filled with local cheese, cured meats, fruits and bread. Or why not immerse yourself in Yalumba's rich history with a private tour of the grounds, exclusive tastings and a paired lunch.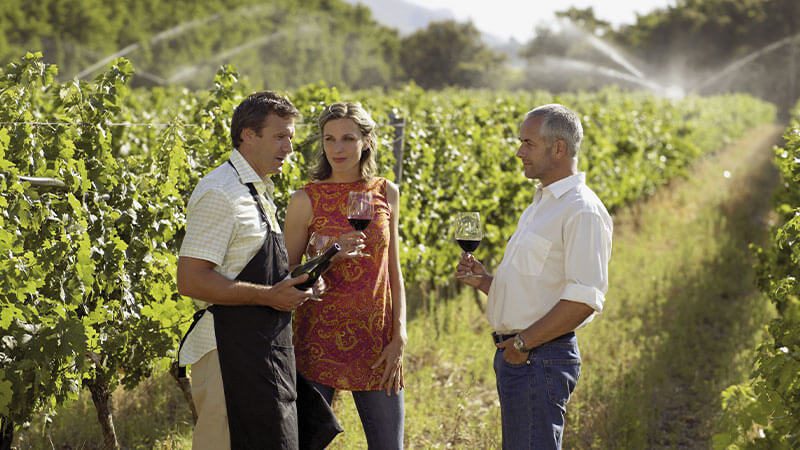 Chateau Tanunda has some of the oldest vines in Australia and produces award-winning rare blends including the very collectable Old Vine Expressions. Enjoy a traditional or fine wine tasting experience in the cellar door with views of the Barossa Ranges and surrounding vineyards. Or dive into the winery's rich history on the Beyond the Velvet Rope tour for a complete winemaking immersion (with tastings from 50, 100 and 150 years old vines). The striking setting of Chateau Tanunda is impressive as the wine with 350 acres of vineyards, a cricket oval and a croquet lawn.
If you're feeling thirsty after cycling or walking the Barossa Heritage Trail, pop into Bethany Wines. Bethany is the oldest village in the Barossa. Many of the locals here grew up immersed in traditional winemaking, including the owners of Bethany Wines, the Schrapel family. They arrived in 1852 from Silesia (now Poland), and you can taste the craftsmanship in every sip.

Enjoy a seated tasting of four wines from the Blue Quarry, First Village Reds or First Village Whites range. If you're feeling peckish, pair your flight with a delicious picnic platter including cheese from the Barossa Valley Cheese Company. The cellar door feels more like a family home with a warm, relaxed atmosphere and pretty views overlooking the vineyards.
Yelland & Papps is owned and run by a husband and wife winemaking (dream) team, Susan and Michael Papps. They produce wine with traditional techniques in a contemporary way using wild yeasts, whole bunch fermentation and a few other minimal intervention techniques which you'll learn about when you visit. The result? A wonderful, boundary-pushing twist on classic Barossa varieties.

The charming, unpretentious cellar door has cosy family vibes and offers a unique wine tasting experience from their small-batch wine portfolio. Sip your way through the Y&P, Devote, Second Take and Limited Cuvée portfolios, and maybe even sample some seasonal produce from the estate. They also have games on the lawn to keep the kiddos entertained while you enjoy a glass (or two).
The story of this winery captures the close-knit spirit of the Barossa community. It all began in 1979 when Peter Lehmann took out a loan and built a small winery to support local family grape growers during a huge grape surplus in the 1970s. It's often said Lehmann saved the Barossa wine industry, and they still have access to the best fruit in the region today as a result.
Peter Lehmann Wines is celebrated for producing some of Australia's finest premium wines. Spend the afternoon at the picturesque cellar door where you can chill out on the lawn on the banks of the Para River. Why not share a bottle with friends in the gardens, or simply pull up a chair at the bar and enjoy a glass. They also do tasty paired lunches if you fancy making an afternoon of it.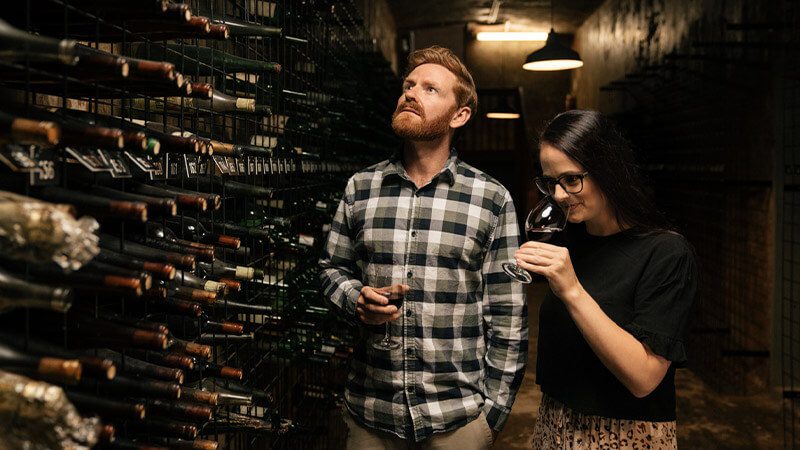 Saltram is known for producing wines with intense flavours, richness and bold characters. Relax in the cellar door and experience Saltram's flagship red wine, No.1 Shiraz (aptly named), or taste three single-vineyard Shiraz styles. There's a range of tasting experiences, tours and great food to boot. Pop into Salter's Kitchen after your tasting session for some lunch. It could be fish of the day served with crushed potatoes and lemon tartare, or a juicy porterhouse steak and chunky chips.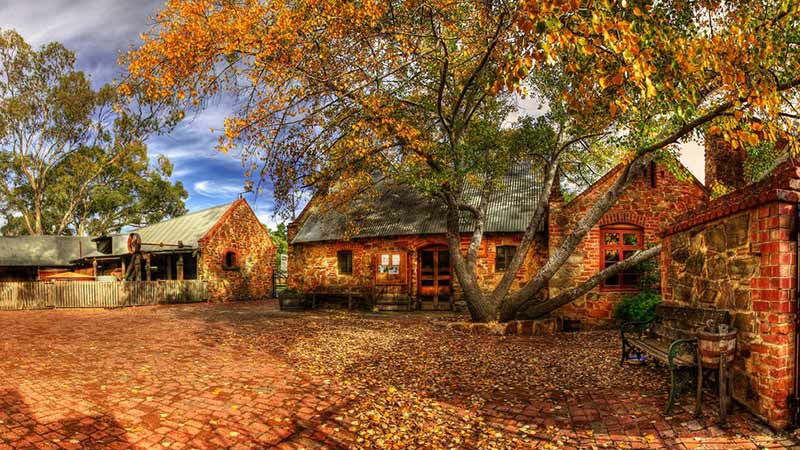 Small but proud, the wines really rock at Rockford Winery. This old school winery is committed to keeping Barossa traditions alive and kicking. The vines are hand-pruned, the fruit is handpicked and the grapes are processed using traditional equipment and principles. This dedication shows in the taste.
The barn-style cellar door is intimate and can only take groups of six at a time, but it's worth sticking around even if there's a bit of a wait. If you visit during March and April, get yourself down to Rockford to sample their flagship basket press Shiraz. You won't regret it.
EXPERIENCE THIS STUNNING WINE COUNTRY FOR YOURSELF ON A BAROSSA VALLEY TOUR
Feeling inspired?