Just two and half kilometres from the southern side of Istanbul's famed Galata Bridge is Balat, a historic neighbourhood often overlooked by time-poor travellers.
Those searching for a break from teeming Taksim Square and Karaköy should allow half a day to explore what was once the Jewish quarter, which sits behind the old Greek quarter in Fener. Balat is one of Istanbul's oldest districts, traditionally housing minority communities. After an earthquake in the late 1800s, most of the Jewish residents fled the area, with more departing in the 1960s.
EXPLORE OUR FULL RANGE OF SMALL GROUP ADVENTURES IN TURKEY NOW
After that, Balat's socio-economic position declined and migrant communities moved in. The neighbourhood has been neglected until recently, with UNESCO in the midst of a historic housing rehabilitation project. These days Balat is known for its colourful houses, cobbled streets and eclectic mix of churches, mosques and synagogues – all scattered among antique auction houses, trendy cafes and vintage clothing stores.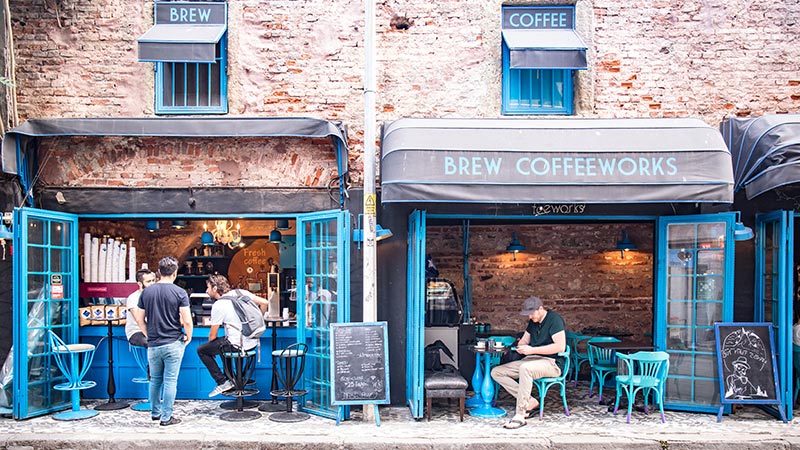 A good place to start is on the slope leading up the hill to the imposing Phanar Greek Orthodox College or kırmızı kale (the red castle). The red-brick building dates back to the 1880s and still functions as a school, but only for about 50 students – the local Greek Orthodox population has dwindled significantly. Down the slope on the same side as the school is İncir Ağacı Kahvesi, arguably the city's most Instagram-friendly cafe complete with rainbow staircase.
TICK ALL THE BOXES ON OUR 15-DAY TURKEY EXPLORED ADVENTURE – DETAILS HERE
There are multiple buildings of worship to visit, whether the opulent, 16th century Church of St. George; Yanbol Synagogue built in the 18th Century by Sephardic Jews from Bulgaria; or the 16th century imperial Ottoman Yavuz Selim mosque nearby, with views of Istanbul from its courtyard.
Walk along Vodina Caddesi to browse auction houses, or stop at Maison Balat for homemade cherry juice in a small antique store. Running parallel to Vodina is Yıldırım Caddesi, lined with wonderful cafes like Balat Sahil (try a traditional Turkish breakfast), restaurants and small design stores selling clothing, jewellery, art and crafts. For dinner, join the locals at Balat Sahil, a seafood meyhane (traditional tavern) where shelves are lined with empty rakı bottles and customers select meze from a glass cabinet.
RELATED: WHAT TO EXPECT ON A STREET FOOD TOUR OF ISTANBUL
For a more local insight, we chatted to Jen Hartin, Intrepid's Destination Manager for the Middle East, and Tahir Karabas. They moved to Balat four years ago and live in a historical building across the road from the Greek Orthodox school, which they share with an adopted stray cat named Kat.
Here's some inside knowledge on the neighbourhood from the couple that knows it best.
Has Balat changed much since you moved in?
"In the last four years, we've seen Balat and Fener transition from what, for many years, has been a low socio-economic neighborhood to an emerging Bohemian locality. It is like past and present joining to form this eclectic community where designer cafes sit alongside traditional teahouses and hip artists mingle with traditional tradesmen. Tahir recalls this neighborhood being unsafe due to the low socio-economic community when he was a boy. Today I feel perfectly safe walking this neighborhood.
RELATED: A FIRST-TIMER'S GUIDE TO TURKISH HAMAMS
Is it as traditional as it used to be?
Appearances can be deceiving. this neighborhood stills sits proudly under the watch of the Fatih Mosque and the magnificent Yavuz Selim Mosque, located in the more conservative Mahalei of Yavuz Selim, where religious conservatism is still very much a way of life. I feel like I can walk out my house and head right and be comfortable with knees and shoulders out for all to see, however if I turn left, I feel I need to be more respectful and adopt a more conservative sense of dress. As I am writing this from my home opposite the much-visited Greek Orthodox school, I see a young woman – perhaps on her way to school – in full burqa taking a picture of the school, while another woman in shorts and a singlet wanders past walking her dog.
What do you love most about the neighbourhood?
Being part of small community, within a large city; both Tahir and I come from smaller villages and we love feeling part of a local community. Balat and Fener still have very much a village feel, where kids play on the streets and mothers yell across the neighborhood for them to come home. You know your butcher, your baker, and the local bakal corner shop will put your bread in the basket you hang down from your balcony. It just feels like home.
SUBSCRIBE TO INTREPID'S NEWSLETTER FOR DEALS, GIVEAWAYS, TRAVEL TIPS AND STORIES
Where do you go in Balat for…
Breakfast: By Harve Cafe, Balat Kapi and Primi Cafe.
Dinner: Balat Kapi, for cafe-style food; Forno, for some of the best lahmucan and pide in the city, and Sahil, a very old local established meyhane and one for the few places in the Fener Balat neighbourhood selling alcohol.
Food shopping: the local pazar, a Tuesday market where you can buy all local produce; on Sunday there's a market where local product from Kastamonu in the Black Sea-region of the city is sold. We call this market Halk Pazarı.
RELATED: 4 MUST-VISIT DESTINATIONS IN TURKEY
Souvenirs: vintage clothing shops; local atolyes artist workshops that make ceramics, glass, wood, ebru (water marbling); and there are lots of auctions that take place here, from small household bric-a-brac to collector's items.
Relaxing: we prefer to sit on the grass by the Golden Horn, hang out with friends or just sit in cafes.
Something cultural: I have been learning the art of glass making and am making my very own evil eye beads – 1200 Derece Glass Workshop offers single lessons and courses. Balat and Fener have such a historical significance in that Sultan Mehmet the Conqueror granted privileges to the Christian and Jewish communities living in the city to perform their rituals free of intervention… mosques, churches and synagogues can be seen side by side, as if living proof of the fraternity of religions. That means there are always synagogues and churches to explore.
Want to explore a different side of Turkey? Explore with like-minded travellers on one of our popular tours.
All photos by Liam Neal, Intrepid Travel. 
Feeling inspired?