Nearly 550,000 wild animals are currently suffering in the hands of tourism venues around the world.
While activities such as riding elephants, walking with lions and watching dolphins perform are popular with many travellers, they cause lifelong trauma for wild animals. And the pandemic has made this situation even more dire. Recently, at least 85 elephant camps in Thailand were forced to close.
It's time to take a stand. To call for an end to the exploitation of wildlife in entertainment venues and ensure that when tourism returns, cruelty does not.
This is why we've teamed up with World Animal Protection to create an easily-accessible Animal Welfare Policy Toolkit.
The complimentary toolkit will help tourism companies implement more ethical wildlife practices into their business and work towards a more ethical future for the travel industry. It contains the following:
A 10-step guide to developing more animal-friendly practices within a tourism organisation
A "how-to" on drafting an Animal Welfare Policy
An editable policy template for businesses to get started on their journey
VIEW: ANIMAL WELFARE POLICY TOOLKIT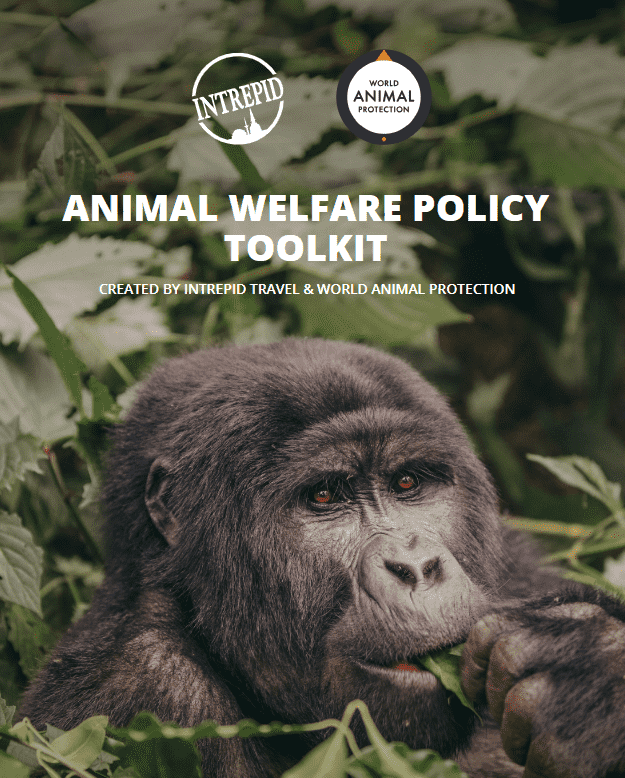 To learn more about our previous work with World Animal Protection, read: How we Changed the Elephant Riding Industry.
To view another resource we developed to help other travel companies rebuild responsibly, read: A 10-Step Guide to Decarbonising Your Travel Business.
–
Visit our Animal Welfare hub to view our Animal Welfare Policy Toolkit.