Sir David Attenborough once said that the Daintree was "the most extraordinary place on earth" and after you've experienced the things on this list, you'll instantly see why.
There's nothing you won't love about the Daintree. From its lush, tropical rainforests and stunning coral reefs to the fascinating and rich culture of the Kuku Yalanji people, the Daintree in north Queensland is a breathtaking place to visit.
Not only is there so much natural beauty to admire, but there are also adventures to be had around every corner so whether you prefer swimming through the crystal-clear waters of a natural swimming hole or taste-testing some of this region's favourite foods, you'll never run out of things to do in the Daintree.
In case you're overwhelmed by all the incredible possibilities and don't know where to start, we've put together a list of the best and most magical activities in the Daintree. The best part? They'll have you falling in love with this spectacular region over and over again.
1. Snorkel the Great Barrier Reef
You can't come to the Daintree and not dip your toes into its sparkling waters, especially when the Great Barrier Reef is right on its doorstep. Brimming with brightly coloured coral and fascinating and beautiful fish, the Great Barrier Reef is not only iconically Australian but also the world's largest coral reef system. Giving you the chance to swim with sea turtles and spot a reef shark (or two), snorkeling parts of this marine wonderland will have you feeling closer to nature than ever before.
2. Embark on a First Nations experience
The traditional owners of this land, the Kuku Yalanji peoples, have inhabited the Daintree for more than 50,000 years so it only makes sense to learn as much about this incredible place as you can from the people who know it the best. Embark on a guided walk through the rainforest or head down to Mossman Gorge and learn about their beliefs, way of life, and cultural connection to the environment around them.
A truly once-in-a-lifetime experience, discover more about the Daintree than ever before and unlock a deeper understanding of this region's history and the culturally significant sites that are just as important today as they were centuries ago.
3. Take a dip in a freshwater swimming hole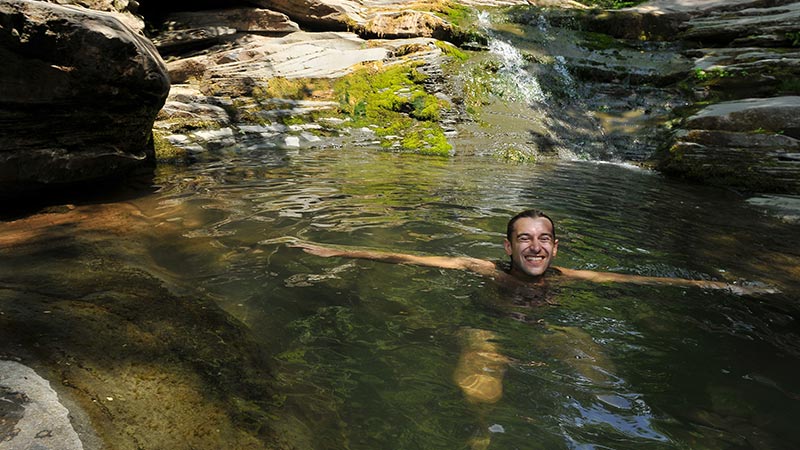 After a full day of adventuring through the lush rainforest, there's nothing better than cooling off in nature's version of a swimming pool. Luckily, the Daintree Rainforest is full of fantastic spots to take a dip in from the sparkling waters of Spring Creek Falls to the isolated Cassowary Falls. Whether you want to lay out on a rock and catch some sun or dive beneath the surface for refreshment, these freshwater swimming holes provide endless amounts of fun.
4. Sample the region's favourite foods
If you thought the Daintree was only about rainforests and reefs, then think again. In recent years it's become a foodie's paradise full of world-class restaurants and delicious delicacies, all locally sourced to ensure your tastebuds get the native smorgasbord they deserve. Bite into a juicy plum, snack on roasted macadamia nuts, or eat your way along the Daintree Food Trail for an epic culinary experience you'll want to go back for seconds for.
EAT YOUR WAY THROUGH THE DAINTREE ON OUR EAST COAST ENCOMPASSED TOUR
The Daintree is a vast landscape full of amazing things to discover but it can be a bit overwhelming if you want to see it all, especially if you don't know where to start. This is where Mossman Gorge comes in. Acting as the perfect starting point for your Daintree adventure, either embark on a self-guided or leader-led tour through the breathtaking rainforest, stopping to admire native flora and fauna and learn about the lives of the traditional owners of the land along the way.
With several amazing hiking trails and tracks to walk, it's easy to get lost in the magic of this wondrous rainforest. From enjoying a picnic lunch next to a gently bubbling river full of giant granite boulders to participating in a Dreamtime Walk organised by the Ngadiku peoples, you'll be blown away by the beauty of this culturally significant land.
EXPLORE MOSSMAN GORGE ON OUR AUSTRALIA RETREAT: QUEENSLAND DAINTREE TOUR
6. Hike up Mount Sorrow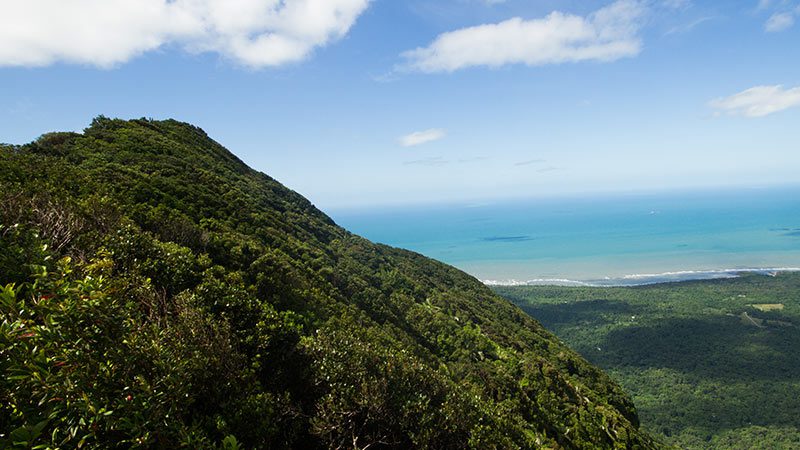 For a spectacular view of the Daintree, you can't go past the top of Mount Sorrow. The Mount Sorrow Ridge Trail is around 7km in length and is relatively difficult to complete but the energy and effort exerted during the trek will be more than worth it once you reach the top. With breathtaking views of the Daintree coastline and Snapper Island, this underrated activity will be one of the best things you do in this extraordinary region. Hands down.
7. Wander the Dubuji boardwalk
There are many ways to adventure through the Daintree National Park but perhaps one of the more magical trails to walk is the Dubuji boardwalk. Taking you past incredible mangrove swamps, lush vegetation, and even sandy stretches of beach, the Dubuji boardwalk (meaning 'place of spirits') is the perfect trail to take your appreciation for the rainforest up a notch.
Meander your way past cassowaries, kingfishers, and other native wildlife as you immerse yourself in the beauty that surrounds you and listen out for the sounds of gently trickling water from secluded creeks that dot the boardwalk. Only 1.2km in length and with an easy grade, there's no reason why wandering along the Dubuji boardwalk shouldn't be on your list of things to do in the Daintree.
8. Lay out on Cape Tribulation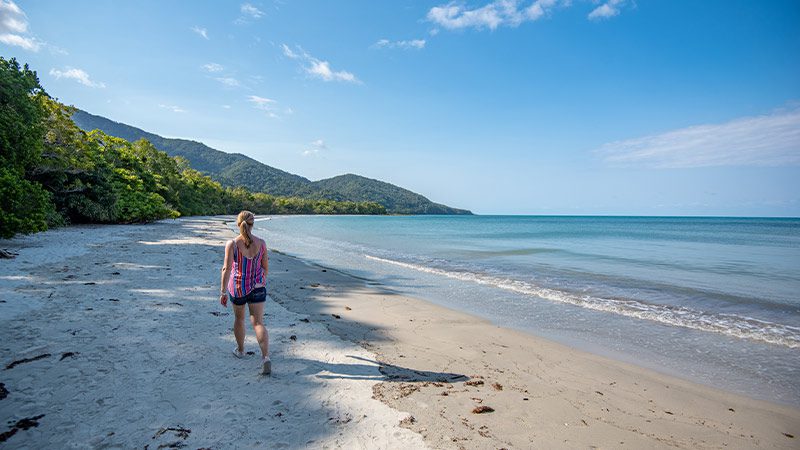 Definitely up there with one of Australia's best landscapes, Cape Tribulation simply can't be missed on your tour of the Daintree. The spot where two UNESCO World Heritage-listed sites meet, the Daintree Rainforest and the Great Barrier Reef, Cape Tribulation offers a unique viewpoint if you're looking for natural beauty as the forest seemingly tumbles straight onto the beach.
While there might only be a thin strip of sand separating the two natural wonders, the beach is more than big enough for you to settle down and relax on. Whether you fancy making a sandcastle or taking a dip in the crystal-clear waters, have the best of both worlds and let the magic of Mother Nature envelop you from all sides.
VISIT CAPE TRIBULATION ON OUR BRISBANE TO THE DAINTREE DISCOVERY TOUR
Feeling inspired?