Planning a trip to Brisbane? Besides its thriving art scene, catalogue-worthy coastline and abundant outdoor adventures, Queensland's sunny capital has a rich Indigenous history that's well worth delving into on your travels.
From guided hikes through sacred landscapes to epicurean delights and workshops where you can try out traditional skills, here are five exciting ways to engage with Australia's First Nations cultures in and around Brisbane.
1. Spirits of the Red Sand
Enjoy dinner and a show with a difference at this immersive theatrical experience. Inspired by a true story, Spirits of the Red Sand takes guests from Dreamtime to 19th-century Australia, telling a powerful tale of three Aboriginal brothers through the medium of traditional song and dance. You'll also have the chance to meet the performers, all of whom are descendants of the Australian Aboriginal mobs who experienced many of the events brought to life in the show.
Afterwards, dig into a three-course dinner featuring Indigenous flavours, including hot damper (bread) with bush dukkah and a tasting skewer of kangaroo, crocodile and emu, followed by lemon myrtle cheesecake.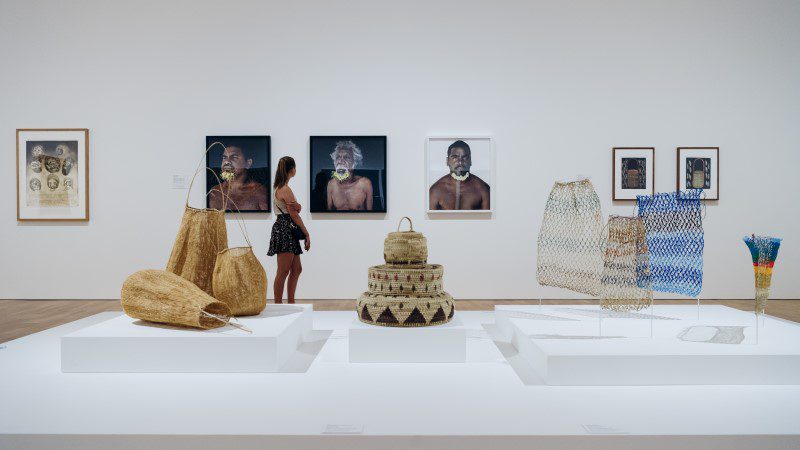 2. Get a masterclass in First Nations art at QAGOMA
If you're looking for an exclusive experience that's ideal for larger groups, don't miss the chance to take part in a First Artists Group Cultural Experience at QAGOMA (Queensland Art Gallery / Gallery of Modern Art).
This arty evening begins with a traditional Welcome to Country, followed by a private guided tour of the gallery's Indigenous Australian art exhibition. As you take it all in, you'll also get a taste of native Australian flavours in the form of beautiful canapés created by local First Nations chef Chris Jordan. Finally, you'll get to put everything you've learned into practice during a creative workshop led by a local Indigenous artist.
3. Explore the Scenic Rim on a Yarriba experience
Want to connect to Country? Head out of the city to explore ancient landscapes and cultural practices in UNESCO-listed Mount Barney National Park. Full-day tours and three-day cultural immersions are led by local Ugarapul and Bidjara man, Gurruhmun "Old Man Kangaroo".
Both experiences kick off with a traditional smoking ceremony and are packed with opportunities to deepen your understanding of First Nations culture – whether you want to learn how to throw a boomerang, find bush tucker or hear first-hand stories from the land's traditional owners. The multi-day adventure includes a starlit night walk and dinner around the campfire.
You can also meet Gurruhmun and get a taste of these experiences on Intrepid's Walk Queensland's Scenic Rim trip.
4. Walk the Goompi Trail on North Stradbroke Island
Catch a Sealink ferry to Minjerribah (North Stradbroke Island) to walk the Goompi Trail with local Aboriginal guide Matt Burns. As you wander along Dunwich foreshore, overlooking the turquoise waters of Moreton Bay, you'll learn about the history and culture of the Quandamooka people, the island's traditional owners.
During this short-but-sensational encounter Matt will show you a range of traditional First Nations skills – from spear throwing and didgeridoo playing to finding bush tucker and medicinal plants – and share insights into the impact colonisation has had on the local way of life.
5. Connect with coastal traditions in Kabi Kabi Country
Spend two hours cruising the Mooloolaba canals on the Sunshine Coast with Saltwater Eco Tours to learn how the Kabi Kabi people have lived in harmony with the landscape for millennia.
You'll join an Indigenous guide aboard a beautiful 100-year-old sailboat to spot sea turtles and dolphins, hear songs and stories about local First Nations history and soak up the beauty of these meandering waterways while tucking into bush tucker-inspired snacks and local craft beer.
Our partners, Welcome to Country, have a huge range of First Nations experiences across Queensland. Check out their website for more information.
Feeling inspired?