Drew Roberts is the founder of Shared Knowledge, an organisation delivering Aboriginal cultural experiences in Sydney, Australia. Here, he shares what it means to connect to Country and how we can all do it respectfully and responsibly.
This blog was brought to you in partnership with Welcome to Country, a not-for-profit marketplace for Indigenous experiences in Australia.
First, some introductions…
Jinggiwala (How you doing?)
Ngali na jugun (We belong to this Country)
Ngali garima mala jugun (We look after this Country)
I'm Drew Roberts, founder of Shared Knowledge. I'm an Arakwal, Bundjalung man from the Northern Rivers, thereby making me a black sand, saltwater person.
Shared Knowledge delivers Aboriginal cultural experiences to visitors, tourists and corporate organisations. We have been in partnership with the Royal Botanic Gardens and Greater Sydney Parklands for the last five years, teaching locals and tourists alike how to walk through Country in a respectful and mindful way. We offer a variety of experiences covering topics such as bush food, medicine and semiotics of traditional art, as well as education and consulting services to groups who need support in building relationships and knowledge of First Nations communities.
What is Country?
For Australia's First Nations people, Country encompasses a harmonious relationship between me as an individual and my ancestral lands and water. Within our culture, the three core fundamentals are respect, responsibility and reciprocity. These fundamentals are linked to the land and water that the people use to channel the environment and cultural knowledge. As my Country is different to the other 249+ First Nations of Australia, every part of my identity is therefore different.
Palyku novelist and illustrator Ambelin Kwaymullina has this to say about the definition of Country to First Nations peoples:
"For Aboriginal peoples, Country is much more than a place. Rock, tree, river, hill, animal, human – all were formed of the same substance by the Ancestors who continue to live in land, water, sky. Country is filled with relations speaking language and following Law, no matter whether the shape of that relation is human, rock, crow, wattle. Country is loved, needed, and cared for, and Country loves, needs, and cares for her peoples in turn. Country is family, culture, identity. Country is self."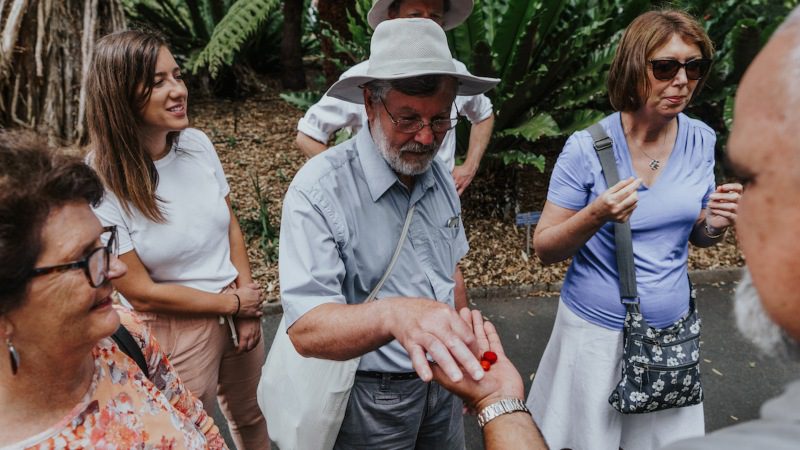 First Nations cultures and communities are diverse, and there are many different nations and language groups throughout Australia that are important parts of this country's history – and future identity – that should be honoured. Many First Nation tourism operators value, celebrate and promote First Nations peoples' culture, languages, relationships to Country, knowledge and heritage.
Some of the great things about travelling and having the opportunity to walk on Country are experiencing the sights, sounds, tastes and traditions of an ancient people – the oldest living culture on earth. Through my work with Shared Knowledge, I have found many travellers are seeking out greater authenticity and cultural engagement, and interest in First Nations tourism continues to grow.
How can travellers connect to Country respectfully and responsibly?
To connect to Country in a meaningful way, it's important to remember a few key things: leave your everyday worries and duties behind. Return to the fundamentals of culture and recentre yourself. Change your perspectives in order to travel lightly through this continent's diverse landscapes and Countries. And always remember the core fundamentals when you're exploring: Respect. Responsibility. Reciprocity.
Keep the following points in mind when planning your travels to Country:
Always do your research and travel with Indigenous-owned operators where possible. Welcome to Country has a range of experiences on their website, from a couple of hours to multi-day itineraries.
Before you leave, learn as much as you can about the Country you're travelling to, such as place names, tribe names, history and local legends. You could even try learning some of the local language.
Always ask permission before taking photographs of people, ceremonies and landmarks.
If invited, get involved in cultural practices like dances and smoke ceremonies, where you may walk through a smoking site or be patted down with smoking leaves to clear any negative energy and receive a safe journey through Country.
Ask questions, drop your guard, and open yourself up to ideas, experiences and possibilities.
Explore First Nations experiences with our partner Welcome to Country or check out Intrepid's range of cultural experiences here.
Feeling inspired?