After all that exploring, you're going to need a local feast.
While Bruny Island might be known for its remarkable natural landscapes and fascinating wildlife, it's also known for its delicious produce from fresh oysters to creamy cheeses. So, if you find yourself on the island during mealtimes, you know your hunger will be taken care of at these top Bruny Island restaurants. Dig in!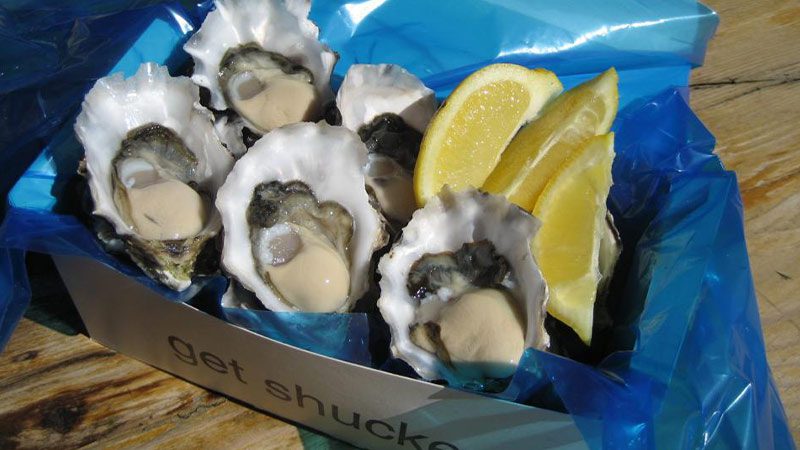 No matter who you tell about your upcoming trip to Tasmania, the reply is always the same; "You need to try the oysters on Bruny Island". And they're not wrong. While there are a few restaurants on the island where you can enjoy the salty, briny taste of oysters, nothing compares to Get Shucked Oyster Bar.
Offering you a water-to-table dining experience, Get Shucked is the place to go for oysters on Bruny Island. Priding themselves on delivering fresh oysters straight from their on-site farm, this Tasmanian establishment is the first to provide a drive-through oyster service and has a quaint vibe with lots of outdoor seating so you can stare out at the water as you slurp up those bite-sized shellfish.
RELATED: 9 AMAZING RESTAURANTS YOU NEED TO VISIT IN HOBART
Promising to be "not just your average pub", the Hotel Bruny Bistro is another great place to curb your stomach's cravings with a menu boasting world-class affordable meals. Choose from Salt & Pepper Squid, Beer Battered Fish & Chips, and Tassie Beef Schnitzel (among other meals) and wash your food down with a glass of local wine, craft beer, or some Bruny cider poured fresh from the tap.
And there's nothing like lunch or dinner with a view. Treat your eyes (while you're treating your tastebuds) to an extraordinary view of the channel and Satellite Island by sitting out on the deck or cosy up by the open log fire during winter.
If you're looking for a bite to eat in a more relaxed and casual setting, then Jetty Café is the place for you. Serving up breakfast, lunch, and sweet little snacks from Friday through to Sunday, this Bruny Island restaurant is sure to satisfy your tastebuds with dishes such as omelettes laden with wild mushrooms and local greens and scrambled eggs topped with bacon and roasted tomato.
With a focus on providing meals full of as many locally sourced ingredients as possible – something that comes naturally to Tasmanians given the abundance of state-grown produce – the Jetty Café boasts incredible views over the water in a relaxed and friendly atmosphere.
RELATED: HAVE A DRINK AT THESE LAUNCESTON WINERIES
It turns out Adventure Bay isn't just about magnificent lighthouses and playful marine animals but also for enjoying expertly prepared meals full of tasty, fresh ingredients at one of Bruny Island's best restaurants, Pennicott, located on the Bruny Island Cruises boat. The ultimate restaurant with a view, Pennicott's menu boasts fresh Tasmanian fish and homemade classics that are bound to warm you up from the inside out.
Pair these dishes with a range of local wines and artisan brews, and you've got yourself an afternoon or evening to remember. With both indoor and outdoor seating, it's easy to get swept up in the beauty of this captivating region and get carried away with the delicious flavours of its local produce.
Feeling inspired?