Lesotho
Nestled Switzerland-like in the heart of South Africa, Lesotho is the 'Kingdom in the Sky'.
This little landlocked country offers a pocket-sized package of stunning mountain scenery, hiking opportunities and wildlife spotting. With a fascinating cultural heritage and ample opportunity to get back to nature, Lesotho is a slice of mountain paradise.
Embark on an African odyssey! Visit South Africa, Swaziland and Lesotho. This tour...
Visit Africa and travel from Durban to Cape Town. Tour the Hermanus Wine Region, the...
Looking for flights? We can help you book flights from all major UK airports plus help with transfers, insurance, and extra accommodation. Call us for free on 0808 274 5111
Articles on Lesotho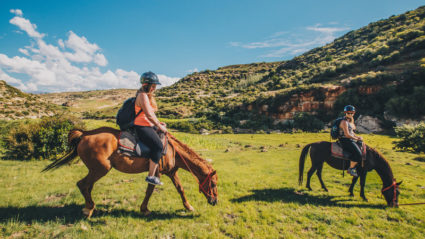 Lesotho travel highlights
Lesotho holiday information
Best time to visit Lesotho
Geography and environment
Top 5 Mountain Activities in Lesotho
Lesotho travel FAQs
Responsible Travel
Intrepid is committed to travelling in a way that is respectful of local people, their culture, local economies and the environment. It's important to remember that what may be acceptable behaviour, dress and language in your own country, may not be appropriate in another. Please keep this in mind while travelling.
Top responsible travel tips for Lesotho
Be considerate of Lesotho's customs, traditions, religions and culture.
For environmental reasons, try to avoid buying bottled water. Fill a reusable water bottle or canteen with filtered water instead.
Always dispose of litter thoughtfully, including cigarette butts.
When bargaining at markets, stay calm, be reasonable and keep a smile on your face. It's meant to be fun!
Learn some local language and don't be afraid to use it - simple greetings will help break the ice.
Shop for locally made products. Supporting local artisans helps keep traditional crafts alive.
Refrain from supporting businesses that exploit or abuse endangered animals.
Please ask and receive permission before taking photos of people, including children.
When on community visits or homestays, refrain from giving gifts or money to locals.
Avoid purchasing products harvested from endangered animals.