How to get to Byron Bay 
Due to Byron Bay's popularity as a laidback, coastal destination, there are plenty of ways to get there including flying into the nearby Ballina airport, self-driving from neighbouring states (or from locations within New South Wales), and catching public transport in the form of a train or a bus.
How you get to Byron Bay largely depends on your budget and timeframe with flying being the quickest way to travel and self-driving being the cheapest. If you do have the time to spare, embarking on a road trip along the east coast of Australia is one of the best ways to see as much as possible as it allows you the flexibility to stop at different destinations and spend as much time as you want to take in this country's natural beauty. 
Flying to Byron Bay 
Flying is the quickest and easiest way to travel to Byron Bay from most states with the exception of Queensland where self-driving is often quicker. The closest airport to Byron Bay is the Ballina Byron Gateway Airport (BNK) which is only around 35 minutes from the town's centre and offers daily flights to and from cities such as Sydney, Melbourne, Brisbane, Perth, Hobart, and Adelaide via Fly Pelican, Virgin Australia, Qantas, and Jetstar.
However, if you're travelling from Tasmania, South Australia, Western Australia, and Queensland, it's likely you'll have to stop over in Sydney with very few direct flights straight from cities in those states to Ballina. 
See below the approximate flight time from cities in various states to Ballina airport:
It will take approximately 2 hours to fly from Melbourne to Ballina 
It will take approximately 1 hour and 15 minutes to fly from Sydney to Ballina
It will take approximately 4 hours and 30 minutes (with one stopover) to fly from Hobart to Ballina 
It will take approximately 4 hours and 30 minutes (with one stopover) to fly from Adelaide to Ballina
It will take approximately 6 hours and 30 minutes (with one stopover) to fly from Perth to Ballina 
It will take approximately 3 hours and 40 minutes (with one stopover) to fly from Brisbane to Ballina
Flight availability and prices are dependent on the time of travel and how far in advance you book your tickets with the summer period being the busiest and most expensive time to go to the coastal destination. To avoid paying increased prices, try to book and secure your flights as soon as possible. 
Once arriving at the airport, you can either catch a taxi to your final destination in Byron Bay or hire a rental car from one of two car hire companies at Ballina airport; Thrifty and Sixt. Rental prices can vary depending on the season you're travelling in, what kind of car you're after, and how long you need it for but you can expect to pay upwards of AUD$32 per day. 
Driving to Byron bay 
While driving to Byron Bay isn't the quickest option (unless you're travelling from Queensland), it is the best way to see as much of Australia's scenery as you can, and also allows for greater flexibility in your holiday itinerary and more freedom to move around when you reach your final destination.
The total travel time by car depends on which state you're travelling from, however, it doesn't make sense to drive from states that are further away such as Western Australia, South Australia, and the Northern Territory. If you're driving from Melbourne and Sydney, you can expect the road trip to take you several hours, but driving from Brisbane or the Gold Coast will only take you roughly 2 hours and 20 minutes and 1 hour and 15 minutes respectively. 
The major highways in and out of Byron Bay are all relatively well maintained and extremely easy to navigate with large signs featuring bold lettering. This means you shouldn't expect any navigational or traffic delays but you should always plan your route ahead of time and leave room in your itinerary for potential disruptions. However, you should be mindful of traffic when driving through populated areas at peak periods. If you're driving at night or when the visibility is low, please be aware of animals crossing the road and slow down if during particularly forested areas.  
Catching public transport to Byron Bay 
If you don't have access to a car or flying isn't in your budget, catching public transport is a great way to get to Byron Bay. While it isn't the most time-efficient way to travel, catching public transport does allow you to see Australia's beautiful scenery (as it goes past your window) without the stress of having to navigate your own way to Byron Bay. 
If you're travelling from the Gold Coast, there is a Byron Bay Express shuttle bus that will take you right into the heart of the beachside town for as little as AUD$38 one way (or AUD$70 return). If you're travelling from Sydney, you can also catch a Greyhound Australia bus that will take you roughly 13 hours to reach your final destination in Byron Bay. This mode of transportation is also fairly cheap, coming in at AUD$112-$220. You can also catch a bus from Melbourne to Byron Bay with Greyhound Australia, Firefly Express, and Premier Motor Service offering weekly departures, however, the journey is a long one at just over 17 hours. 
Our Byron Bay tours
Read more about New South Wales 
Oct 28, 2022
---
Got a trip to Sydney on the cards? The iconic harbour city is home to some...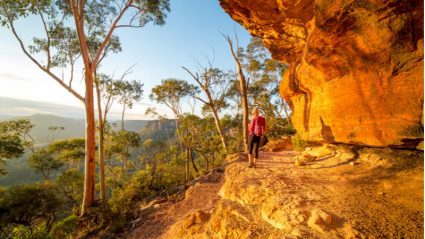 Aug 20, 2021
---
Turn your Blue Mountains holiday from a nice trip to an unforgettable one with...