Byron Bay weather 
The weather in Byron Bay is mostly enjoyable all year round thanks to its moderate sea climate, making it the perfect beachside destination with plenty of sunny days and warm temperatures. The region's weather patterns are largely influenced by its proximity to the tropics but generally, it experiences warm (and slightly rainy) summers and mild, clear winters. 
High humidity is also fairly uncommon but can occasionally occur during particularly wet summers. Even then, it never reaches past 82% and more commonly sits around the mid-60s. Surprisingly, the month of August has the most clear days during the year with around 14 days per month, while February has the fewest, averaging only 5. 
Summer in Byron Bay 
There's a reason why summer in Byron Bay is the most popular time to visit and that's largely to do with the perfect beach weather and high temperatures this coastal town experiences. With an average high of around 27°C during the day (it does get a little colder at night) and an average ocean temperature of 25°C, you can easily spend your days outside, soaking up the sun and swimming in the ocean. However, with all that sun comes the increased possibility of sunburn and other heat-related conditions such as heat stroke, so make sure you're being smart and covering up where possible, drinking plenty of water, and wearing lots of sunscreen (and reapplying it throughout the day). 
Surprisingly, the summer months do see a lot of rainfall with a mean average of 145mm of rain collected in December, 165mm in January, and 193mm in February. However, these showers usually occur in the evening, or, if they do happen during the day, don't last for very long, ensuring you'll be back outside in the sunshine in no time. 
Autumn in Byron Bay 
Autumn is one of the best times to visit Byron Bay because the warm temperatures of summer seem to stick around well into April, staying at an average high of around 20°C. Pair this with warm ocean temperatures and you've got yourself the perfect beach holiday - minus the large crowds that summer brings. 
Winter in Byron Bay 
Even though winter is the coldest season in Byron Bay, the average high daily temperature still sits at around 20°C, allowing you to spend the majority of your time outside without worrying about the heat of summer. There are also few clouds in the sky during this time, so you can still sunbake on the beach. One of the only negatives about visiting Byron Bay during the winter is that the water temperature drops significantly so you might need a wetsuit if you plan on swimming or surfing. 
Spring in Byron Bay 
The arrival of daylight savings and warmer weather sees an increase in travellers to Byron Bay, and who could blame them with clear, sunny days and little to no rainfall expected. You can still catch the end of the whale-watching season if you're travelling to Byron in September but other notable activities to do in spring are surfing, hiking, general sightseeing, and laying out on the beach. 
When is the best time to visit Byron Bay? 
While summer in Byron Bay might be the most popular time to visit (as it coincides with nationwide school holidays) that doesn't necessarily mean it's the best time to visit. Yes, the region experiences amazing weather during the months of December, January, and February, however, the beaches are often very crowded and the price of accommodation goes up. If you want to avoid this as much as possible, we consider the shoulder seasons months of March and April, as well as October and November, to be the best months to visit. 
The temperature is still warm enough to enjoy doing things outside but the heat isn't too uncomfortable that you need to find some shade after a few hours. The ocean temperature is also still warm enough to enjoy participating in water sports such as surfing and other activities such as swimming. 
That's not to say you can't enjoy a holiday to Byron Bay in the peak of summer or in the middle of winter because you definitely can. Byron Bay is considered to be an all-year-round destination with plenty to do when the weather's both nice and warm and cold and rainy. Regardless of when you're travelling, make sure to keep up with the weather forecast so you can plan your itinerary accordingly. 
Average temperatures in Byron Bay 
| | | |
| --- | --- | --- |
| MONTH | AVERAGE HIGH | AVERAGE LOW |
| March to May | 25°C | 14°C |
| June to August | 19°C | 8°C |
| September to November | 24°C | 13°C |
| December to February | 27°C | 18°C |
Our Byron Bay tours
Read more about New South Wales 
Oct 28, 2022
---
Got a trip to Sydney on the cards? The iconic harbour city is home to some...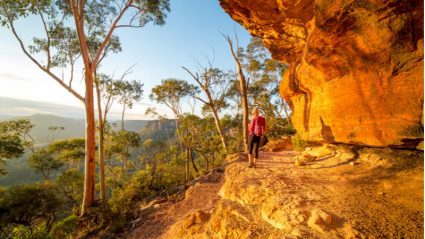 Aug 20, 2021
---
Turn your Blue Mountains holiday from a nice trip to an unforgettable one with...