Travel with ease to Machu Picchu and give yourself more time to explore Cusco, the ancient capital of the Incas.
Climb aboard the train and wind your way through the Urubamba Valley to Aguas Calientes, the gateway town to Machu Picchu. From the comfort of your seat, notice the changing views as you travel deeper into cloud forests set amidst the Andean mountain peaks. After making the journey from Cusco, (if you're not already excited) the anticipation will set in and you'll be feeling fresh and ready with plenty of time to explore the mother of all Inca ruins – Machu Picchu.

Our trips
Reviews
Our trips score an average of 4.78 out of 5 based on 1409 reviews in the last year.
Life on the Rails
To reach Machu Picchu, it's a 2-hour journey from Cusco to Ollantaytambo, followed by a 1.5 hour train ride to the gateway town of Aguas Calientes. Depending on your trip, you will spend the night prior in either Ollantaytambo or Cusco – then rise early to arrive for the 30-minute bus ride taking you to the entrance. Once you've arrived at Machu Picchu, your local guide will share the history of the site with plenty of time left to explore at your own pace. Perhaps take the 2-hour return walk up to the Sun Gate or take it all in next to a grazing llama on the terrace.
Read more about the train to Machu Picchu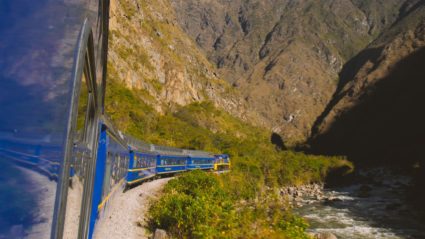 Jan 08, 2018
---
When I read that on my nine-day Classic Peru tour we were taking the train to...
FAQ