It can take months of planning – especially when it comes to organising your visa ­– but there's another aspect to travelling to Iran that isn't an issue for visiting many other parts of the world.
Just a few weeks before I was due to fly to Shiraz, the starting point for Intrepid's Iran: Women's Expedition, it occurred to me that I had no idea what I was going to wear.
Usually, it's a case of chucking a few things in a bag and not worrying too much if anything is missing. After all, if you need a cardigan because the weather's chilly you can normally head to the mall. But I had no idea whether shopping was an option, and my valiant Google efforts revealed quite a lot of conflicting advice about what sort of outfits would be acceptable and where.
DISCOVER THE BEAUTY OF IRAN ON OUR 12-DAY WOMEN'S EXPEDITION – DETAILS HERE
Here's what I discovered while I was in Iran:
Handling the hijab
All women in Iran cover their hair and neck with a hijab (scarf). It wasn't always the way. Some women chose to cover their hair after the revolution in 1978­-79 as a symbol of protest against Mohammad Reza Pahlavi, the last Shah of Iran and a progressive monarch who introduced a series of social, political and economic reforms. At that time, wearing a hijab was entirely voluntary. In 1985, to quell growing domestic opposition during the Iran–Iraq War, it became mandatory for women to dress according to the tenets of the Islamic faith.
CHECK OUT OUR FULL RANGE OF SMALL GROUP TOURS IN IRAN NOW
It's expected visitors also follow the rules. Luckily, it's not nearly as daunting as you might expect, although it is a little hard to get used to. Try a few test runs at home. Just Google 'how to wear a hijab' and there are innumerable video and illustrated tutorials demonstrating simple styles.
Choose scarves made from fabric with a bit of texture, since that will help it stay on your head. Other tricks include using a high ponytail or bun as an anchor, or fixing it with a bobby pin or two. You can wear hijabs of absolutely any colour, and as you explore the bazaars of Shiraz and Esfahan, for instance, you'll see some absolutely beautiful scarves on display.
RELATED: TRAVEL TO IRAN: A 2019 VISA UPDATE FOR US, UK AND CANADIAN CITIZENS
Is it ever acceptable not to wear a hijab?
Often when you enter someone's home, your host will tell you it's OK to remove your scarf. In any situation where you're in a group of women only – on the Women's Expedition, we visited a beauty salon, a women-only park and did a yoga class – you can also take off your hijab.
Occasionally, you might see female guests in a restaurant with their heads bared. At any time, however, the Guidance Patrol (Gasht-e Ershad), which is tasked with maintaining Islam's code of conduct, can enter a public place and report transgressions to the police. They, in turn, can take action against the restaurant's owners. It's a sign of respect to your hosts to keep your hijab in place.
RELATED: MEET NADIA, THE INTREPID LEADER WHO WILL CHALLENGE YOUR PRECONCEIVED NOTIONS ABOUT IRAN
What about the rest of my clothes?
This is where many women become confused with talk of manteaus (overcoats) and all-black outfits. Fortunately, when you're on the ground it's not nearly as confusing. You're more likely to feel under-dressed – many Iranian women are incredibly stylish – than inappropriately attired.
The most important aspect to remember is that, apart from having your hair covered, you also need to cover your legs right down to the ankles, your arms to below your elbows, and your butt.
Jeans, even skinny ones, are fine teamed with long-line, long-sleeved shirts (either button-up or pullovers). Also acceptable are full-length leggings topped by a dress, assuming it's to your knees or longer. For cooler weather (and it does get very cold during winter), a long cardigan or coat is imperative. Bright and light colours are just as acceptable as black, grey and navy.
RELATED: 5 UNIQUE EXPERIENCES YOU SHOULDN'T MISS IN IRAN
People will be much more accepting of slightly shorter shirts or clothing that's more form-fitting in big cities, like Shiraz and Tehran. When you're travelling into villages and more rural areas, it's important to err on the side of modesty.
As far as shoes go, be more concerned about comfort than what is appropriate. When it's hot, many Iranian women wear sandals, particularly in the city. On any trip you'll be doing quite a bit of walking and stair climbing, so a sturdy, comfortable pair of walking shoes and a slightly dressier pair for evenings are a good compromise.
SUBSCRIBE TO INTREPID'S NEWSLETTER FOR TRAVEL STORIES, COMPETITIONS & MORE
The finishing details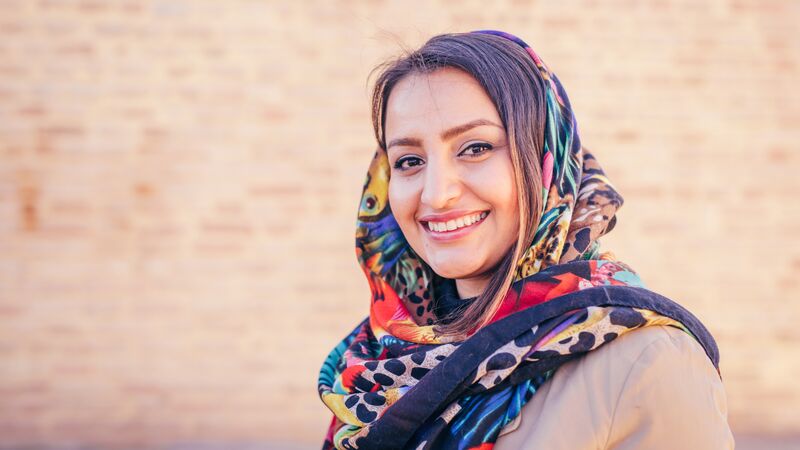 Some people will tell you it's frowned upon to wear make-up or nail polish, but that's also untrue. Lipstick, winged eyeliner, eyelash extensions and immaculate long nails are all part and parcel of many Iranian women's routines. Whatever best suits you is exactly the direction you should take.
Oh, and in case you're wondering, there's plenty of shopping to be done in Iran. Women's fashion, silver jewellery and leather bags can all be found in bazaars and shopping streets in the cities. Make sure you take enough cash and leave some room in your suitcase.
Join us on a 12-day adventure through Iran on our Women's Expedition from Shiraz. 
All images by Damien Raggatt. 
Feeling inspired?