Chiang Mai should be on everyone's bucket list.
It's a city with a blend of the ancient and the modern, plus with access to lush nature, you won't be short of things to do. There are temples to wander, waterfalls to swim in, hikes through the jungle, bars and cafés to suit any taste, live music, colorful markets, the list goes on and on… Oh and the food. You'll still be daydreaming about the food months after you leave.
Every time I return to Chiang Mai it surprises and enchants me. Last year I spent five blissful weeks studying there. I spent my time revisiting some popular spots, but I also dug beneath the surface to find new, hidden gems.
Here are my top tips for exploring Northern Thailand's most wonderful city…
Take in panoramic views of the city
Chiang Mai is famed for its temples. You can spend hours, days even, wandering from one Buddhist shrine to the next within the easily navigable four walls of the Old City. As well as aimlessly wandering, you should make time for Wat Doi Suthep. This is Chiang Mai's most famous temple and therefore one of the most popular tourist spots. Sitting on a hill (doi means mountain) a 45-minute drive up a winding road, this temple offers beautiful views over the city.
But here's my insider tip: good timing can drastically change your experience. Set your alarm early – around an hour before sunrise – and arrange a lift up the hill (or rent a scooter and drive yourself). At this time there are no crowds, except for perhaps a few monks. This means that there is no jostling for a good spot at the lookout, and you can soak up the views without feeling pressured to simply snap a picture and move on.
Sunrise on Wat Doi Suthep is one of my fondest memories of this fair city.
LOVE BEING ACTIVE? CHECK OUT INTREPID'S HIKE, BIKE AND KAYAK TRIP IN THAILAND
Eat, eat, eat!
In Thailand, you'll wish there were six meals in a day instead of three, and hey you might find yourself stretching the rules in that respect. The markets offer cheap, fresh treats, and there's so much to choose from. From classic dishes like curries and Pad Thai to the Northern speciality, Khao Soi – a light soup filled with vegetables and topped with crispy noodles.
Even if you're not sure what something is, give it a try. Thrill seekers might even try some fried insects! Aside from the markets, spending a day on a cookery course is the best way to get to know Thai cuisine. You'll be taken to a market to find ingredients, then taught how to rustle up five or six different dishes.
READ MORE: THE ULTIMATE FOODIE'S GUIDE TO THAILAND
Paint the town red
If you're after nightlife, Chiang Mai delivers. There are heaps of bars and clubs to sink a few local beers. Along the banks of the Mae Ping river, picturesque spots like The Riverside serve food with a live soundtrack of well-known tunes. But if you're after something a little different, the North Gate Jazz Bar is the place to go.
This low-key venue's live music will transport you to Glastonbury Festival, with guitar solos stopping you mid-conversation as you marvel at the talent. Thai bands provide cover music of jazz and rock classics every day of the week, and it never disappoints.
Stretch your limbs with a yoga class
Whether you're a seasoned yogi or a complete novice, Chiang Mai is a great setting to take a class. Drop-in sessions are offered on the upstairs balcony of The Bodhi Tree Café – go in the evening to coincide with sunset views. If you fancy a bite after the class, the café downstairs offers delicious and nutritious organic meals in a bohemian setting. The smoothies are fresh, tasty and addictive.
VISIT CHIANG MAI ON INTREPID TRAVEL'S 8-DAY EXPLORE NORTHERN THAILAND TRIP
Hike through the jungle
The area around Chiang Mai has more walking trails and waterfalls than you can shake a stick at, so there really is something for everyone. But by far my favorite is The Monk's Trail. The track, which begins near the entrance to the zoo, takes around 45 minutes to reach the Buddhist monastery of Wat Pha Lat. Along the path you'll see orange rags tied to trees – these are ripped monk's robes that guide the way.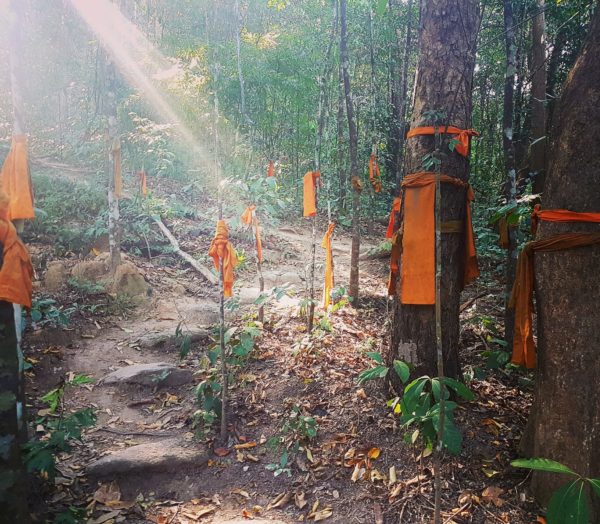 When you reach your destination you will be overcome with calm. Tourists haven't discovered this place yet – there are no crowds, no food stalls, no souvenir sellers. The temple sits serenely by a wide, gentle waterfall. Smooth rocks invite you to take a seat and let the sweat from the hike cool down. The waterfall forms a break in the green canopy of trees, and parts of the city appear through the gap.
Nature has blended into the buildings here. With vines and roots hanging over them, the dragons, elephants and Buddhas carved into the stone seem all the more mystical. If you want a beautiful hike topped off with a truly tranquil temple experience, trekking to Wat Pha Lat is essential.
SUBSCRIBE TO INTREPID'S NEWSLETTER FOR TRAVEL TIPS, COMPETITIONS, GIVEAWAYS & MORE
Treat yourself. Get a massage.
Once you've finished exerting yourself with yoga and hikes (or the nightlife), it's time to relax. Chiang Mai has massage parlors on every corner, and at such low prices you could indulge every day of the week! The traditional Thai massage is notorious for back-bending, spine-cracking positions so prepare to be thrown about a bit, or simply opt for the tamer oil massage option.
If you're feeling adventurous, you can get a massage from a Thai prisoner; the Thai Correctional Vocational Center supports female prisoners by training them in massage therapy. If the prison is fully-booked (which is common) you can also go to a center closeby where ex-prisoners are continuing to use their skills outside of prison. Do good, feel good – win win!
READ MORE: FIRST-TIME TRAVELLER? HERE'S WHY THAILAND IS THE PERFECT DESTINATION FOR YOU
Indulge in some retail therapy
Leave some space in your backpack because Thailand is full of irresistible souvenir options. From clothing to rugs, lamps to carved elephants, jewelry to picture frames, you'll want it all. Dedicate at least half a day to browse markets. My top tip is to remember that the Saturday and Sunday markets are extremely busy. So for these, let go of any ideas of browsing and just go with the flow. It's a case of keep moving or be trampled.
If you do fancy trying on those Aladdin pants, save it for the Night Bazaar, which happens seven days a week. Also, be ruthless with your haggling. You'll find similar items in multiple stores, so if one doesn't work out don't worry, you will find it 10 meters away and can start the haggling game all over again.
So, are your taste buds tickled? Are your hiking boots itching to be worn? Your wardrobe aching to be indulged in some fresh new Thai pieces? Get to Chiang Mai. And don't be surprised if you find yourself extending your stay, or never wanting to leave at all.
Ready to visit the gem of Northern Thailand? Visit Chiang Mai on one of Intrepid's many group tours in Thailand.
—
(Doi Suthep Temple image c/o Sara Millian. Rickshaw photo c/o Miranda Nixon. All other images c/o Jen Welch.)
Feeling inspired?