Even if you don't impress easily, Victoria Falls will make an impression. 
One of the Seven Wonders of the Natural World, it's a place that, upon seeing once, you'll remember forever. And straddling the border between Zimbabwe and Zambia, it's also not hard to see why the awe-inspiring spot is a UNESCO World Heritage Site.
And in our humble opinion, there's never been a better time to visit this Southern African gem. Why? Well, we'll give you four good reasons.
Ease of getting there
First off, the Victoria Falls International Airport has just been renovated (well, as of November 2016). The US$150 million airport is a pretty big deal in that its new runway can accommodate some of the world's largest jets, but also because it can now handle around 1.5 million passengers annually. This is good news – and a slew of airlines are well aware, beginning to fly there more frequently. (Ethiopian Airlines and South African Airways have more frequent flights to Vic Falls; Kenya Airways will do from May, and Qatar Airways and Etihad Airways might also follow suit.)
RELATED: THE 15 MOST BEAUTIFUL WATERFALLS IN THE WORLD
But it's not just a shiny new airport which has, as The Telegraph put it, heralded in "a new era for Zimbabwe" (at least in terms of infrastructure). The December 2016 reintroduction of the Kavango-Zambezi (KAZA) uni-visa means that visas are a ton simpler. This visa allows people from 40 countries (U.S. and Europe included) to both transit easily between Zimbabwe and Zambia, as well as stay for up to 30 days in both countries. Sweet.
Increasing stability & investment
The improved infrastructure doesn't stop at the airport. Lodges all over the town itself are upgrading to meet demand – there's truly never been a more exciting time to visit because of the buzz and facilities this is providing. And though what's coming next isn't the most exciting news you've ever heard it IS good to know that over $200,000 has been allocated to improving roads in the surrounding area, particularly the (jaw-dropping) bridge that links the two countries.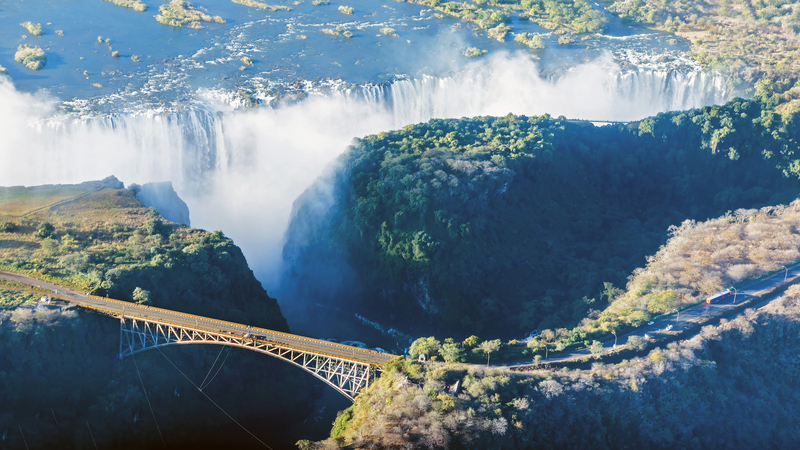 The stability and investment the region is seeing is partly thanks to Zimbabwe's slightly-improved economic situation. If you know the country for one thing (beyond the spectacular Zimbabwe Falls) it's unfortunately likely that that's Mugabe and his hyperinflation-causing policies. As disastrous as they were, they peaked in 2008, and the economic situation has most definitely improved since the U.S. dollar was adopted soon after.
Activities for all travelers
Little in life beats the experience of walking by Victoria Falls, hearing its roar and feeling its power (though word of warning: you'll likely get soaked).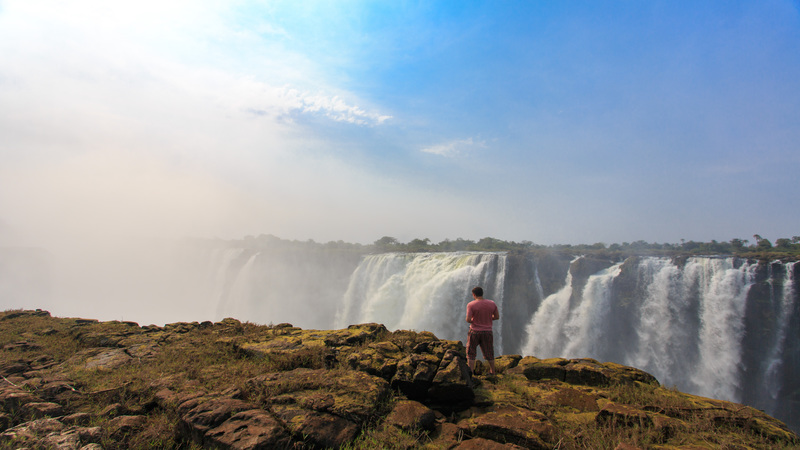 But the area offers so much for the intrepid explorer (see what we did there?). Adrenaline tourism in the town takes the form of bungee jumping, white water rafting, or the pretty unique gorge swing. More laid-back opportunities take the form of a village and township tour, sunset cruise, or canoe trail (all activities offered by Intrepid).
If you want to go all out then once-in-a-lifetime helicopter flights over the Falls are also an option. But if you're more in the mood for something more cultural after exploring the area's abundant scenery then you'll find Vic Falls (that's what locals call it) increasingly has a whole host of chic options. Head to Elephant's Walk Shopping and Artist's Village to fulfill all your arty, crafty, foodie needs. Or go farther afield to Livingstone, Zambia to check out Maramba Market for a vibrant, authentic shopping experience.
Safari proximity
Yep, it's not all about the waterfall. Vic Falls is the perfect place to begin or end the quintessential, bucket list safari thanks to its super convenient location. A few hours from Zimbabwe's Hwange National Park and a day trip away from Botswana's Chobe National Park, the town itself is home to animals galore but close to even more. And it's not even just great for sightings of the big five game animals, it's the perfect launch pad for exploring Southern Africa as a whole – think South Africa, Mozambique and oh so much more.
Now that we've whetted your appetite for a Southern African adventure that features the incomparable Victoria Falls, here are some suggestions of trips that'll take your travels to new levels:
Vic Falls to Kruger: a 9-day whirlwind tour starting in Zimbabwe, going through Botswana, into South Africa.
Explore Southern Africa: a 18-day whirlwind adventure exploring South Africa, Botswana and Zimbabwe.
Cape Town to Vic Falls: a 22-day exploration of four countries in Southern Africa (including Namibia!)
If none of these float your boat, check out all our trips in Africa…
—
Image Credits: All Intrepid Travel
Feeling inspired?