"I'm so glad you said you'd do this too," Michelle shared, grinning from ear to ear as she looked at the mountains around us. "I was worried I'd be the only one." 
We'd arrived at Verrucole Castle after five members of our Intrepid group banded together to make the climb. It didn't matter that our official ride for the day was done. We'd already cycled some 40 kilometers and that castle, located straight uphill, might already be closed. It was an adventure to be had, hotel pool be damned!
We then hopped back on the bikes and started the slow climb; cheering each other on with every turn of the wheel. As we reached the castle, we were nearly stopped in our tracks by the view. We were well above the slow rolling hills of Tuscany now, overlooking veritable mountains made even taller by the dense forest that covered them. It might just be the best view in the region, and it was all ours.
This would be one of the many little adventures we'd have on Intrepid's 8-day Cycle Tuscany trip. The first, being the trip itself.
This was brand new territory for us
My partner Ryan and I are what you might call audacious travellers. We look for off-the-beaten-track experiences and dive into them with a little more reckless abandon than my parents care for. We've driven a tuktuk across Sri Lanka. We've trekked solo through Malaysian jungles.
We hadn't, however, ever joined a group trip.
While I relished the chance to let someone else do all the planning for a week, I wasn't sure what to expect. How would my bike riding hold up?  Where would we cycle? Beautiful places, naturally. Also, would our group get along?
This would be the best surprise of all. Because after some 230 kilometers cycled, it's the people I met along the way that have stuck with me more than anything else.
READ MORE: WHAT I WISH I KNEW BEFORE MY FIRST CYCLING TRIP WITH INTREPID
Little moments have a big impact
We rolled into Barga after the second day of cycling feeling pretty pleased with ourselves. The mood in the air was decided bubbly and, apparently, contagious. The hotel staff had poured a rather generous glass of celebratory sparkling wine for Jackie, a fellow rider, and before I knew it, a second glass was fetched.
CYCLE WITH A BUNCH OF LIKE-MINDED TRAVELLERS ON ONE OF INTREPID'S CYCLING TRIPS
We'd met only 48 hours prior, but here we were, sharing and celebrating together.
It was a small moment, but one I cherish because it embodies the comradery that seemed to flow so naturally from our little group. These moments bubbled up again and again over the course of eight days. Not just from our group either, but from our guides and the incredibly warm locals we met along the way.
SUBSCRIBE TO INTREPID'S NEWSLETTER FOR TRAVEL STORIES, TIPS, GIVEAWAYS & MORE
Take Giovanni for example, a local restaurateur in Barga. "There's no menu," our guide Walter explained before we all headed to the restaurant, "but you'll be taken care of."
We arrived to a great big welcome from Giovanni, a bright smile peered through his thick white beard, before he ran back inside to the kitchen. If Italians show their love through food, it's no surprise the night ended as it did. And when the penultimate dish arrived – a platter of fine local cheeses enriched with tiny flowers – it was all I could do to propose Giovanni join me back in Canada. Relocate, in the name of love and food. That bright smile peered out again and, if my extra serving of sweet homemade cakes was any indication, I think his answer is yes.
READ MORE: 10 THINGS YOU MUST KNOW ABOUT INTREPID'S CYCLING TRIPS
Local guides make all the difference
The next day, as we arrived at a nearly century-old café, I couldn't help but notice how fondly Walter spoke of the owners. Just as he had when we met Giovanni, and would again on other occasions. It dawned on me that this was just Walter's way – effortlessly charming and proud of the people of his country. Not only did it make us appreciate these local producers even more, it helped us have interactions with people we may have otherwise never met.
The same could be said of Silvia, another of our three charismatic guides, whose cheerful personality was simply magnetic. If by chance you were having a slow start, legs perhaps a little sore, you needed only spend a few minutes with Silvia to be re-energized with a deep appreciation for the good fortune we had to be cycling such a beautiful place. It's no wonder the vase on her bike was filled daily with flowers picked by fellow riders.
LEARN MORE ABOUT INTREPID'S PASSIONATE LOCAL LEADERS
Then there's Andrea, a true multihyphenate: guide-driver-chef-historian. Hospitality must be in his bones, because he so easily shifted from driving the support vehicle, to preparing elaborate picnics with everyone's dietary requests in mind, and sharing his infinite local knowledge at every stop. It seemed that no matter what anyone needed, Andrea was more than happy to help, with a smile.
READ MORE: 10 CYCLING DESTINATIONS THAT SHOULD BE ON YOUR TRAVEL RADAR
A memento to keep for a lifetime
Our week in Tuscany flew by and before long, we found ourselves in Pisa, our final destination. We had made it. As the bikes were loaded back on the trailer for the last time, Allan, another rider, passed around his helmet for everyone to sign. When it reached Ryan, he pulled back the marker. It wasn't for him to sign, it was for him to keep. A gift.
I welled up watching a man we had come to admire for his quiet determination and steadfast loyalty make such a thoughtful gesture. My heart was about ready to burst at the seams.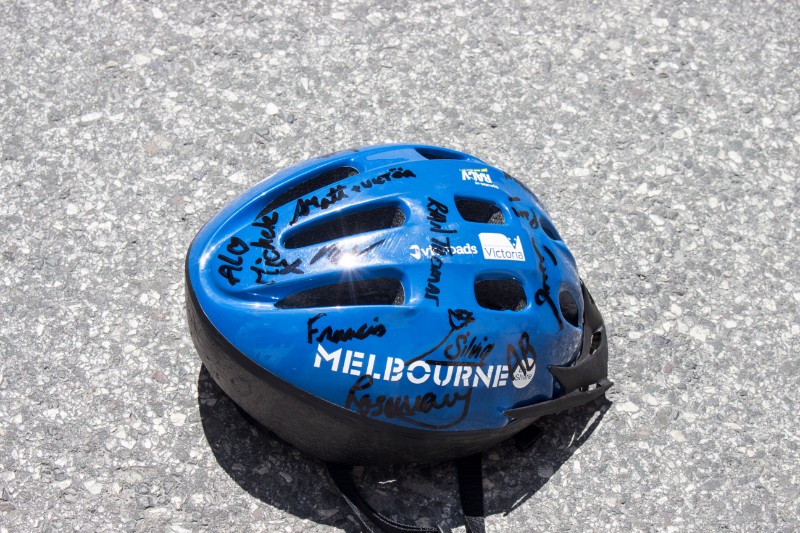 At dinner, I thought about all those little moments, the many things I'd jotted down in my notebook to remember years from now. Then, Silvia, Walter and Andrea took a moment to thank us for the week. "Look under your plates," they said.
There, hiding was a group photo we'd taken earlier in the day, printed and signed for each of us. A perfect memento for a most memorable adventure.
Ready for a beautiful adventure like no other? Cycle Tuscany with Intrepid Travel Or read our top reasons to cycle in Tuscany 
—
(All images courtesy of writer Anne Cayer, and her partner, Ryan. The photos were all taken on their Cycle Tuscany adventure with Intrepid.)
Feeling inspired?