Far North Queensland is as diverse as it is spectacular and combines natural wonders with some of Australia's friendliest tourist towns.
Far North Queensland covers more than 380,700 square kilometres and includes the popular tourist towns of Cairns and Port Douglas as well as the Great Barrier Reef, Torres Strait Islands and Cape York, lush Daintree rainforest, and laid-back Cooktown. From thundering waterfalls to saltwater crocodiles, ancient fossils and lush landscapes that stretch on forever, there are incredible things to do in Far North Queensland.
1. Explore Dunk Island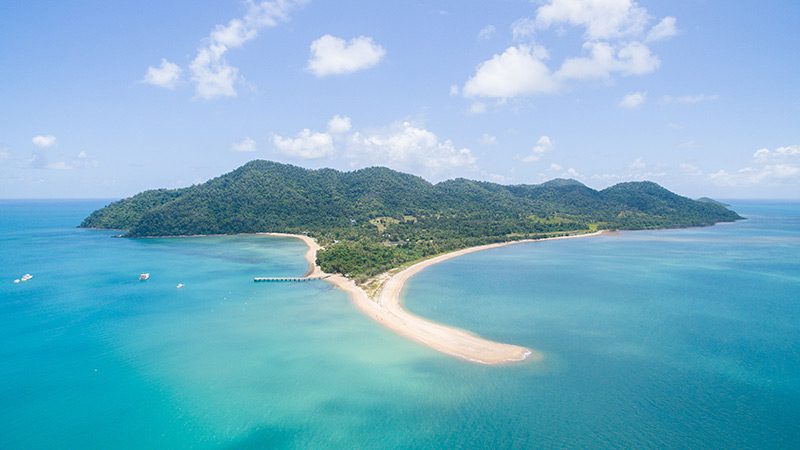 Catch a water taxi to nearby Dunk Island, part of the Family Islands group, on a Queensland Coast and Islands Adventure and spend the day exploring the island's trails and beaches. Join your leader for a three-hour circuit walk, passing Palm Valley and shady rainforest filled with birdlife before you arrive at pristine Coconut Beach. If you go for a swim, keep an eye out for dugong, tropical fish and sea turtles. Dunk Island is one of the best spots to see bright blue Ulysses butterflies.
2. Get a taste of Far North Queensland
Take your tastebuds on a delicious self-guided adventure and discover fresh local produce and authentic food experiences. Highlights include grabbing some fresh bananas from a roadside stall, sample ice cream made with local fruits or visit a Far North Queensland cocoa plantation at Charley's Chocolate Factory where you can surround yourself with the scent of delicious chocolate and taste what's on offer. If you want to learn more about how chocolate is made, don't miss the guided tour of the farm and the factory.
3. Snorkel the Great Barrier Reef
You can't come to Far North Queensland and not dip your toes into its sparkling waters, especially when the Great Barrier Reef is right on its doorstep. Brimming with brightly coloured coral and fascinating and beautiful fish, the Great Barrier Reef is not only quintessentially Australian but also the world's largest coral reef system. Giving you the chance to swim with sea turtles and spot a reef shark (or two), snorkeling parts of this marine wonderland will have you feeling closer to nature than ever before.
4. Get active in Cairns
Once considered little more than a convenient jumping off point for the Great Barrier Reef, Cairns has become a bucket list destination in its own right. Take a boat tour to the outer reef or Fitzroy Island, go on a day trip from Cairns to the tropical rainforest at Cape Tribulation, take a full day tour to see native wildlife, visit Mossman Gorge, marvel at mighty Barron Falls, or ride the Skyrail Rainforest Cableway then jump onboard the Kuranda Scenic Railway for the return trip to Cairns. 
FIND OUT MORE: THE PERFECT FAMILY HOLIDAY IN FAR NORTH QUEENSLAND
5. Go on a rafting adventure
Prefer not to go hiking in the Far North's tropical heat? White water rafting on the Tully River near Mission Beach is a much more comfortable way to experience the lush landscape and natural beauty of Far North Queensland. The Tully River has more than 40 rapids and winds its way through stunning Tully Gorge National Park which is filled pristine rainforest, fluttering butterflies, and the singing of the birds which call this region home.
6. Chill out at Mission Beach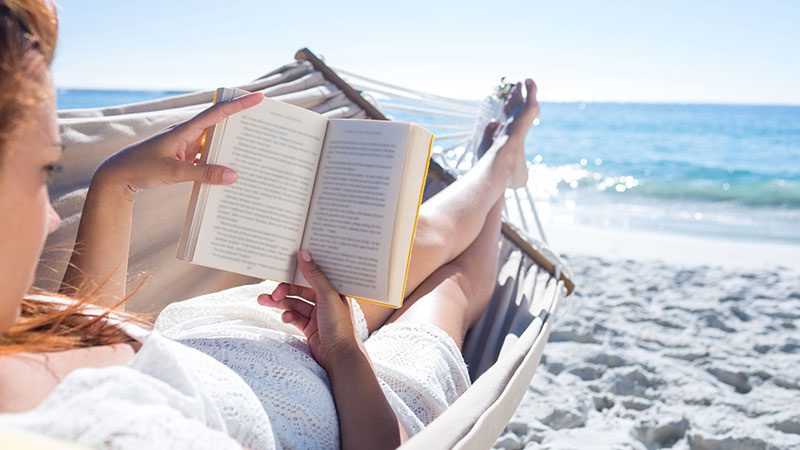 Mission Beach is the perfect spot to disconnect with the pressures of modern life and reconnect with nature. This sleepy beach destination encompasses the village of Mission Beach plus three other nearby towns – South Mission Beach, Bingil Beach, and Wongaling Beach. It's an adventurer's paradise with pristine wilderness areas to explore and activities such as white water rafting, swimming in the sparkling ocean, strolling along 14 kilometres of unspoiled coastline, hiking along the coast and taking a day trip to nearby Dunk Island. 
7. Discover the Daintree
With lush, tropical rainforests and stunning coral reefs to explore plus the opportunity to engage with the rich culture of the Kuku Yalanji people, the Daintree is a must-visit on any Far North Queensland holiday. Swim around world's largest coral reef system, cool down in a freshwater swimming hole, hike through National Parks, spot cassowaries in the wild or take a trip to Cape Tribulation where two UNESCO World Heritage-listed sites meet, the Daintree Rainforest and the Great Barrier Reef. 
EXPLORING THE DAINTREE: FIND OUT MORE
8. Explore the Atherton Tablelands
Walk the Atherton Tablelands on a unique Intrepid tour with a specialist guide and a team of pampered pack donkeys which are experts when it comes to transporting bags across all kinds of terrain. With your trusty four-legged mate leading the way, you'll be able to venture beyond the usual vehicle routes and explore more of this special part of Far North Queensland near Cairns which includes the chance to spot rare Lumholtz tree-kangaroos, swim in ancient crater lakes, and visit coffee and tea plantations. 
9. See historic Cooktown
Cooktown offers excellent fishing, friendly locals, a sense of history and beautiful tropical scenery. It also gets hot, hot, hot – especially in summer. Named after Captain James Cook, this sleepy town has a museum honouring its most famous visitor and quintessential Aussie pubs with wide verandas, hearty meals, and ice cold beer. You'll probably need one after hiking to Grassy Hill Lookout which offers 360 degree views of Cooktown and the surrounding ocean. Croc spotting tours are also popular.
10. Port Douglas
Four Mile Beach, with its rainforest-fringed sand lined with swaying palm trees, has played a starring role in so many tourism commercials that it's immediately recognisable. Go hiking through the rainforest, cruise the Daintree River, see crocs up close, or swim with jewel bright tropical fish on a snorkelling trip. Port Douglas offers an impressive choice of tours, easy access to the Daintree Rainforest and Great Barrier Reef and enough world-class restaurants for every night of the week.
Feeling inspired?