With world-class beaches on dreamy Zanzibar and wildlife to wow the likes of David Attenborough, Tanzania is a country like no other.
And there's more to this country than the safaris; there's truly something here for everyone. There are poignant sites to be visited from the times of the slave trade. There's ancient culture that lives on through the Maasai people of the Serengeti, unchanged for centuries. And that's all without even mentioning Kilimanjaro!
Tanzania is a country of extreme diversity, and here are six reasons why it should definitely be on your travel radar.
Spot the Big 5 in the Ngorogoro Crater
Have you ever heard a lion roar? While on safari my guide made us sit by a pride of lions for over two hours waiting for it. Though I got a bit bored at the time, I'm so grateful. It's unlike anything you can imagine – the sound is mind-blowing, ear-splitting, and downright terrifying.
Everyone who goes on safari comes out with a story – mine was the roaring lion, a friend's was of a leopard protecting its young from monkeys, or a playful baby elephant who wouldn't stop irritating its mother. Go beyond the documentaries and see this world for yourself, see what stories you'll come back with.
In the Ngorogoro Crater you'll get the chance to spot the cast of The Lion King in their natural habitat. And Tanzania isn't one to do anything by halves – the crater is the world's largest unflooded caldera. Being the remnants of an exploded volcano, it is seriously fertile landscape, so prepare for wildlife in abundance.
Over dinner you'll debate what is more beautiful – an elephant or a giraffe? What is scarier – a lion or a hippo? This phrase gets thrown around a lot but trust me, a safari in Tanzania is a once-in-a-lifetime experience.
READ MORE: WHAT IT'S LIKE TO SAFARI IN THE NGORONGORO CRATER
Climb the tallest mountain in Africa: Kilimanjaro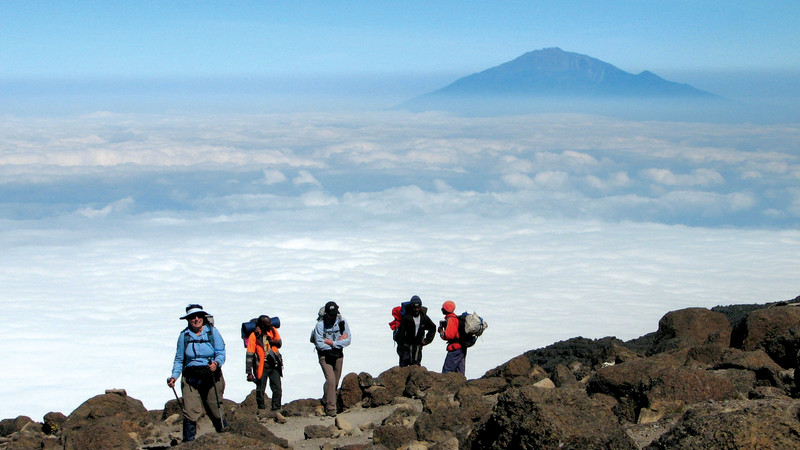 For some, the idea of pushing your body to its absolute extreme, reaching the point of exhaustion and pushing on further, while battling with every element and the threat of altitude sickness, isn't number one on the list. Funny, huh? For others, it screams challenge and is right at the top of their bucket list.
Well, having pushed myself through that torture, I can tell you that it's absolutely, one hundred percent worth it. The journey will take you from rainforest right up to glaciers and snow, the beauty is unrivalled, the sunrises impossible to capture on a camera.
If you fancy getting your head above the clouds and showing yourself just how powerful you really are, make this mountain a priority while you're in Tanzania.
MORE FROM THIS WRITER: WHAT I WISH I KNEW BEFORE CLIMBING KILIMANJARO
Know true paradise on Zanzibar
Zanzibar. Sweet, sweet Zanzibar. I've had you on my list of "must return to"s ever since I left you. I will humbly say that having been fortunate enough to see beaches from the Caribbean to Southeast Asia, the sands and seas of Zanzibar are the best yet.
North coast spots of Kendwa and Nungwi offer still, shallow waters that reflect sunsets in all sorts of scrumptious shades. The Indian ocean is crystal clear, and dhow boats float by in their slow, "nowhere I need to be" fashion to provide a perfect backdrop to your sundowner cocktails.
And if the beaches get boring (which they won't), Stone Town is host to a vibrant food market each evening. Get stuck into all sorts of fresh seafood, and to wash it down, sugar cane juice with a squeeze of locally-grown ginger.
READ MORE: A DEFINITIVE GUIDE TO VISITING BEAUTIFUL ZANZIBAR
The unforgettable bus rides
Tanzania may be magical, but it doesn't necessarily have the whole tarmac thing down. Not everywhere anyway. This place gives "off the beaten track" a whole new meaning. But while the bus rides may not always be comfortable, they sure are entertaining.
You'll see animals roaming free, sometimes right across the road. Chickens, goats, and cows doing whatever they feel like doing. Fruits, vegetables, clothes, shoes, everything you can imagine being sold on the side of the road. You'll be mesmerized either by the skills with which cars and bikes dodge each other at breakneck speed, or you'll gaze into the distance at the landscapes that roll by.
So don't forget to look away from your phone and out of your window for surefire distraction from your aching bum bouncing along those bumpy roads.
SAFARI IN TANZANIA AND VISIT ZANZIBAR ON THIS EPIC 10-DAY TRIP
The timekeeping, or lack of
There's not only ancient culture to enjoy, but also the laid-back vibe of a country which, once accepted, is a relief from the fast-paced worlds we occupy. Hakuna Matata is not just a lyric from your favorite Disney movie, it's a well-worn phrase and a veritable way of life.
Sure, stuff doesn't always happen on time – TIA: This is Africa! Grab a mango off the side of the road while you wait for whatever it is that hasn't arrived yet.
SUBSCRIBE TO INTREPID'S NEWSLETTER FOR TRAVEL TIPS, COMPETITIONS, GIVEAWAYS & MORE
The vibrant culture and the warmest people
In Tanzania you'll encounter a culture that is worlds away from the life you're used to back home. If you get the chance, visit the Maasai of the Serengeti and try to beat them in a jumping competition (I'll place a bet on them winning).
You'll come to realize that the people all over this country, not just the Maasai, are warmhearted, positive and happy to have you around. More than one of the guides I met in Tanzania burst into song spontaneously – that marks a pretty special breed of human in my book.
READ MORE: WHAT IT'S LIKE SPENDING A NIGHT WITH THE MAASAI ON AN INTREPID TRIP
The soundtrack
"It's gonna take a lot to drag me awaaaay from youuu!" If that line doesn't ignite something inside of you, maybe you shouldn't be visiting this continent.
How could I write about Tanzania without writing about Toto? Their song 'Africa' features not one but two of Tanzania's highlights: the mighty Kilimanjaro and the sprawling Serengeti. And moving swiftly from an 80s classic to a 90s Disney institution: The Lion King. As you cruise around on safari you'll have Hakuna Matata bouncing around your head, and when you witness sunrise on either a mountain, safari or beach (perhaps after a night's partying in Zanzibar), The Circle of Life won't escape you.
And that's not even mentioning the local tunes – traditional songs, reggae beats, right through to hip hop. Music blares everywhere, from bars, shops, cars, buses. Tanzania has a soundtrack that you'll definitely miss when you leave.

So, what do you fancy – spotting elephants, lions and more on safari? Soaking in stunning, diverse nature from rainforest to grassland? A physical challenge hiking to the roof of Africa? History, music, dancing, or maybe paradise beaches? Tanzania has it all.
Ready to embark on the adventure of a lifetime? Tanzania is perfect for a small group adventure.
—
(Image credits from top to bottom: Intrepid Travel, Intrepid Travel, Ian Jones, Jen Welch, Jess Wight, Intrepid Travel, Intrepid Travel.)
Feeling inspired?