There's nothing quite like the kindness of strangers. Some places are known for it more than others, but nowhere quite compares to old southern hospitality. From Nashville to Savannah and beyond, old school values and charm make the USA's southern states some of the friendliest places to visit.
Unexpected kindness is a part of everyday life in the south. Here's what you can expect while you're travelling overland from Nashville to Savannah, through Georgia, South Carolina and Tennessee, on an Intrepid small group adventure.
1. People will hold open doors for you
With a nod of the head, a tip of the hat or an 'after you…' spilled in a deep Southern drawl, it's frequent to have doors held open for you in the South. It's just the way things are done in this part of the world. Every hotel we stayed in had a friendly bell-hop, who greeted us with a huge amount of enthusiasm. Even our campsite in Mount Pleasant, Charleston had a helpful caretaker willing to show us the way (not to mention the infinite kindness of our guide Mikaela who looked after us for our entire trip!). So many people are willing to go out of their way to assist in the South; it's a really humbling experience.
EXPLORE OUR FULL RANGE OF SMALL GROUP ADVENTURES IN THE SOUTHERN USA HERE
2. You will frequently be referred to as Sir or Ma'am
Used as an informal greeting, a thank you or a way to get your attention when you're about to walk into oncoming traffic, there is something endearing about being referred to as Sir or Ma'am. The old school titles evoke feelings of nostalgia, and the novelty of being referred to in such a way doesn't wear off. According to an affable local at the Tennessee Whiskey Distillery in Nashville, the titles originated from the French terms 'monsieur' and 'madame', which were eventually abbreviated over time.
3. Cars will wait for you to cross the street… even if you aren't crossing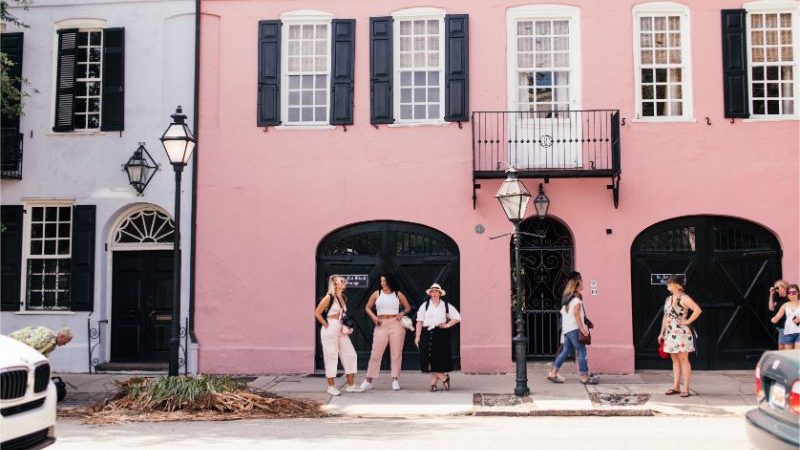 If you are even remotely near the side of a road on Rainbow Row in Charleston, cars will slow and give you the universal wave of, 'no, please, you first!'. What usually follows is a series of apologetic hand gestures until you realise you've been lingering dangerously close to the roads' edge, with a camera in hand and have no need to cross. Of course, drivers aren't bothered in the slightest and will usually give you an amiable wave as they continue on their way. The locals are used to tourists on this pretty little street and everybody is very patient.
RELATED: 4 UNMISSABLE PIT STOPS IN THE DEEP SOUTH
4. If you're unsure of a menu item, you'll be offered a taster
What even ARE grits? Are they bits of bacon? Oats? Some kind of other grainy porridge? At Paula Deen's Lady and Sons Restaurant in Savannah, Georgia, one waiter helped us settle the debate by bringing out a taster. The verdict? Kinda like polenta in texture, but also not, so maybe give these a shot for yourself! It's got to be experienced first hand.
RELATED: 6 REASONS TO DO A GROUP TOUR IN THE USA (FROM A GROUP TOUR SKEPTIC)
5. Restaurant owners often introduce themselves and check in on customers
A tradition that is occasionally seen in big Australian cities, restaurant owners and venue managers will personally check in on tables to make sure everyone is enjoying their meal, and the service. While it's common for waitstaff to check in on diners, a fair few southern restaurants are going the extra mile, with owners often making an appearance; you can't fake those family and community values! Our group felt like VIPs at Halls Chophouse in Charleston when we were all greeted as Sir and Ma'am – and even more when the owner came out and offered us all glasses of Champagne on the house.
RELATED: HOW TO WATCH MUSIC LIKE A LOCAL IN NEW ORLEANS
6. Everyone wants to know where you're from and what you're doing in the south
An Australian accent really stands out in the South. From one man leaning out his car window in the Loveless Cafe car park to ask, 'Are you guys 'Ossies'?', to strangers in parks stopping to see what all the camera commotion is about, everyone's excited to hear about a foreigner exploring their neck of the woods. Southerners are proud of their cities, so you'll often get stuck in conversation about a piece of southern history you had no idea about – and there's nothing like learning about a place from the locals themselves. In the Smoky Mountains, I chatted to a park ranger who, after posing for a photo, wanted to share some tidbits of information about the Smokies, such as where the name comes from. Its Smoky namesake originates from the fog that often hangs over the mountains. Makes sense!
RELATED: 10 OF THE USA'S BEST NATIONAL PARKS AND FORESTS
7. Everyone lets you pat their dog (or cat!)
Clearly the most important item on this list; dogs are always popular and everyone's happy to share their furry friends affection with you. If you're a dog person, saying hello to the local pets is a great way to introduce yourself to their owners and ask suggestions on things to do and see – and Southerners are more than happy to oblige. In Savannah, we all chatted to a friendly local with a rescue kitten who spoke to us about what it was like growing up in the South.
RELATED: FINDING THE UNFAMILIAR IN AMERICA'S HEARTLAND
8. People are happy to pose for a photo (even the fire department!)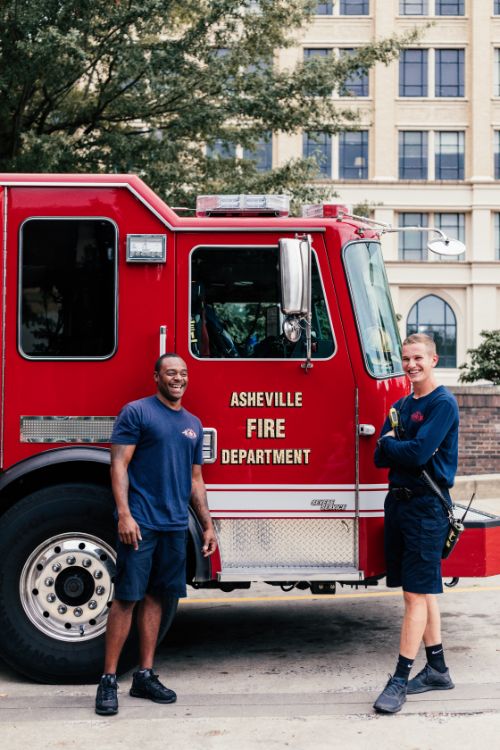 Wherever you are in the world, it's important to ask permission before taking someone's photo. On our trip, people were a little embarrassed when we asked to take a snap, but they were happy to flash a smile and have their picture taken. In Asheville, North Carolina we met two firemen who were keen to strike a pose, even with their team members watching on and insisting to us that they were both Abercrombie models.
Experience Southern hospitality at its best on an Intrepid small group adventure through the USA's southern states. Check out our range of trips here.
All images by Rachel Claire.
Feeling inspired?