"What does the air smell like?" Giorgos laughs. "Ha! That is a difficult question to answer in English. But I will try."
Giorgos has been working with Intrepid as a skipper since 2010; he refers to himself as the 'dinosaur' of Intrepid's sailing team. Back then, Intrepid were just operating a few sailing trips around Greece, but now their range has expanded to Italy, Croatia, France, Cuba, Myanmar… Giorgos has sailed all over the world, skippering a small boat for months at a time. The longest he's spent at sea was six months, sailing up and down the coast of Myanmar.
"A skipper is more than a profession," he tells me. "You're spending your time with people for just a few days, but you're doing it back to back, so you end up spending a big part of your life on the boat. It stops being a job and becomes a lifestyle – and you better like it!"
EXPLORE OUR FULL RANGE OF SAILING ADVENTURES HERE
But right now we're talking about Greece, Giorgos's home country. More specifically, the Greek Islands. I've never been to the Greek Islands, or Greece – I've seen plenty of photos, so I have an idea of what it looks like, but I want to know what it feels like.
"The air is very dry, and very easy to breathe. As soon as you get here, you can immediately take a deep breath and you have a nice feeling. The air is full of good smells too; thyme, oregano, rosemary. The islands are quite windy, so the smells of all the plants and herbs are dragged to you, even if you're in the village. And the smell of the sea is hard to miss, of course."
It's clear how much Giorgos loves these islands, and his job. When I ask him questions about his favourite place, his favourite things to do, his favourite foods, he smiles and says 'Ha!'. Our conversation today is peppered with multiple exclamations of 'Ha!'.
INSPIRED BY THE GREEK ISLANDS? CHECK OUT OUR RANGE OF GREEK SAILING ADVENTURES HERE
He's always loved the water. When Giorgos was a child, he and his family would sail to their summerhouse in Porto Heli, a few hours south-west from Athens, where they'd spend a few weeks on the boat, fishing, and exploring the islands with friends.
"I was able to skipper from a very young age," he says. "My father would get me to sail the boat and dock it. I loved it! In a way, that experience put a virus in me – a positive virus! I have really nice memories of that time; I was really lucky to grow up with that."
Giorgos's path to the sea was not a straightforward one. He followed in his parents' footsteps and studied mechanical engineering, getting a job straight out of university that led to a management role, but spending time in an office wasn't for him. After a few years, he made a 180-degree career change and quit his job.
"It took a lot of courage to leave. It was a rough time, but I had to follow my dreams – which was to spend my time at sea. For me, the sea is a way to connect to myself. When I was in that corporate job, I kept thinking about the last time I felt truly connected. I realised it was when I was a teenager, when I was with my father fishing, or swimming, or spearfishing. So I realised I had to get back to the water. Now I'm here and I'm so happy – this is what I should have been doing from the beginning."
After swapping the business suit for swimming shorts, life for Giorgos has been nothing but smooth sailing (sorry). These days, rather than waking up to the blare of an alarm clock, it's to the sound of the bells in the village church.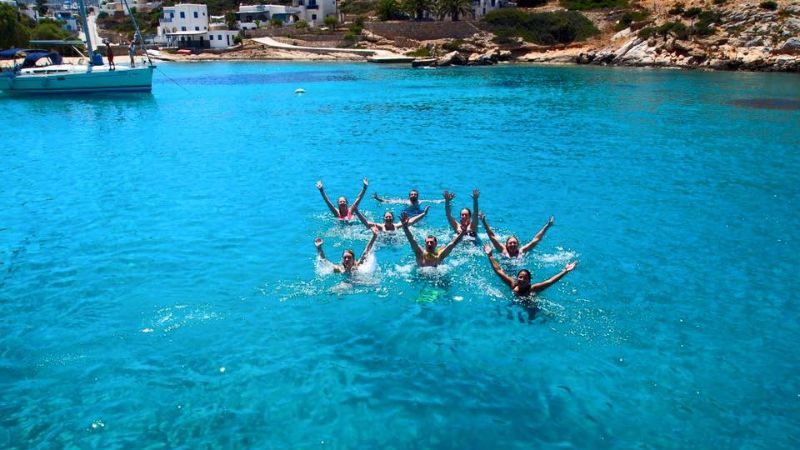 "Yes, that's quite a typical way to start the day on an Intrepid sailing trip in the Greek Islands," he says. "You're anchored in crystal-clear water, and the water is so inviting and safe. There are no sharks, no crocodiles, no jellyfish, no rips. It's an invigorating temperature – 20 to 25 degrees. After swimming in the water here, you come out and really enjoy the feeling of the sun on your skin."
Afterwards, you might sail into a little port. "These villages are very picturesque, and they keep their traditions. There are lots of little coffee shops and tavernas, so you can stretch your legs, have breakfast or buy a few little things."
Tourism in the Greek Islands has increased over the past few decades. Giorgos explains that most villages have 'showroom' shops on the islands, but if you're patient and eager to walk a little further, you'll find those traditional shops and tavernas that have been operating for 50 – even 100 – years.
RELATED: THE GREEK ISLANDS YOU (PROBABLY) WON'T SEE ON YOUR INSTAGRAM FEED
"Ha! It's what I love about the islands," he says. "That authenticity is in the hearts of the locals. You might sit down to eat in a taverna for lunch, with a little meze or different Greek dishes, and the owner will come out and sit beside you and ask you how your day was, and he'll really mean it! And you might end up drinking a little bit of ouzo and discussing the philosophy of life, and why it's important to love and laugh. This is daily. This is something that always surprises travellers when they visit."
We talk a lot about the importance of connection, and how travel can facilitate those moments of unity.
"When you're sitting around a table in business mode, people tend to be all business. But when people get on the boat, they are in a different mood. Regardless of their profession – presidents, lawyers, dancers – the boat takes you far away from your reality. Being out on the water gives you space to be more accepting and more open, to form new ideas and start new dialogues.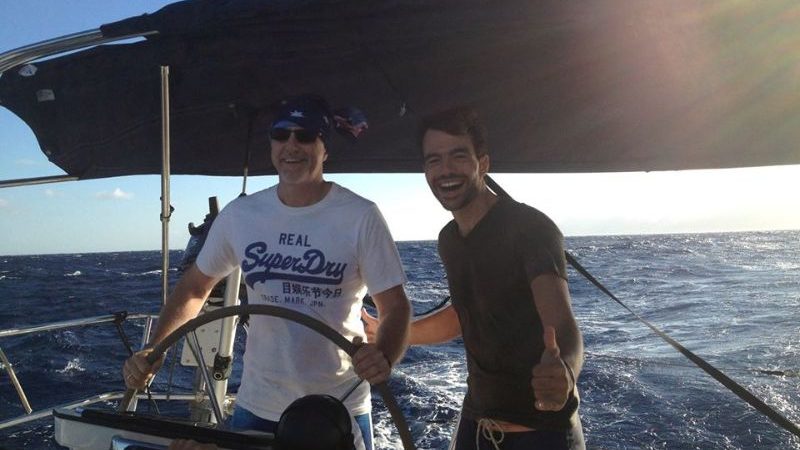 "All this energy helped me personally to be more accepting and open too. But it also made me realise that the deeper purpose – the deeper needs of life – is to connect to one another. I've worked all over the world, but regardless of where you are, the people I meet on the boat are all there to connect. That was such an eye-opener for me; it doesn't matter where you are. What's important are the people in front of you."
RELATED: 5 GREEK ISLANDS MYTHOLOGY LOVERS SHOULDN'T MISS
As our conversation draws to a close, I ask Giorgos what travellers should know before they come on a sailing trip in the Greek Islands with Intrepid.
"Ha!" (That laugh again.) "Pack lightly! You don't need to bring much. A swimming suit. Maybe two, in case one blows away when it's drying on the railing of the boat. Bring sunscreen. Read some of the stories of the places you're going to – the history and the mythology of the islands. It's easier to understand what something is or why it is there before you come.
"And remember to be open and immersed in the destination. Step back from your ego; this will help you discover different aspect of yourself. The Greek Islands will be ready for you."
Ready to immerse yourself in the beauty of the Greek Islands on an Intrepid sailing adventure? Ahoy, of course you are! Explore our range of sailing trips here. 
All images C/O Giorgos. 
Feeling inspired?