When you think of Greece, it's likely your mind jumps straight to Santorini.
With jaw-dropping ocean views, those classic white and blue buildings, and a selection of the most amazing sunsets in the world, the island is a top spot on everyone's travel list.
But because it's (sadly) no hidden gem, and with two million visitors a year, it can get a little crowded. The hustle and bustle of what you may have thought was a relaxing trip can become quite the opposite. Lucky for you, we carefully selected some trips, hikes, beaches and restaurants that are genuinely off the beaten track – so, you can enjoy the island, just you and all its wondrous beauty.
Hiking the volcano
We'll start with a little geography lesson: although dormant, Santorini is an active volcano. The caldera – the remains of a volcanic eruption – is something that, naturally, you should climb. Pack your bathing suit and head down to the port of Fira and jump on one of the many sailboats that takes 10 minutes to get to the beach of Palea Kameni. You'll be able to casually swim in a few hot springs before embarking on the trek itself.
SUBSCRIBE TO OUR NEWSLETTER FOR TRAVEL INSPO, GIVEAWAYS & MORE
If that doesn't interest you, you can hike right up to the top (only about 20-30 minutes) and look back at Santorini from a perspective most visitors don't see. And, as you'd expect, the view of the buildings and gorgeous landscape is quite the reward. The trip can be made to last all day, especially if you jump on a catamaran and do a sail over to Oia and back. However, you can do the volcano itself in just two hours.
Vlichada Beach
Unlike many other beaches here on the island, Vlichada is pretty secluded. A 20-minute drive from Fira and with stunning black and grey sand and volcanic cliffs running along the beach, it's well worth the trip. It's also a great alternative to Perissa Black Beach or Red Beach, likely packed with tourists taking selfies and slapping on sun tan lotion. Don't get us wrong, they are beaches not to be missed, but sometimes you just want to relax with no-one around. So, grab yourself a gyro from a nearby restaurant and lounge all day in that Mediterranean sun.
Pyrgos
Pyrgos is a traditional Greek town that doesn't get as many visitors as it deserves, probably thanks to the fact it's simply not that well-known yet (despite being the capital of the island until the early 1800s). What many don't realize is that this picturesque Greek town is home to churches, cafes, galleries, winding paths and vineyards – all in all, activity aplenty. It's also the highest point in Santorini, which allows for gorgeous views and castle visits. Yes, Kasteli Castle was a fortress settlement created in 1480 and reused in WWII. Certainly worth checking out.
Akrotiri Archaeological Site
You know Pompeii, but do you know about the Pompeii of the Aegean? Visit this archaeological site and you'll discover all about its fascinating history. But to sum it up, the ancient city of Akrotiri was beset by earthquakes in the 17th century BC, causing volcanic materials to cover the entire island. These remains now make up the most important archaeological site in Santorini. And just 12 Euros and you'll be able to wander round this astonishing site. You'll also learn about the Minoans way of life and their impressive advancements. Did you know that they created the first indoor toilet? Now you do.
RELATED: CHECK OUT OUR 8-DAY TRIP FROM ATHENS TO SANTORINI
Santorini sunsets
Oia is Santorini's picture-perfect town to visit, and an obvious go-to for those killer sunset pics. However don't waste your time running down to the old fort surrounded by everyone on the planet. Instead, head up to Profitis Elias Hill and enjoy the views all to yourself. With a view of the entire island and caldera, golden hour there is undoubtedly one for the books. It's worth noting that this spot also holds a monastery, which you can browse on tours during the day. Learn the history of the long-standing building, and grab some honey samples as well. It's delicious and all home-made.
Non-touristy eats
Greek food is delicious, you don't need to be told that. To experience it in all its glory when in Fira, you simply must head down the narrow streets to Greek Souvlaki Karvounaki. It's the local hangout and truly the best spot in town, and while eating your Pork Souvlaki, you can't not mingle with the locals over volcanic wine. (To explain 'volcanic wine', volcanic soil means wine here never loses its acidity, making dry whites a popular option.) Bonus: you can get a decent amount of food and drink at Greek Souvlaki Karvounaki for €5. That's not a common deal in Santorini, so load up on all you can.
When in Oia make sure to grab a table at the Catch Bar. It's new(ish), secluded from the main road, and super trendy. Here, you can try the local Fava bean, which is similar to edamame in looks, and then fresh octopus, which might just prove to be the best seafood you'll ever have – cooked to perfection and mega fresh. To wash it all down, try some traditional Greek spirits. Raki, which is aniseed-flavored (read: like liquorice), goes down pretty nicely with the aforementioned octopus.
LOVE GREEK FOOD? WE HAVE A 9-DAY TRIP DEDICATED TO IT!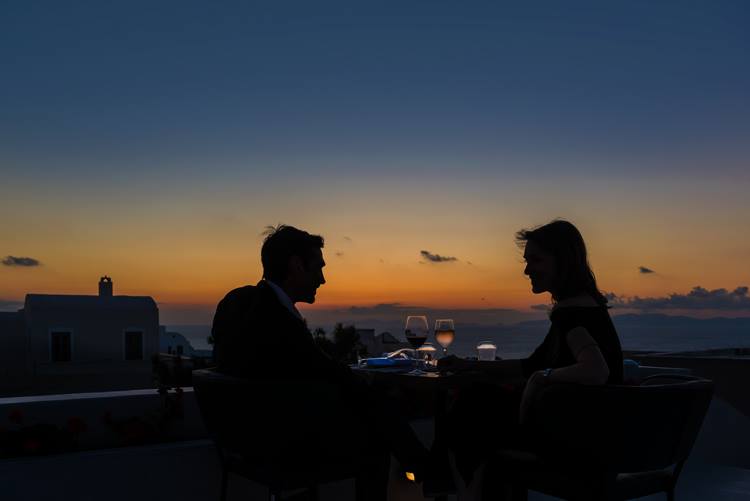 Another foodie spot you have to experience is Lauda Restaurant. Magically situated right around an outdoor swimming pool on top of the Andronis Boutique Hotel, it's not to be missed. Enjoy a sunset there, or even just an afternoon lunch. There is one small catch: you'll have to get ready to walk up and down MANY stairs to experience its delights. Worth it.
Obsessed with the Greek islands? Check out Intrepid's 8-day tour from Athens to Santorini.
—
Image Credits (top to bottom): iStock x3, Intrepid Travel, Catch Bar Restaurant Facebook page
Feeling inspired?