Here's why you should lace up your hiking boots and head to the Grampians for your next Aussie adventure. 
The Grampians, known traditionally as Gariwerd, is a stunning national park in western Victoria. Home to five forested sandstone ridges brimming with native plants, wildlife and waterfalls, the region is a natural playground with heaps of outdoor adventures to choose from—not to mention the world-class wineries and delicious local produce on offer.
Here are a few reasons why the Grampians deserve a bump up on your bucket list.
1. Reconnect with nature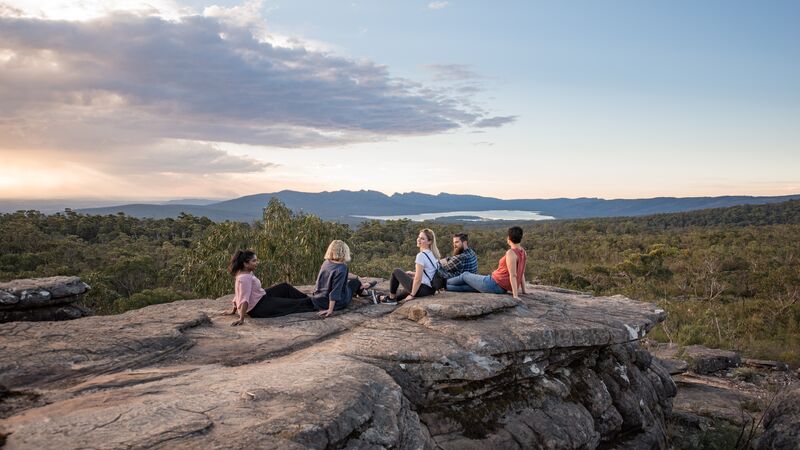 If your social battery is flashing red, nothing charges it up faster than a few days in the bush. The brightest lights you'll see are the stars in the sky, squawking cockatoos will replace your alarm tone and you can swap the busy commute for a hike up to a breezy mountain lookout. It sounds counterproductive, but taking intentional time out to recharge can make it easier to manage the ever-growing to-do list. 
2. Take your pick of fantastic hikes
Hiking is the best way to experience the biodiversity of the Grampians. There's a fantastic selection of trails, from short strolls to steep staircase climbs and rocky scrambles. On Intrepid's Grampians Peaks Trail trip, you'll hit new heights with two expert guides who know the park inside out. Tackle the 1167-metre-tall Mt Duwul (Mt William), the highest point in the national park; shuffle through a natural rock corridor on your way to the iconic Pinnacle lookout, and descend to Boundary Gap which leads across the magnificent Major Mitchell Plateau. 
3. Gobble up amazing views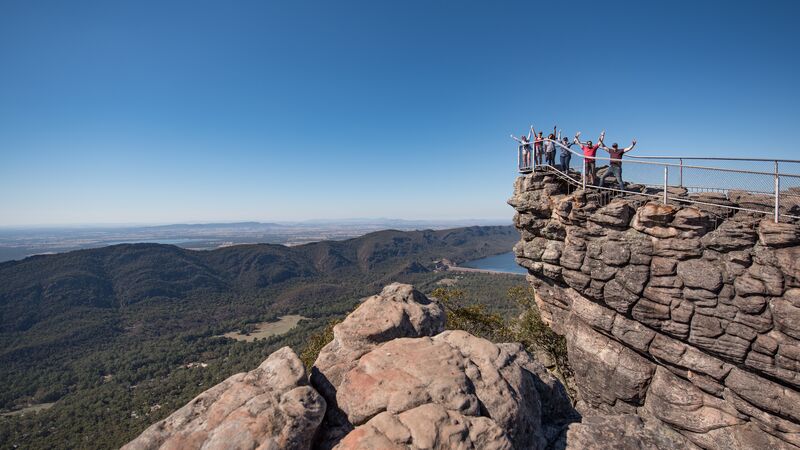 It's about the journey, not the destination… I know, I know. But when you've clocked up the steps and your legs are weary, it sure feels good to be rewarded for your heart-pumping efforts. The Grampians don't disappoint when it comes to awe-inspiring panoramas, from the sweeping vistas of the Wimmera Plains from the summit of Mt Stapylton to the impressive sight of the Pyrenees and Black Range from Mt Difficult.
4. Learn about the region's rich Aboriginal history
Gariwerd, translated as 'Mountain range created by Bunjil', is the ancestral land of the Djab Wurrung and Jadawadjali peoples. The park's rugged ranges, vast plains and waterways are believed to be physical evidence of Bunjil, the great ancestral being. The region also has 80% of Victoria's rock art sites and the largest number of rock art in Southern Australia (some of which are over 20,000 years old!). With a local guide by your side, you'll learn about the park's rich Aboriginal history and connect with the landscape on a deeper level.
5. Chase a waterfall or two
One of the best things about the Grampians is its abundant waterfalls. MacKenzie Falls is the most iconic, and for good reason. After descending a steep, narrow staircase, watch the water flow cascade down a sheer cliff face into a deep pool. Keep an eye out for the pretty rainbow mist which often appears above the water.
6. Spot native wildlife
Along with the waterfalls, waterholes and wildflowers that make the Grampians so gorgeous, there are plenty of opportunities to see some of the native critters that live here. Keep watch for kangaroos and wallabies at dawn and dusk, as well as echidnas, emus and colourful birds including galahs, kookaburras and cockatoos.
7. Sample wine from some of Australia's oldest vines
Thirsty after a hike? The region has over 150 years of winemaking history and is home to some of Australia's oldest vines. From spicy Shiraz to citrusy Riesling, don't miss the opportunity to enjoy an intimate cellar door tasting in one of Australia's prettiest settings.
Exploring the Grampians on a guided walk is a more enriching experience. You'll enjoy a tad more luxury than your usual camping set-up—with a comfy bed, hot shower, and delicious meals made with local ingredients waiting for you at your motel-style accommodation. Plus, there's no need to carry a heavy pack – hurrah!
Discover the Grampians on Intrepid's Peaks Trail trip. Or combine mountains and coast on a Grampians and Great Ocean Road Adventure.
Feeling inspired?