I have been stuck on the panoramic train between Aguas Calientes and Ollantaytambo for over an hour; our leader mentions something about engine failure.
I'm reflecting on my last few days walking to Machu Picchu along Peru's Quarry Trail, and although I'm feeling slightly annoyed about the delay, I'm wondering if this is Pachamama teaching us a lesson to be grateful about what we have.
Pachamama ('Mother Earth') needs appreciation every once in a while. You can do that by sharing; you pour some water onto the ground before taking a sip yourself. Sharing is caring. I learned this on my three-day hike in the Andes, near the classic Inca Trail, on a 26-kilometre walk that I did with 13 other travellers, two local cooks, two guides, and five horsemen who looked after the mules that carried our bags, tents, food and everything else we'd need over the next few days.
At 68, Isaias is the oldest of the crew; he does this job to save for his retirement. He delivers coca tea and hot water to traveller's tents at the crack of dawn, and shares stories about this rugged, remote, and incredibly beautiful part of the world.
TREK PERU'S QUARRY TRAIL WITH INTREPID
Our guides are Vannia, and her assistant Shandira. One is a passionate woman of 28 years, full of love for these mountains; the other is a mother of a 7-year old, whose husband prefers to live at home in Cuzco, work in a bar and look after their child, while she's out in the world doing the adventurous stuff. Girls that rule the world.
Under the lead of Vannia and Shandi, we get some intimate insights into the world of their ancestors, the Andean people or Quechua, who have farmed this land for centuries; they have developed thousands of varieties of potatoes with their intricate system of terrace farming. Ancestors who have found remedies for all their aches and pains, with the herbs and plants Mother Earth has provided for them in their rugged highlands, and found elaborate ways to unite their spiritual and present worlds and thank their spirits – the earth, sea and sky – with ceremonies, sacrifices and gifts.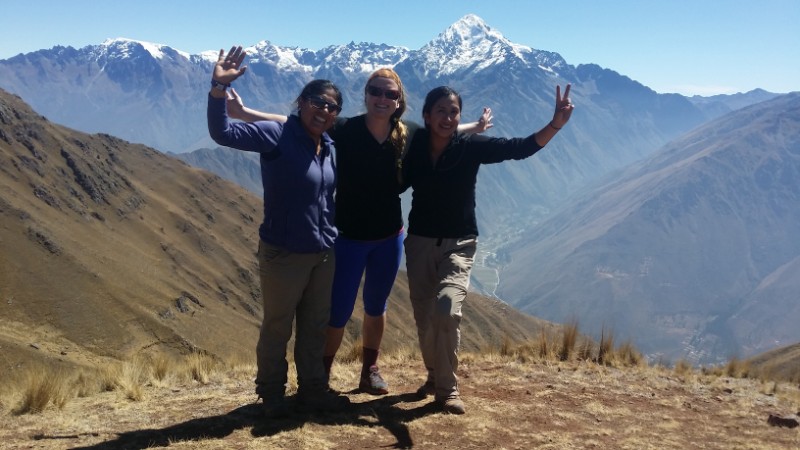 We walked through archaeological sites, quarries and the 'wind' gate, paying our respect to 'Veronicas', or Huacay Huilcay ('holy tear').
We were lucky with the weather; Pachamama blessed us with cloudless sunny days and crisp starry nights, with the full moon watching over us. The altitude wasn't always the easiest and kept us breathless at times, but nothing a snack break or hot cup of coca tea couldn't fix. Fernando, one of our cooks, whipped up some of Peru's finest dishes for breakfast, lunch and dinner, like lomo saltado (stir-fried loin), trucha sudada (steamed trout), and sandwiches, served with mountains of guacamole. The meal tent was always waiting for us, just like the crew with their shy smiles and big hearts.
RELATED: 7 REASONS TO VISIT PERU (THAT AREN'T MACHU PICCHU)
It was a bit emotional when we had to bid our farewells to the crew, with a 'tupananchikkama' (which means 'see you on the flip side' – or in the spiritual life); it felt more genuine than many of the interactions we often have inside the bubble of our day-to-day lives.
We arrived as strangers and left as family.
On our walk back down to Ollantaytambo, I dropped my phone and the screen cracked. A day before Machu Picchu. I was furious at myself, and my mind flooded with all the pictures I'd lost and would not be able to take in the coming days. And then I thought, maybe this is Pachamama showing me that I always need to be grateful, live in the moment and appreciate things as they are. Vannia told me that perhaps Pachamama wanted to tell me that I will one day return to this wonderful place, and that I should just enjoy this time at it is, without the distractions of technology. Hopefully she's right.
Machu Picchu was even more fascinating that I expected and, of course, my fellow travellers took enough photos for me to keep me happy.
It was a journey I will not forget, and the wisdom of Shandi and Vannia was truly inspiring. Two women who follow their heart and share their heritage with visitors, so we can all take a piece of this place and people back to our homes.
RELATED: EVERYTHING YOU NEED TO KNOW ABOUT TREKKING PERU'S COLCA CANYON
The Quechua have lived with three wisdoms, to always teach, learn and develop. When the conquerors entered Peru, they had to amend these teachings to the following:
Don't be a thief. Don't be a liar. Don't be lazy.
During my time walking through the Andes with my Intrepid crew, I learnt that there are still people who live by these old wisdoms and traditions. So if I can impart my own insights, it would be this: be grateful for what you have, be curious about the world around you, and be careful with your belongings. Oh, and go to Peru.
Explore Peru on a small group adventure with Intrepid now. 
All images by Anne, except feature image by Ashim D'Silva on Unsplash.
Feeling inspired?