I've got this thing for big Asian cities. I love the brashness, the chaos and the balance between modernity and preserving authentic culture. I love that you can be between huge skyscrapers, and then turn the corner and find a covered market where life hasn't changed much for 50 years.
Singapore is one of those cities which I always find exciting to go back to. It's a city which has elegantly combined Chinese, Malay, Indian and Arabian culture to create a melting pot city which is evolving at a rapid pace, yet which preserves its heritage incredibly well.
When I first went to Singapore, I was told by a fellow backpacker that there 'wasn't much to do except Marina Bay Sands'. I spent my days in the city constantly proving him wrong. To this day, I  find myself fighting the corner that Singapore has tons to do, and it's a place that could keep me occupied for weeks. If you're heading to the city soon, here are some local spots full of delicious foods, authentic heritage and contrasting cultures.
Little India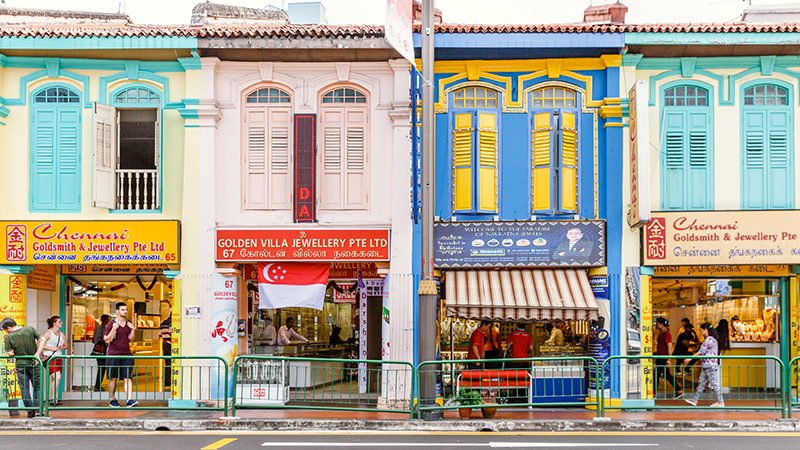 The rainbow streets of Little India are one of Singapore's most unique cultural areas. Indian's moved into this area when it became a hub of cattle trading, and many Indian migrant workers were hired to work in the trade. Stores began to open catering to Indian tastes, and soon enough, Hindu temples and mosques were built in the area. Today, it's a glimpse into the subcontinent. A place where you can fill your tummy with vegetarian curry's and tasty chai, and shop for gold, saris and bohemian bags and dresses.
A must see is the Sri Veeramakaliamman Temple, one of the cities oldest Hindu temples and a landmark in Little India. The temple has a striking front, constructed in the style of South Indian Tamil temples. Inside, incense swirls in the doorway and white-robed priests perform ceremonies in front of colourful statues of gods. The temple is open to visitors all day, although you should be respectful of the worshippers and only take photos of people if you have permission.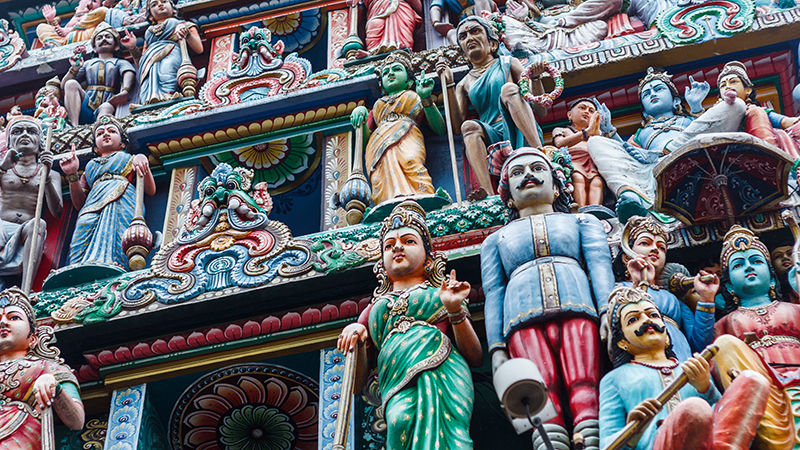 Elsewhere in the area, the Indian Heritage Centre gives a great insight into the beginnings of the area and the lives of the migrant workers who travelled from South India to live and work in Singapore. But the best way to experience Little India is by wandering the market streets and finding a cosy spot to feast on some delicious traditional food. Outside of India, I can safely say it's some of the best Indian food I've had around the world.
Little India particularly comes alive during Hindu festivals such as Diwali which is celebrated in October. If you're in Singapore during this time, make sure you don't miss it!
Arab Street
 Not far from Little India, Arab Street has an entirely different atmosphere. The area was once a zone attracting Malays, Sumatrans and traders from eastern Yemen. The installation of the Masjid Sultan secured the area as a Muslim ethnic area and to this day you'll find Turkish restaurants, Persian carpet shops and streets with names like Baghdad Street. Interestingly, the area has combined with the Singaporean youth culture to be one of the hippest and most artistic parts of the city. Hajj Lane, a narrow street on the edge of the area is filled with quirky boutique stores, coffee shops and bars. The street art in the area has also drawn in tourists who love to flash a selfie in front of some of the vibrant walls before diving into a matcha ice cream puff.
If you're keen to absorb yourself in the Arab Street culture, check out some of the Turkish and Lebanese restaurants on Bussorah Street. You can also hop onto one of the Masjid Sultan Mosque's guided tours to learn more about the area.
Chinatown
Finishing up Singapore's cultural areas with the biggest and brightest of all; Chinatown. Around 80% of all Singaporean's have Chinese Heritage and it's in Chinatown that their heritage is celebrated most gracefully. The area is one of the cities oldest, and the traditional shophouses are well preserved above ribbons of red Chinese lanterns. At night, the area erupts into night markets and huge sizzling food centres. During the day it's a great place to pick up souvenirs, visit the excellent Chinese Heritage Centre, watch a game of Chinese checkers or visit the beautiful Buddha Tooth Relic Temple.
Everywhere in Singapore is a foodie heaven, but Chinatown has some of the cities very best options. If you're looking to try an authentic hawker centre, try the Maxwell Food Centre where you can grab a taste of some of Singapore's most famous dishes. To seek out the best stalls, look for the longest queue.
RELATED: NAVIGATING SINGAPORE'S HAWKER MARKETS
Tiong Bahru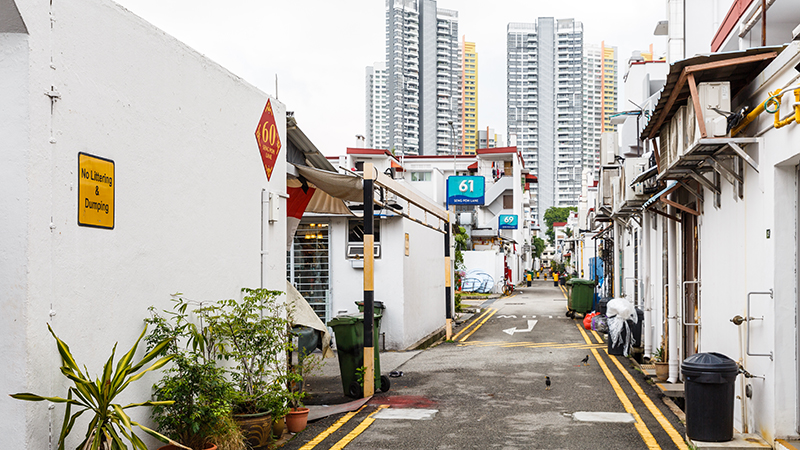 The art deco enclave of Tiong Bahru is one of the most unique areas of Singapore and a great place to observe local Singaporean culture. The rows of shophouses now are home to some quirky cafes, bookstores and boutique shopping. Arriving and you'll be confronted by the huge Tiong Bahru market and food centre. Upstairs in the hawker centre, various stalls sell authentic Singaporean foods – grab a ku chye kueh (rice flour cake with chives) and wash it down with a Soya Bean Milk.
It's worth walking around the housing estates and observing local life. Palm trees line the pathways and cats are this neighbourhoods best friends. The bookstore and independent publishers BooksActually stocks a range of local writers and zines and I could have browsed this place for hours. Other hipster hot spots are hidden behind whitewashed buildings but seek out some of the areas best secrets – such as vinyl record trader Curated Records, and try some fresh inspired pastries at the forever busy Tiong Bahru Bakery.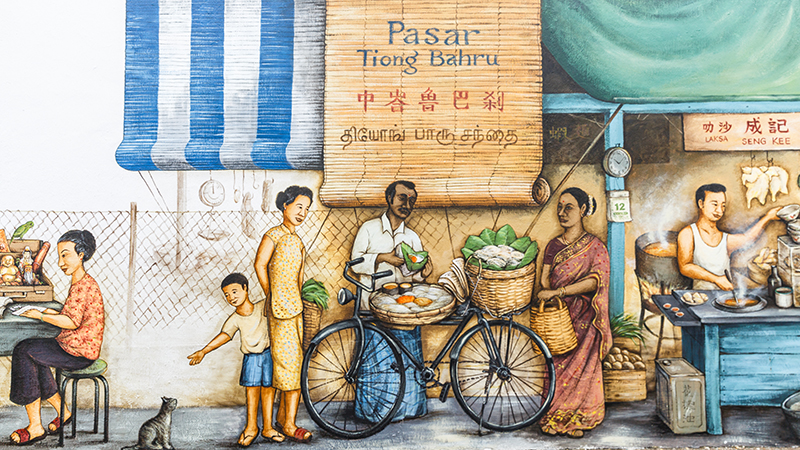 While hopping between these four spots as well as checking out as many local Hawker centres as I could, and exploring Singapore's beautiful green areas, I safely came to the conclusion that Singapore is so much more than just Marina Bay Sands. And it's a city which deserves much more attention.
Ready to get explore Singapore beyond Marina Bay Sands? Check out our small group adventures here
Feature image: Shutterstock. Words and other images by Annapurna Mellor– check out her Instagram for some serious wanderlust inspo.
Feeling inspired?