I love Israel. I first visited age 16, and have returned again and again, drawn in by the vast array of experiences and landscapes this incredibly complex, achingly beautiful country offers.
There aren't many places so small or so diverse you can travel from holy cities to ancient fortresses to surreal salt lakes in just one morning. Where you can find beach nightclubs, desert hikes and iconic religious sites sitting practically side by side.
And even in spite of the region's uneasy politics, it's growing fast as a tourist destination.
In fact, the most-recent World Tourism Organization Travel Barometer listed the Palestine Territories as the fastest-growing travel region in the world.
Here at Intrepid, we were really happy to hear that. We're pretty passionate about showing how multilayered the Middle East is – how it differs from the negative headlines, and how much it has to offer travelers. So we took our fantastic 7-day Discover Israel & the Palestinian Territories trip, and our new 10-day Real Food Adventure Israel & the Palestinian Territories, and picked a bunch of unique and fascinating experiences to show just that.
Here's a small taster of the cultural, outdoorsy and foodie adventures you can get up to in this compelling corner of the world:
Experience the atmospheric Western Wall
Whether you call it the Western Wall, the Wailing Wall or the Kotel, you know that it's iconic. One of the most sacred sites for the Jewish people, it's a place of pilgrimage and of prayer. Yet you don't have to be religious, or even spiritual, to feel the gravitas of this ancient limestone wall in Jerusalem's Old City. The atmosphere is contemplative and calm, yet passionate and lively all at the same time. Visitors can bask in it and watch (respectfully, of course, and with modest clothing) or can follow tradition by wedging small slips of prayer-adorned paper into the cracks between the stones.
How do Intrepid tours make this experience more memorable? We offer a guided tour of the Old City, in addition to a walking tour of West Jerusalem with an Israeli guide. You'll visit Yemin Moshe, a historic neighborhood of old stone buildings; 'Hamiffal' (The Factory ), an abandoned building turned vibrant art space, and more.
Float in the Dead Sea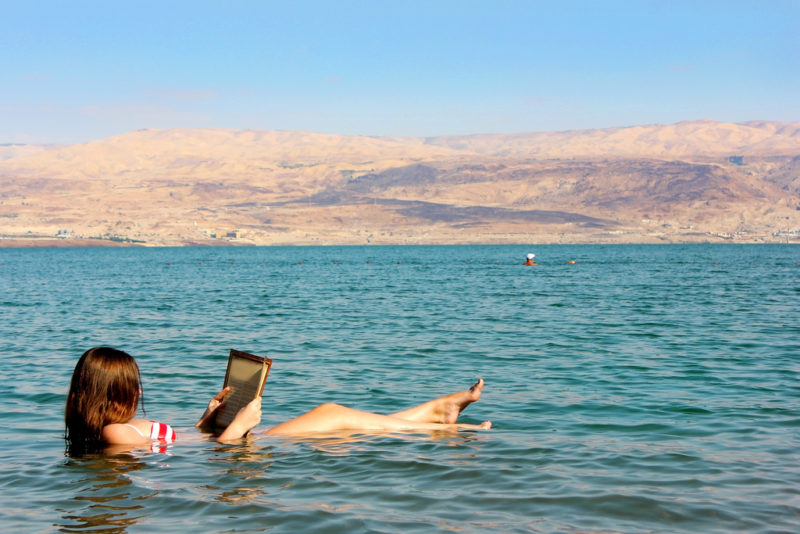 If you're anything like us, you love a good superlative. So, being able to say you've visited the lowest point on Earth is an opportunity not to pass up. This salt lake (it's not actually a sea) is otherworldly in both appearance and experiences. The density of the water means you float in it, as opposed to swim, and the mineral-rich black mud all around it is makes for an incredibly therapeutic mud bath. Sitting pretty 420 metres below sea level, this spot is oh so cool.
SUBSCRIBE TO INTREPID'S NEWSLETTER FOR TRAVEL INSPO, COMPETITIONS, GIVEAWAYS & MORE
Visit the Baha'i Gardens in Haifa
Though it's the third largest city in Israel, Haifa is remarkably underrated. The northern Israeli port city is snugly situated between the Mediterranean Sea and the Mount Carmel mountains, and looks as good as it sounds. But the undisputed star of the show here is the Baha'i Gardens. The Baha'i faith is a relatively new one, and originated in Iran, but Israel is home to two of its most holy sites (Haifa and Akko). The gardens themselves, set on various levels and landscaped to perfection, really are a worthy UNESCO World Heritage Site. Visit the nearby German Colony afterwards for an al fresco drink or gallery browse – its 19th-century buildings are lovely.
Indulge in shakshuka in Tel Aviv
Tel Aviv, Israel's second city, has a food scene that's second to none. Whether you're looking for trendy seafood restaurants, traditional Middle Eastern grub, or hole-in-a-wall joints, you'll find them here. You'll also find street food galore and abundant markets (head to bustling Carmel Market, the largest in the city, or Sarona Market, a swanky food hall). And do check out the city's different neighborhoods. Florentin has craft coffee and great bars (plus a whole load of street art), while the artistic hub of Neve Tzedek boasts brunch and veggie eats galore.
One must-try dish in the city (and country) is shakshuka, a skillet dish of poached eggs in a tomato sauce. You can get vegan versions (the one pictured above is from Gordon Inn), but my personal favorite is from Dr Shakshuka. This eclectically-decorated, unpretentious spot is in Old Jaffa, walkable from Tel Aviv proper. Don't let the pots and pans dangling from the ceiling distract you from the cooked-to-perfection cuisine.
READ MORE: ISRAEL IS ONE OF INTREPID'S 7 BEST DESTINATIONS FOR VEGETARIAN TRAVELERS
Take in the views from Masada
There are few places as awe-inspiring as Masada. The dream time to visit is sunrise of a clear day and you'll see the most fantastic views of the Dead Sea and Jordan. And it's not just about hiking or getting the cable car up to this cliff-top fortress, it's about the history too. A symbol of the Jewish people's exile from the Holy Land, the UNESCO site was built by King Herod around 35BC. It now sits dramatically, hauntingly in the Judean Desert. Visit, and prepare to feel very small.
VISIT MASADA ON INTREPID'S 7-DAY TRIP THROUGH ISRAEL AND THE PALESTINIAN TERRITORIES
Gaze at graffiti in Bethlehem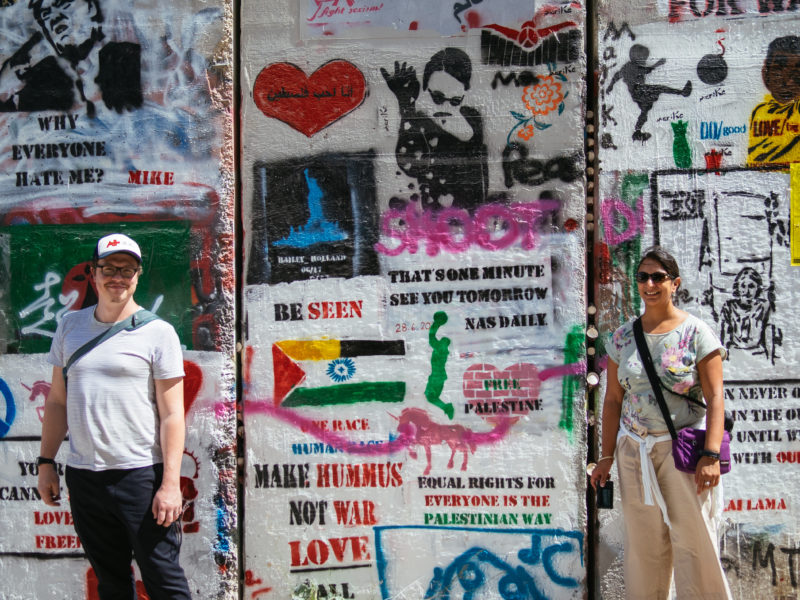 Banksy's opening of the Walled Off Hotel in Bethlehem is just one of many reasons to visit the West Bank town. This dystopian attraction sits nestled against the barrier wall separating Israel from the Palestinian territories, with rooms boasting "the worst view of any hotel in the world". But the wall is also home to another fascination: graffiti. It has filled the walls for years, and is equal parts provocative and moving. Ensure you see pieces by Banksy as well as topical Trump ones.
How do Intrepid tours make this experience more memorable? We offer a Graffiti Walking Tour around the wall. It lets you hear the personal stories behind some of the more prominent pieces, and gives an insight into other noteworthy spots in Bethlehem. Firstly, Manger Square, to sample Bethlehem's famous falafel, secondly, the Church of the Nativity, which marks the spot of the stable where Mary is said to have given birth to Jesus.
Enjoy the wineries of Zichron Yakov
In my humble opinion, Zichron Yakov is the prettiest town in the whole of Israel. Besides the fact it has a world-famous winery, it's incredibly peaceful and scenic. Here, the main street is pedestrianized and loaded with cafes and artsy stores. People laze around drinking coffee outdoors, and the surrounding scenery is lush and green and hilly. What's not to love? Oh, and whichever winery you go for – Carmel or Tishbi – it'll be sure to make you passionate about Israel wine.
How do Intrepid tours make this experience more memorable? We take you to the Zichron Yachov wine region, where you can enjoy a drink (or two) at one of Israel's top wineries. We also prepare a lovely picnic in the park just after, complete with cheese, drinks and more.
See the Sea of Galilee by boat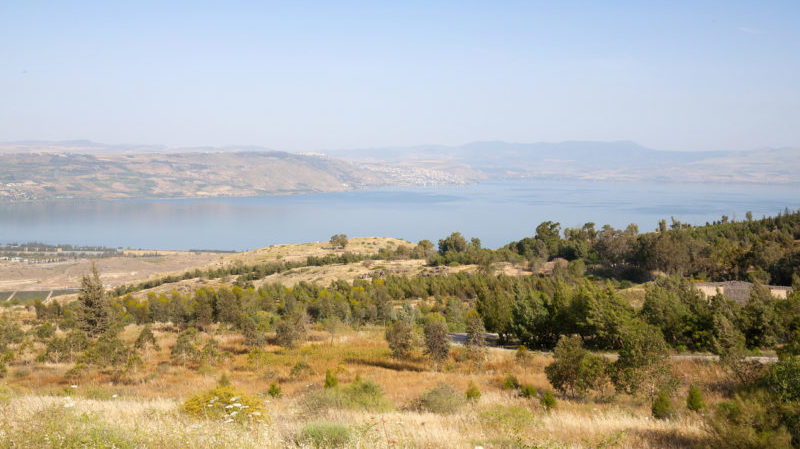 Israel's largest freshwater lake is a gorgeous place to wile away a few hours (or more). Yes, the Sea of Galilee is all calm blue waters, small beaches, watersports and tranquil parks. Head there on Intrepid's food tour of the region and you'll even enjoy a boat cruise on the lake. If you spend longer in this area, you'll discover camping grounds, cycling trails and walking tracks. This tranquil spot has something for every type of traveler.
Scope out the food scene of Nablus
You may not have heard of Nablus, but let us reassure you that the West Bank town makes for a fascinating visit. One of the oldest cities in the world, it has an intriguing, attractive Old City that rivals even that of Jerusalem! Historically it exported olive oil and cotton, but nowadays it is more known for its soap factories and traditional pastries. And knafeh, the syrupy cheese pastry, is only the tip of the iceberg for the food scene here. Think zaatar-topped pizza, stuffed vine leaves, fattoush salad, perfect kebabs, and more.
How do Intrepid tours make this experience more memorable? A major trip highlight is visiting the local chapter of the 'Slow Food' network for a cooking class. Slow Food strives for high quality food, produced in a sustainable way.  The group accompanies the chef to the kasbah to collect ingredients, then learns how to prepare some classic Palestinian dishes. The dishes are enjoyed over lunch with your hosts and passengers are able to learn more about what life is like for women in this town.
—
Ready to be dazzled by Israel and the Palestinian Territories? Check out our range of small group adventures there.
—
Image credits from top to bottom: Intrepid Travel x4, Tom Smith, Intrepid Travel x3, Rebecca Shapiro, iStock/Tal Guterman (Galilee photo), Intrepid Travel
Feeling inspired?