Reading Time:
7
minutes
You can plan an itinerary, but you can't plan for people. And while we build the trips, it's you guys that really write the stories.
We sent a call-out to our online Intrepid family, asking for tales of travellers, friends and couples who had met on one of our adventures. The response was a little overwhelming. Here are a few of our favourite entries.
Amanda & Lee
"I met my husband, Lee, on a three week Intrepid trip through Vietnam over Christmas in 2003. He was there to explore his country of birth, having left Vietnam more than 20 years earlier as a refugee.  We had an amazing group of people on that trip, and Lee and I became very close friends. Afterwards I returned to the UK, but we stayed in touch for three years.
"We arranged to meet up again in October 2006 on an Intrepid trip through India, and the friendship turned to romance. We took a three-month break and travelled through Africa, Thailand and Laos, including another Intrepid camping trip in Tanzania. Lee proposed in 2009 and we got married in 2010.
"In March 2012 I gave birth to our daughter, and baby number two is due this year. Starting a family has slowed our travel down a bit, but we still like to hit the road. Our little girl has visited seven countries on four continents in her first two years, and we're looking forward to travelling as a family with Intrepid one day." – Amanda.
Dom, Gayanne & Leslie
"Sweat dripping from my brow (and everywhere else), we clambered up an incredibly steep staircase – not an easy feat for someone my height. At the top we were greeted by Fes's call to prayer echoing across the rooftops and a lush garden with a spattering of cushions and chairs. Our leader had once again outdone our request for dinner with a view – an absolute oasis from the dusty streets below.
"As we all melted into the cushions, we were offered mint tea – only one taker, the rest weren't in the mood to totally dissolve. Most grabbed their menus and went for the makeshift 'Westerner in Moroccan heat' fan – though my eyes darted left-to–right in search of something to take the edge off a long day traipsing the medina below. I received a nudge from my left. There sat Gayanne and Leslie, two best friends from Melbourne. They both grinned and Lesley's eyes greeted mine with a wink as Gayanne held out a silver hip flask, gesturing to the soft drink I'd begrudgingly ordered.
"There might have been a number of years separating us, but they were definitely an unexpected bonus and having them on the trip absolutely made it. To this day we continue the flask sharing." – Dom.
Taz & Denis
"I'd never met someone from Belarus before and there was something about Denis the outset. He was wearing black leather pants for god's sake – in Addis-freakin'-Ababa. His khaki shirt was unbuttoned to the naval and crocodile-teeth necklaces were looped around his neck. He made a point of drinking beer at breakfast. But this was no reason not to dislike him.
"And damned if I was going to be out-manned by this yahoo. I grudgingly accepted my allocated tent buddy's offer of a breakfast beer… and so began my first Belorussian bromance. Totally earnest and 100% eccentric, no man has ever made me laugh like Denis. His English consisted entirely of malapropisms. His jokes, always told with utmost animation, made no sense whatsoever. In a quiet moment, he once confided to me that his life's ambition was to be abducted by aliens. Going by his Facebook page, this has yet to happen." – Taz.
[adrotate banner="3″]
Brett & Emmy
"Last June, I decided to take a long overdue holiday. The plan was to have a good break, expand my mind and hopefully meet some travel buddies. After hearing about a friend's Intrepid experience, I decided to book an Intrepid trip to Vietnam and Cambodia.
"I was a little apprehensive, but I needn't have worried. Not only did I have an awesome holiday, with some life-changing experiences and new friends thrown in, I met the girl I love. Emmy was travelling with friends and, like me, had itchy feet to see something new. We gradually got to know one another over the course of the trip, and by the end we were having a full-blown holiday romance.
"Now, only 10 months since we first met in Ho Chi Minh City, we're living together in Auckland. When I was booking my Intrepid trip nearly a year ago, I couldn't have foreseen the changes that would be ahead. I left my job, packed up my house and I'm now living in New Zealand with the girl of my dreams. I think it's fair to say this was a life-changing experience." – Brett.
Olly & Ergun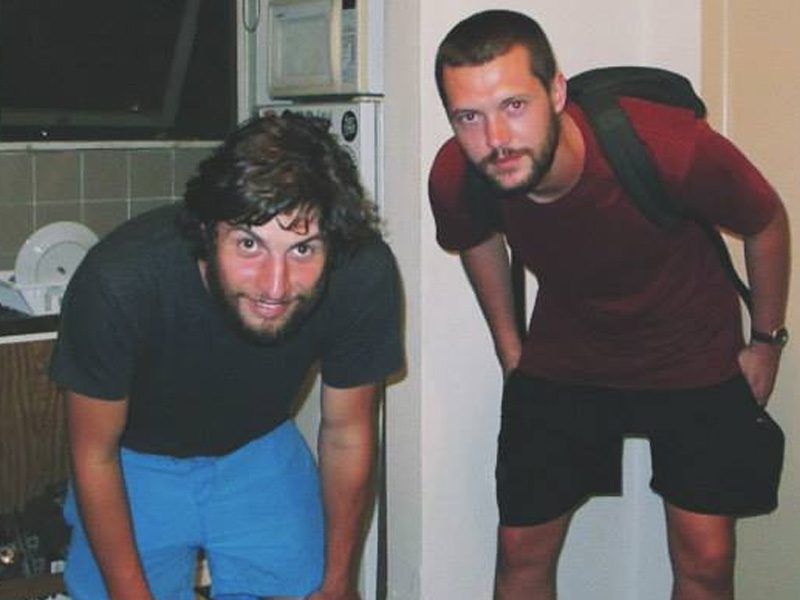 "Whilst attempting to navigate the streets of Istanbul's Old Town a couple of years back, I had a chance meeting with a guy that would turn out to become one of my best mates. I was completely lost and trying to find this little restaurant I'd heard of. After hours of pounding the pavement, I gave up and asked a guy who was standing out front of a shop.
"He was about the same age as me, mid-twenties, and as soon as I could even finish the name of the place, he started walking off and beckoned for me to follow him. The place was only five minutes away – and the guy asked if I minded if he grabbed a bite to eat with me. He was asking loads of questions about my life, what I was doing in Istanbul and that kind of stuff, and it turned out we had loads in common. Ergun was his name, and we ended up talking smack in that little restaurant over a couple of kebabs for hours (the conversation lasted much longer than the kebabs).
"We moved on from the restaurant and headed to a bar in Nevizade. A few of Ergun's mates came down and we proceeded to quench our collective thirst. It was one of the best nights out I'd had in ages. That was my first time in Istanbul – and I've since been back twice and caught up with Ergun. The last time I went back with my girlfriend, and she and I shared a traditional Turkish feast with Ergun. It's awesome to have a mate on standby whenever I fancy a trip to Istanbul!" – Olly.
Eliza & Bori
"I booked my first Intrepid trip to Italy a few years ago. I'd just moved to the UK and I couldn't find anyone who wanted to travel with me. It was my first group tour, and needless to say I was a little apprehensive, especially about who I'd be travelling with. But at the welcome dinner on the first night I happened to sit next to a hilarious Hungarian girl called Bori. Within ten minutes we were giggling like old friends and spent the rest of the holiday laughing, sneaking out for midnight treats and sharing far too much wine. I don't quite know how it happened, but we became the best of friends within just two weeks.
"When the trip was done we promised to organise another holiday. A few months later I flew to Hungary to surprise her for her birthday ­– we went to the Sziget (an amazing music festival in Budapest) and I spent time with her family in her home town, Gyor.
"I've since moved back to Australia and she's moved to Hong Kong. We haven't seen each other for a few years now but we're still such good friends. We've helped each other through breakups, degrees and weird jobs – I'm trying desperately to find a way to get to Hong Kong to see her as we speak! I still can't believe such a friendship grew out of a little holiday six years ago!" – Eliza.
Amanda & Gus
"I've met many amazing people on the road, but a four-legged friend following close at my heels was the best connection I formed on my last Intrepid trip in Sri Lanka. I'm a massive dog lover, so I was delighted to be greeted by Gus on my arrival at a tea estate where I was to stay for the next two nights. As I set off for a walk around the estate, Gus followed close behind and we immediately became best friends. He had a slight limp but no walk was too hard for him.
"I climbed to the top of a pretty decent hill and he beat me to the lookout – I was bit worried about him getting too close to the edge! When it was time to leave, Gus jumped on my backpack as I was walking down the stairs in what I think was an attempt to stop me. Our friendship only lasted two days, and I know I won't see Gus again, but he really lived up to that 'man's best friend' title." – Amanda.
Inspired to travel the world with some new companions? Enter Intrepid's Take a Friend or Make a Friend competition, and you'll be in with a chance to win up to $20,000 worth of travel!
Feature image c/o Raffi Youredjian, Flickr

Feeling inspired?