As the plane started to lose altitude and approach Addis Ababa, Ethiopia, I took out the tour itinerary from my bag and had a good look at it for the first time. Why had the tour company organised two nights in Addis, I thought?
I was excited to get out of the capital and head north to places like Gondar, Aksum, Simien Mountains and Lalibela. I wanted to see the real Ethiopia!
Yet, just a day later my opinion would change completely. Why? Because I was about to be immersed in a religious festival called Timket, otherwise known as Epiphany Festival.
After checking into the hotel I put on my traveller hat and decided to make the most of first day in the city. We visited a small museum dedicated to Menelik II and it was evident very quickly that Ethiopia is a country rich in history. However, too excited and jet-lagged to be in a small museum I walked out to the front of the complex.
The buzz in the air was palpable. Something was stirring.
People were out and about everywhere in the dirt streets: working, preparing, carrying various produce or leading donkeys carting wood and water. The happiness and excitement was unmistakable. I bumped into a man called Gebre who was waiting for his next shift to guide travellers around the museum and church complex. He, too, was excited and explained that today was the beginning of Timket, a three-day festival dedicated to celebrating the anniversary of the baptism of Jesus Christ. He certainly had my attention. I was keen to learn all about this festival and why everyone seemed so happy.
Afterwards, our Intrepid group visited a market. Women bought white shawls to get ready for the festival. I purchased a single banana as my stomach tried to work out whether it was approaching lunch time or bed time. Upon realising I wanted only one banana rather than a bunch or a box, the friendly lady who worked at the stall laughed at me, gave it to me for nothing and said "Welcome to Ethiopia". It was one of many encounters where I was graced with a genuine, welcoming smile.
SUBSCRIBE TO INTREPID'S NEWSLETTER FOR TRAVEL STORIES, COMPETITIONS, GIVEAWAYS & MORE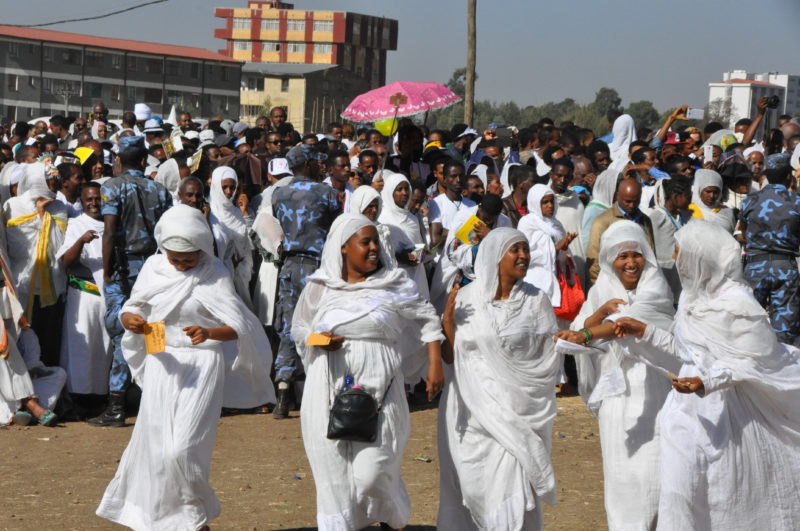 After lunch, we were given guest tourist access passes and headed to a main church to witness the festival. Here there were groups of church choirs, church bands and locals all dressed in white and adorned with crosses around their necks. There was singing of festive hymns, and recorders or simple violins being played as we all waited for the procession to start.
Soon, the bells of the church rang and the congregation exited the church. They too were dressed in white robes, some with gold sashes, and each carrying a gold sistrum (rattle) to shake as they walked.
EXPERIENCE ETHIOPIA'S TIMKET FESTIVAL FOR YOURSELF ON THIS 14-DAY TRIP
Simultaneously, all the women in the crowd let out a high pitched sound into the air. We jostled with the locals into the procession and followed the congregation. The chanting, clapping, singing and dancing flowed into the streets. Young men – akin to excitable football fans in Western countries – would form tight groups, singing and clapping as they walked. However they would sing songs of praise and shout "hallelujah" in unison rather than chant the name of their football club. It was a fantastic thing to be part of.
The procession headed to a main arena where many congregations from different churches all gathered. Inside the arena the sun started to set. It shimmered in the dust of the arena, casting shadows of crosses, ark of covenants and beautiful umbrellas made of exquisite materials. The crowd would stay here throughout the mild night, singing and praying and waiting for their annual baptism in the morning.
READ MORE: 10 SURPRISING FACTS ABOUT ETHIOPIA
In the morning we rose early from our comfortable hotel beds and gained entry into the arena with our tourist passes. The crowd of tens, or even hundreds of thousands, were waiting patiently and listening to the church leaders who surrounded a large pool of water.
After the prayer, the church leader blessed the pool of water to large cheers from the crowd. The altar boys would then spray the massive crowd with hoses so that they could be baptised once again. The joy on their faces upon being sprayed with the water was very touching and it once more became apparent how lucky we were to be a part of the celebration.
Ethiopia is so different to any other African nation I've been to. Yes it has astounding history with its beautifully-old churches, castles and picturesque mountains. However, it's much more than that at the same time. Travel is often about the people and the little moments.
For me, Ethiopia is the Sunday school gathering outside of their most famous church. It's the priceless religious relics that are stored in dimly-lit cellars of churches, locked by a padlocked gate and guarded by a 70-year-old unarmed man. It's walking the clean streets of important cities like Axum, with no other tourists in sight; it's being welcomed into a locals house for coffee straight after lunch only to be offered more injera and stew.
And of course it's the festival atmosphere that a religious ceremony like Timket can have and how touching it is to be welcomed into.
—
Intrepid Travel runs small group tours in Ethiopia with Timket Festival-specific departures.
There are also other departures in line with dates such as Meskell, Marian Tsion, Ethiopian Christmas & Palm Sunday.
—
(All images c/o Rowan Waters and Intrepid Travel.)
Feeling inspired?