If we take the idea of being a global citizen as someone who understands the wider world (respecting each place that we visit and every person we meet) then it's easy to relate to the concept of being a responsible traveller.
As this movement gains momentum, we're seeing more countries step up their game by asking visitors to do their bit to help protect the environment and respect the culture they're experiencing. Here are ten destinations blazing the trail (so to speak).
1. New Zealand
New Zealand proves it's a trailblazer (yet again) when it comes to leading in sustainable tourism practices. The Tiaki Promise is a commitment that you can make to help protect and preserve the country during your stay. Tiaki means 'to care and protect' in Te Reo Māori. In this case, you are making a commitment to taking care of yourself as well – by driving carefully and being prepared according to weather conditions, as well as protecting the natural environment and helping to keep the country clean. Sounds like a fair thing to ask any visitor.
CHECK OUT OUR RANGE OF SMALL GROUP ADVENTURES IN NEW ZEALAND HERE
2. Palau
You might already know that New Zealand isn't the first country to be asking travellers to consider how to travel responsibly. The western Pacific nation of Palau launched the 'Palau Pledge' to help its visitors understand the fragility of their island environment in a global message that uses a beautiful childlike approach. The campaign took out a bag of awards at the 2018 Cannes Lions International Festival of Creativity, and was recognised as a significant contributor to the United Nations Millennium Development Goals.
How does it work? Upon arrival in Palau, you're asked to sign a specially designed passport stamp outlining the pledge to look after Palau's island home – the stamp has been translated into five languages. Being the 13th smallest nation in the world, Palau depends on tourism but also recognises what we can all do to minimise the impact on its natural environment.
SUBSCRIBE TO INTREPID'S NEWSLETTER FOR TRAVEL TIPS, COMPETITIONS, GIVEAWAYS & MORE
3. Costa Rica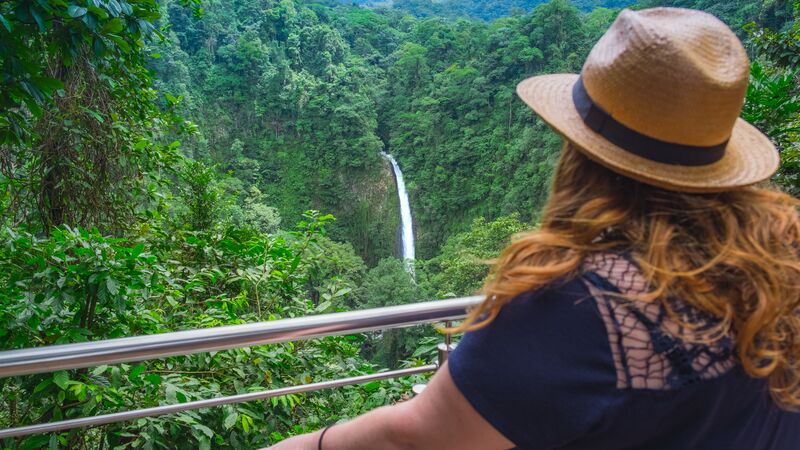 As a world leader in renewable energy production, Costa Rica sets the bar aiming to be carbon neutral by 2021. And it's doing a pretty good job with nearly 99 per cent of its electricity obtained from hydropower, geothermal, wind and solar energy. This proactive approach towards being an eco-friendly nation has seen the government establish a program that takes businesses through a regimented certification process that uses a green leaf rating, from one (being the least sustainable) up to five.
SPOT SLOTHS AND TOUCANS IN COSTA RICA NOW – SEE OUR TRIPS HERE
4. Iceland
If there's any country that deserves six out of six green stars for its environment and sustainability efforts, it has to be Iceland. The Nordic country, which lies just beneath the Arctic Circle, takes the responsibility to protect and preserve its precious resources very seriously. One of the rules in Iceland is that off-road driving is illegal, due to the impact it has on its moss vegetation, which can take years to recover from disturbance. Hiking off-path and camping outside of designated sites is also a big no-no, unless you have permission from a private land owner. Hats off to Iceland for proving that we can follow the rules and still experience a life-changing adventure.
SEE ICELAND FROM A DIFFERENT ANGLE – ON AN ADVENTURE CRUISE! DETAILS HERE
5. Botswana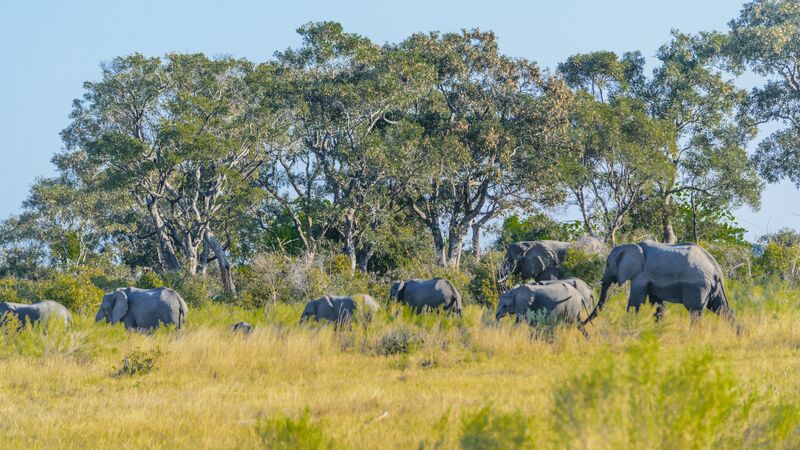 Botswana harbours one of the world's largest elephant populations. The country made a leading step forward by banning elephant riding practices, which came into effect on 31 December 2017. Botswana holds reserves that are dedicated to protecting endangered animals such as rhinos, lions, cheetahs and African wild dogs. Chobe National Park is recognised as one of the largest sanctuaries for game in Africa. You can do your bit by going on safari with an accredited operator in Botswana and throughout Africa.
ENJOY A WILDLIFE-FILLED ADVENTURE IN BOTSWANA – EXPLORE OUR TRIPS HERE
6. Cambodia
Cambodia, also known as the Kingdom of Wonder, attracts the curious far and wide to witness the ancient Angkor temple ruins, located on the outskirts of Siem Reap. What's not widely spoken about is the number of child orphanages that have sprung up over the years, taking advantage of the generosity and naivety of visitors. Friends International sums it up well, stating: "As long as donors continue to fund those institutions [child orphanages] and voluntourists continue to support them, the risks to those children will also remain." Instead, visitors can show support by choosing to shop with ethical businesses, eat at local restaurants or social enterprises, and refrain from giving money to children.
GO BEYOND ANGKOR WAT ON A SMALL GROUP ADVENTURE IN CAMBODIA NOW
7. Bhutan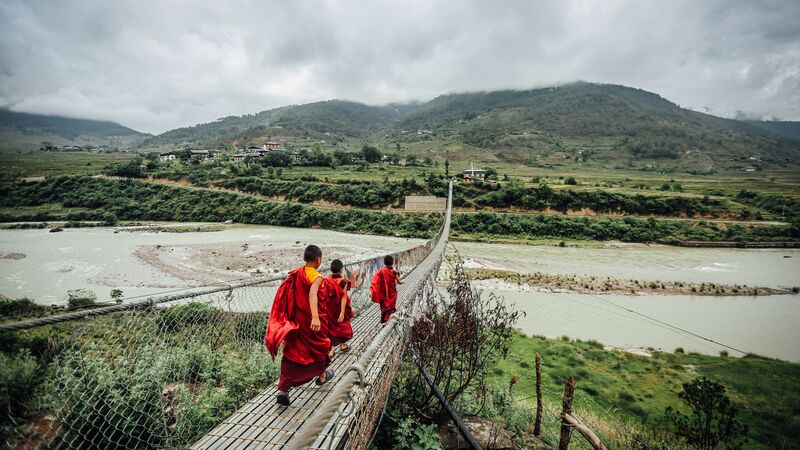 We can all take a leaf out of Bhutan's book: a carbon negative country that has built itself on balancing economic growth with social development, environmental sustainability and cultural preservation. Bhutan is internationally recognised for its efforts towards developing sustainable and responsible tourism. As a foreigner, you're welcomed into Bhutan (in fact, they encourage it) – you just need to travel in a way that helps the Himalayan kingdom maintain its culture and environment by paying a daily fee that covers an inclusive package and goes back into maintaining the country.
JOIN US ON OUR 7-DAY BHUTAN DISCOVERED ADVENTURE
8. Denmark
The capital of Denmark, Copenhagen, has more than 400 kilometres (248 miles) of bike paths winding around the city, with more people commuting by bicycle than car on any given day. No wonder it's known as the 'City of Cyclists'. The Danes are leaders in living a sustainable lifestyle, with some of the world's best practices in renewable energy, water management, waste recycling, and green transportation. You too are encouraged to try the Danish way by taking a bike tour or hiring your own to explore the city.
WALK, RIDE AND EAT YOUR WAY AROUND DENMARK NOW. EXPLORE OUR TRIPS HERE
9. Portugal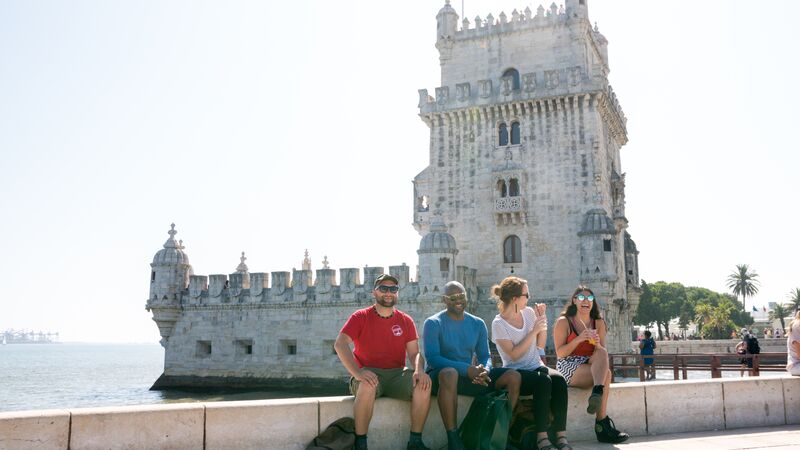 Portugal? I hear you say. Yes, that's right. Sustainable tourism is taking off in this southern European nation with the government making major steps. They've partnered with Airbnb to promote responsible home sharing, started a program working with local businesses to help preserve historical buildings, and the nation runs entirely on renewable energies. While work is being done across Portugal to improve its tourism practices, the archipelago of Azores was recently certified as a sustainable tourist destination by the Global Sustainable Tourism Council (GSTC). Visitors can undertake low impact activities such as hiking and birdwatching, or stay in an eco-resort while exploring the incredible volcanic chain of islands.
CHECK OUT OUR RANGE OF ADVENTURES TO PORTUGAL HERE
10. Australia
Most visitors to Australia recognise the iconic red monolith of Uluṟu in the Northern Territory. Uluṟu is a sacred site belonging to the Yankunytjatjara and Pitjantjatjara people. The traditional owners of Uluṟu-Kata Tjuṯa National Park have been asking visitors not to climb Uluṟu since the 1980s and now an official ban climbing the rock will be put in place (as of October 2019). Visitors to sacred sites around Australia can show their respect by following signage such as not taking photos of ancient rock art at particular sites, staying on designated paths, and asking for permission when taking photos of artists at work.
UP FOR AN AUSSIE ADVENTURE? CHECK OUT OUR TRIPS HERE
What responsible travel really comes down to is knowing what the expectations are when visiting a country and making a conscious effort to be a better traveller. So, go ahead and take those little steps (that all add up) on your next trip.
To find out more about Intrepid's stance on responsible travel, click here.
Feeling inspired?