Canadians grow up sing-boasting that we're the true north, strong and free!
But for most of us, it's a fib. 90 per cent of Canada's population huddles for warmth along the 49th parallel, our homes within 160 clicks of the United States.
I was raised in B.C. a mere 18 blocks away from the U.S. border, and the furthest north I'd been in Canada was Prince George, a city not even halfway up the province which, of course, sits below the massive Yukon Territory which, itself, ends around 1,500 km south of the northern tip of Nunavut's arctic archipelago.
So, yeah. Canada may be north in relation to the rest of the Americas but due to our country's sheer size and the upper half's accessibility challenges, most of us who don't live in the territories are basically poseurs buying band shirts for a concert we didn't attend.
No matter how much we think it defines us, the reality is that very few southerners–as Nunavut residents reasonably call the rest of us–know the actual Great White North.
The north of the Inuit who have called the High Arctic home for thousands of years. The north "discovered" by European explorers in search of trade routes. The north of blue-tinged glaciers incrementally making their way to the sea; treeless granite landscapes of unimaginable scale; and a seeming desolation belied by abounding wildlife, from seabirds and polar bears to cuddling walruses and bowhead whales stretching the length of a football field.
This was the (true) true north that Intrepid's Northwest Passage expedition finally allowed me to experience as we explored the wild coasts, intricate fjords and small towns of Nunavut's Baffin Island, the fifth largest in the world.
Now the best way to travel the High Arctic, at least in summer, is by ship as there are few roads and fewer airports. It's also not the best way if you were on the crew of the infamous Franklin Expedition. Setting sail in search of a way through the Northwest Passage in 1845, fate was tempted by their boats being named The Terror and The Erebus, AKA the Greek god of "deep darkness and shadow."
And fate answered their call. All aboard wound up dead, most likely of consumption and scurvy, though lead poisoning from canned goods also probably drove most of them mad. Regardless, they never thought to ask the locals for advice or assistance on surviving the arctic winter. That proved a tragic mistake, and their sunken ships were finally found in 2014 and 2016. The theme of our polar expedition was "In the Footsteps of Franklin," though our 100-metre ship is called the thankfully less-ominous Ocean Adventurer and we're really following in the footsteps of the Inuit who call this wondrous land home.
Of course, the High Arctic north has a hold on me in much a different way than it did on Franklin, who was just looking for a way through it in hopes of finding fame and riches on the other side. As a downtown Toronto resident who rarely goes north of Bloor Street, I wanted to see our nation-defining north itself–and it wildly exceeded my wildest expectations.
VENTURE TO THE AMAZING ARCTIC WITH INTREPID TRAVEL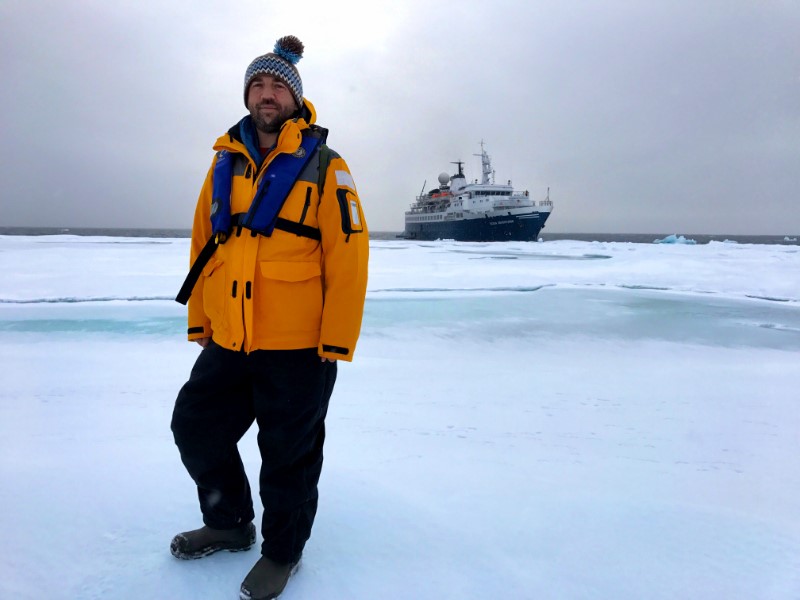 We began our arctic expedition, like Franklin did, in Greenland, where we were welcomed with an Aurora Borealis once the late-summer sun finally set somewhere around 11pm as our ship sailed toward the town of Nuuk. The light show danced across the skies for well over an hour, shimmering green swaths edged in pinks doing dips, twirls and cha-cha-chas as charged solar wind particles crashed up against nitrogen and oxygen in the upper atmosphere.
This doesn't happen every night, sometimes it never does. But it did happen our first night, a display of nature that blurred the line between science and magic until it faded away completely. We've all seen photos and videos of the Northern Lights–and I've been reading about their majesty with my son in the arctic-set kid-lit book Golden Compass– but that turned out to be the equivalent of having only seen chocolate without ever tasting it.
THE ARCTIC VS. ANTARCTICA: HOW TO CHOOSE YOUR POLAR EXPEDITION
After a day-or-so sail across the Davis Strait–the furthest deep into an ocean I'd ever been, an exhilarating experience for me having grown up walking distance from the Pacific–we re-entered Canada in the quaint, colourful hamlet of Pangnirtung.
Dubbed Pang by the locals and the "Switzerland of the Arctic" by visitors blown away by Mount Duval, Baffin Island's biggest peak, this town of artists, fishers and hunters embodied the natural and cultural splendour of Canada's distant backyard. As with the other Inuit settlements we visited, Qikiqtarjuaq and Pond Inlet, the chance to talk to the locals and learn their traditions gave me an even deeper respect for just how powerful Nunavut's population has always been to not only survive in this challenging environment, but to thrive here for millennia.
SUBSCRIBE TO INTREPID'S NEWSLETTER FOR TRAVEL DEALS, STORIES, TIPS AND MORE
As our ship made its way northward along Baffin's eastern coast–we disembarked once or twice a day to go on zodiac boat excursions or make landfall for hikes–we just kept checking off bucket-list items. We saw actual baby belugas in the deep blue sea and frolicking narwhals–my favourite sea creature because, c'mon, they're basically unicorns!
We hiked across briefly-fertile valleys in places like Cape Mercy and Sam Ford Fjord, unexpectedly munching on wild blueberries along the way. We kayaked in Isabella Bay, where a pair of polar bears watched us keenly while stalking the nearby beach after apparently ingesting a recent kill.
We walked on top of five-metre thick sea ice in Lancaster Sound, and some of us even took a quick dip into the Arctic Ocean. (It was as shockingly cold as you can imagine but they tied a rope around us, just in case, and gave us a shot of vodka afterward to recuperate.) At one point we even stumbled across the unmarked ruins of a centuries-old Inuit camp where locals had spent their summers hunting and fishing.
READ MORE: 6 CAN'T-MISS WILDLIFE EXPERIENCES IN THE ARCTIC
And words simply can't capture the impact of the environment: the craggy, lichen-covered cliffs bursting forth from the sea; the house-sized icebergs floating by in as many shapes and permutations as the clouds; winding glaciers that look like rivers frozen solid by a super villain; water as clear and blue as any on the planet; and late-night sunsets that set the skies ablaze.
I'm a middle-aged journalist who has spent numerous years of my life travelling outside of Canada to see what the world has to offer, from the deserts of the Middle East, the jungles of South East Asia and the islands of the Caribbean to the Australian outback, Kenyan Savannah and Siberian tundra. But in all my travels I'd never made it to the north of my own country, and, well, my 17-day trip wasn't long enough. I need to go back, and bring my family along this time.
In other words, Canada's true north sure is strong, free and worth sing-boasting about.
Ready to embark on the trip of a lifetime and visit the Arctic? Plan a trip with Intrepid Travel.
—
(All images taken on Intrepid's Northwest Passage Westbound trip.)
Feeling inspired?