Sometimes ticking a country off the bucket list can be harder than you think…
It's never easy choosing where to holiday next, especially when you've settled on a continent but can't settle on the country. There are plenty of fascinating destinations in Southeast Asia to explore but both Cambodia and Laos are simply something else.
From landscapes full of rice paddies and luscious tropical jungles to cultural temples and buzzing cities, these bucket-list destinations are worth visiting, but which one to travel to first?
To ensure you're considering all bases, we've put together a guide on the three c's – culture, cities, and cuisine – in the hopes that making the decision between Cambodia and Laos gets a little easier. Fingers crossed.
Culture
As fascinating as the landscapes are unforgettable, Cambodia's culture is centuries in the making with roots in acknowledging and respecting ancestors, as well as behaving with honour, kindness, and humility. Religion is a big part of everyday life in Cambodia with many families and businesses offering up small shrines and gifts that orange-robed monks will pray over – you may also see them walking the streets or visiting larger temples.
These temples are often intricately sculptured and dramatically breathtaking with special designs carved into the stone facades and surrounding structures. One of the most famous and instantly recognised temples in all of Cambodia is Angkor Wat, an extraordinary religious monument dating back to the 9th century.
LEARN ABOUT CAMBODIA'S CULTURE ON OUR CAMBODIA TRAVELLER TOUR
A sense of community is a big thing for Laotians with most of them choosing to stay close to family when it's time to move out. Religion is also an important part of daily life with offerings to ancestors and visits to ancient temples a regular occurrence. It's this mixed focus that sees people come together to celebrate Buddhist holidays, holy periods, and traditional festivals with a big deal being made over respect, connection, and kindness.
EXPLORE LAOS ON OUR THAILAND AND LAOS ADVENTURE
Cities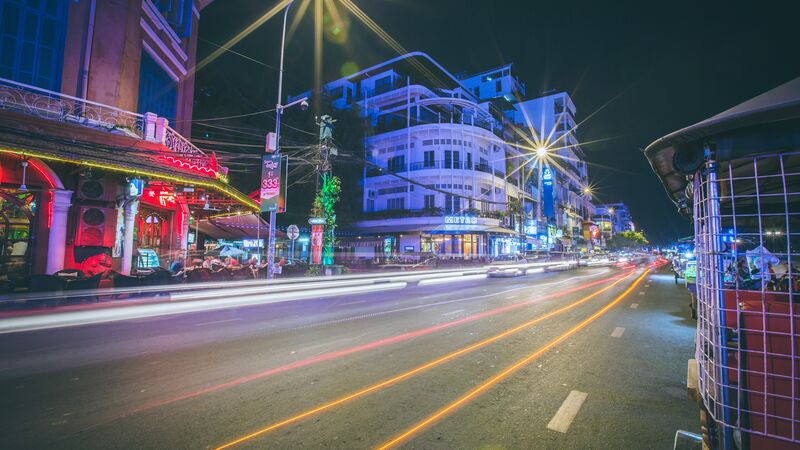 You might already be familiar with the unique and varied landscapes of Cambodia, but do you know as much about the country's bustling and beautiful cities? Yes, they may be chaotic but they're also unforgettable. Whether you want to spend your time walking through busy markets, visiting elaborate temples, or taking in the epic views from a riverfront bar, there's plenty to do in Cambodia's populated cities.
From the trendy restaurants of Siem Reap to the tantalizing food scene in the country's capital, Phnom Penh, and every city and small village in between, there'll never be a dull moment on your holiday in Cambodia.
Laos doesn't have a lot in the way of bigger cities packed with people but the cities it does offer a real local insight into how it would be to live in this breathtaking country. Boasting more of a small-town, community feel, Laos' capital city, Vientiane is both charming and vibrant with sprawling markets, ornate temples, and the Patuxai – the Laotian version of the Arc de Triomphe.
Some other towns and villages to check out are Luang Prabang with its trendy cafes and UNESCO world heritage listed sites, Muang Xay with its mountain ranges and buzzing storefronts, and Pakse with its herbal saunas and seafood-filled restaurants.
RELATED: 9 REASONS LAOS SHOULD BE ON YOUR BUCKET LIST
Cuisine
The food in Cambodia is epic and we're not even exaggerating. From dishes packed with oodles and oodles of flavour to meals actually full of noodles, Cambodian cuisine delivers big time when it comes to taste and flavour. Drawing a lot of influence from its Asian neighbours, traditional Cambodian meals usually consist of rice and noodles and your choice of protein whether that's chicken, pork, or fish.
Some noteworthy dishes to try include fish amok, Cambodia's national dish, nang soup, vegetable spring rolls, and the famous Khmer – fermented fish that is deep fried and served with fresh vegetables and thinly sliced chicken.
TRY CAMBODIAN FOOD ON OUR PREMIUM CAMBODIA TOUR
One of the best ways to immerse yourself in a foreign country is to let your tastebuds do all the exploring, and luckily, we're pretty sure they're going to want to get straight to work in Laos. Drawing inspiration from neighbouring countries' cuisines, dine out in banquets, munch on street food, and search for some market snacks with the flavours of China, Vietnam, and Thailand on your mind.
If you're a massive foodie, you're going to want to try larb, a spicy meat salad served with vegetables and sticky rice, as well as Khao poon, a meaty soup full of rice noodles, chilli, lime leaves, and garlic paste.
RELATED: YOUR ULTIMATE GUIDE TO THE BEST FOOD IN LAOS
The verdict
Just because Laos isn't as well-visited doesn't mean it doesn't deserve a visit from you, but Cambodia is a tough country to beat when it comes to cuisine and cities. For this reason, we think Cambodia edges past Laos to take the win.
However, if you want to go to Cambodia and visit Laos on the same trip, jump on our southeast Asia loop adventure. 
Feeling inspired?