Note: This article was inspired by our 9-day Cambodian Traveller trip.
Southeast Asia has been firmly on the "backpacker trail" for years, thanks to its great food, diverse cultures, and budget-friendly prices. And while Thailand is usually the first country travelers think of when they consider visiting this stunning part of the world, neighboring Cambodia has grown in popularity in recent years. Visit, and you'll see why.
Even though it's a small country, Cambodia's history is rich and its sites unique. You could easily spend weeks exploring it. But if you only have seven days to spend in the Kingdom of Cambodia, here's a suggested itinerary to make sure you hit up all the important sights, based loosely on a tour I took to Cambodia with Intrepid Travel.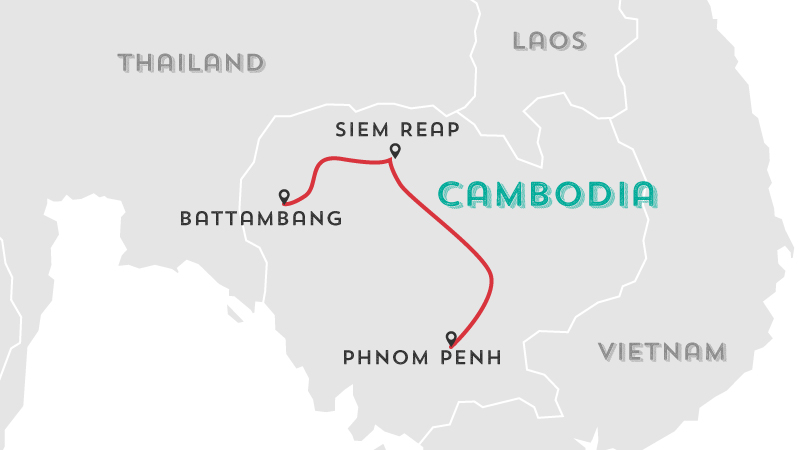 Day 1: Phnom Penh
Start your Cambodia adventure in the capital city of Phnom Penh. Located at the confluence of the Mekong River and Tonle Sap Lake, Phnom Penh was once called the "Pearl of Asia" because of its French influences and overall popularity. Today, Phnom Penh is still the heart of Cambodia economically, politically, and culturally.
A good place to start here is at the Royal Palace complex, where you can tour the grounds and see the Silver Pagoda and Temple of the Emerald Buddha. Go early in the day to avoid the heat, and consider hiring a guide at the entrance in order to learn more about the complex. Just be sure to dress conservatively, regardless of the weather – shoulders and knees must be covered for both men and women.
Afterwards, take a stroll along Sisowath Quay, a boulevard along the banks of the Mekong River and Tonle Sap. Here you can get a taste of both the frenetic energy of Phnom Penh and the city's burgeoning cafe culture and food scene. For dinner, try a Khmer curry or amok. You'll quickly learn how underrated Cambodian cuisine is.
Day 2: Phnom Penh
It's impossible to understand Cambodia's recent history without visiting some of its darker sites. I'm talking, of course, about the Killing Fields of Choeung Ek and the Tuol Sleng Genocide Museum. Being confronted by things like torture and mass murder is never a pleasant way to spend a day, but visiting sites like this is crucial to truly understanding why Cambodia is the way it is today.
RELATED: THE IMPORTANCE OF VISITING CAMBODIA'S KILLING FIELDS
Start off at Tuol Sleng, a former school that was converted into a prison during the reign of Pol Pot and the Khmer Rouge. Then make your way to the Killing Fields of Choeung Ek, one of more than 340 sites around Cambodia where over a million people were sent to die between 1975 and 1979. This equates to almost one in five dying; it's no exaggeration to say that nearly every Cambodian alive today was affected by this period of history.
If these activities made you want to make a difference, this next dinner suggestion should help. Consider visiting Friends, a restaurant near the National Museum that acts as a vocational training facility for former street children and marginalized youth from Phnom Penh. My Intrepid Travel guide made a booking here for our whole group in order to showcase some of the good work being done to help Cambodian locals bounce back.
Day 3: Siem Reap
Spend today traveling from Phnom Penh (the real capital of Cambodia) to Siem Reap (the tourist capital of Cambodia). If given the opportunity, stop on the way in the market village of Skuon or "Spiderville," where the locals are known for farming large spiders and serving them up deep-fried. (This stop is included on the tour I joined, and our guide came back on the bus with a whole bag of deep-fried bugs!)
RELATED: EATING SPIDERS IN CAMBODIA – GIMMICK OR GOURMET?
If you're traveling by bus, you'll arrive in Siem Reap in the late afternoon/early evening, which is perfect timing to pick up a three-day pass to the Angkor Archaeological Park and to hit up your first temple for sunset. The most popular temple for watching the sunset is Phnom Bakheng, but I personally love Pre Rup for its awesome (and less crowded) views.
Day 4: Siem Reap
Contrary to popular belief, Angkor Wat is the name of just ONE temple in Cambodia. "Angkor" actually translates to "city," and "wat" means "temple." The whole area of temples and ruins is known as the Angkor Archaeological Park, which covers miles upon miles. Within this area, there are more than 1,000 temples of varying sizes and states of decay.
With so many things to see, you'll definitely want to have a plan of attack.
Start your day early with a sunrise at Angkor Wat. You'll have to get up in the wee hours of the morning, and you'll definitely be sharing the experience with hundreds (or maybe even thousands) of other people – but it's so iconic. (And if you do want to get that perfect shot, read this guide to photographing the temples of Angkor.)
Afterwards, head straight into the Angkor Wat temple complex before the crowds really descend for the day. Having a guide for this temple complex is especially useful since it's so huge. From Angkor Wat, head over to Bayon, a slightly newer temple complex built in the late 12th or early 13th century by King Jayavarman VII within the ancient town of Angkor Thom. The Bayon temple complex is known for one major feature: the huge, serenely smiling faces that cover the temple's towers.
After a day of temple exploring, enjoy a relaxing night in Siem Reap. Head to Genevieve's for dinner, where local and Western fare is served up by locals learning the hospitality trade and sharing in the restaurant's profits. Then head over for a drink on the city's aptly-named "Pub Street."
THE ULTIMATE GUIDE TO CAMBODIAN CUISINE AND RESTAURANTS
Day 5: Siem Reap
This morning, get up early and head to Ta Prohm, the Jungle Temple or "Tomb Raider Temple" since some scenes from the Angelina Jolie movie were filmed here. Ta Prohm represents the less-restored, more wild type of Angkor temple. Here, tree roots have curled around pillars and burst up through floors, and moss and vines have crept across walls and down into doorways. Simply put, Ta Prohm is being reclaimed by the jungle. This is a very popular temple, so visiting early in the morning will help you avoid the crowds.
In the afternoon, our guide arranged for us to go to Banteay Srei, located north of Angkor Wat. This red-hued temple is known for its intricate, well-preserved carvings, and is absolutely worth the time it takes to get there. Since Banteay Srei is a bit further from Siem Reap than the main Angkor Thom and Angkor Wat areas, it also means that it's usually less crowded.
In the evening, return to Siem Reap and consider visiting another restaurant that contributes to social good. My pick would be Marum, which is run by the same organization that runs Friends in Phnom Penh.
READ MORE: MEET CHANNA, THE INTREPID LEADER IN CAMBODIA WITH AN INCREDIBLE STORY
Day 6: Battambang
Even though you could easily spend an entire week just exploring the Angkor temples, it's worth seeing another part of Cambodia. So, head to Battambang, Cambodia's second most populous city. It lacks the traffic of Phnom Penh and the visitor numbers of Siem Reap, meaning it's a great place to get a real slice of the country's culture.
Upon arrival, get to know the compact city on foot or by bike, allowing some time to admire the city's early-20th-century French colonial buildings. Before dark, hire a tuk-tuk to take you to Wat Banan, the so-called mini-Angkor Wat. Just past the temple, a huge cave is home to thousands of bats. You can watch them exiting the cave in waves each evening!
For dinner back in Battambang, head to Jaan Bai, a social enterprise restaurant and coffee bar that provides employment and skill-building for local youth. The restaurant uses organic produce sourced from local farms and markets, and all profits go towards the Cambodian Children's Trust.
LOVE CAMBODIAN CUISINE? CHECK OUT THIS 9-DAY FOOD TOUR OF THE COUNTRY
Day 7: Battambang
On your last day, head out into the countryside surrounding Battambang. Here, you can visit some local industries to see things like rice paper, noodles, and even fish sauce being made by hand.
In the evening, consider signing up for a Khmer cooking class in Battambang, or going to see a performance by Phare Ponleu Selpak (Battambang Circus). This circus consists entirely of human performers, doing things like acrobatics, juggling, and just clowning around. Ticket sales help support an NGO school that works with disadvantaged children and teens. A heartwarming end to a perfect trip.
Heart set on visiting Cambodia? We don't blame you – check out our 9-day Cambodian Traveller trip.
—
Image Credits (top to bottom): Intrepid Travel, Amanda Williams x2, iStock, Intrepid Travel, Amanda Williams x2, iStock, Amanda Williams
Feeling inspired?