We don't want to state the obvious, but Antarctica is like, the coolest place on Earth (literally).
Antarctica is a next-level kinda place. That's it. That's our whole argument.
Just kidding, but this frozen destination full of icy landscapes, fascinating animals, natural beauty, and out-of-this-world experiences should be at the top of every travel lover's bucket list. And we're going to tell you why you need to book your next trip to Antarctica.
1. Crossing the Drake Passage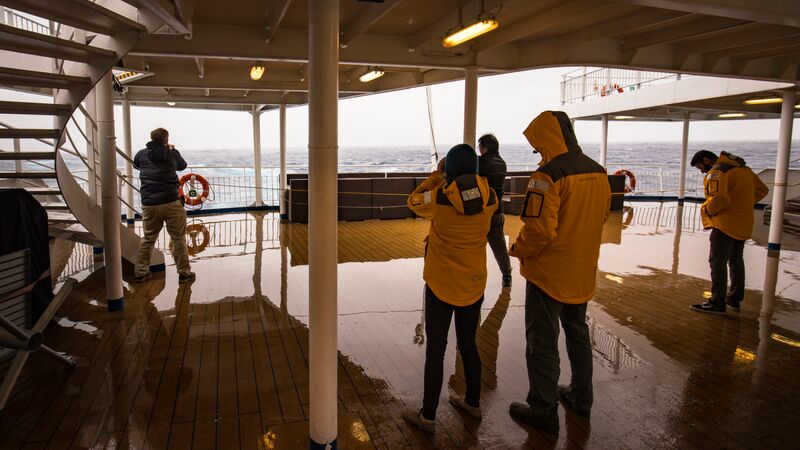 Sitting at the very top of our 'reasons why you should visit Antarctica' list is crossing the Drake Passage. Yes, it's known as one of the world's roughest sea passages and yes, its waves can reach up to eight metres high, but surviving this notorious body of water will change you. In the very best of ways.
Not only will the roiling ocean test your mental limits (and your stomach's strength) but it'll also heighten your sense of anticipation and have you spending every waking moment thinking about the adventures that lie ahead.
We understand that spending 48 hours on a rocking boat may not be your idea of fun but one of the best destinations in the world is waiting for you at the end of it. And that makes crossing the passage worth it every time.
CROSS THE DRAKE PASSAGE ON OUR BEST OF ANTARCTICA TOUR
2. Get up close and personal with glaciers
The Antarctic peninsula promises glaciers galore with over 1,600 glaciers scattered around the Antarctic ice sheet. There are also over 1,100 ice caps in the region so prepare to feel like Queen Elsa from Disney's 'Frozen' as you float past them on your Antarctic adventure.
From ever-changing ice formations to uniquely shaped icebergs, absolutely nothing will prepare you for the awe-inspiring view of solid ice rising out of the water.
SEEK OUT GLACIERS ON OUR BEST OF ANTARCTICA IN DEPTH TOUR
3. Spotting animals
Antarctica may be the land of sugar and spice and everything ice but it's also home to a huge variety of animal species, ensuring your camera stays permanently in your hand throughout the entire trip.
From marveling at the majestic humpback whale as it crests through the ocean's surface around the Falkland Islands to watching a colony of king penguins strut their stuff on South Georgia Island, the animals of Antarctica will have you utterly hypnotized.
MARVEL AT ANIMALS ON OUR ANTARCTICA, SOUTH GEORGIA, AND FALKLANDS EXPLORER
4. Kayak around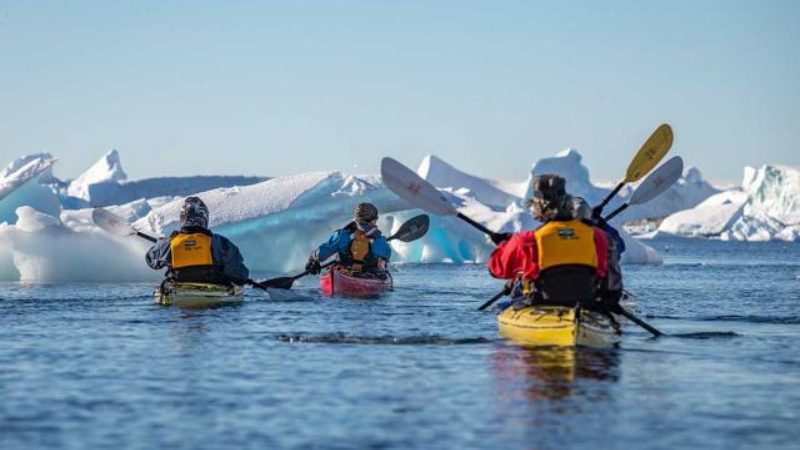 While observing the remote wilderness of Antarctica from the deck of a ship is pretty impressive, taking to the seas in a two-person kayak is simply something else. There's no better way to feel the raw beauty of this white continent than by trailing your hands gently through the water as you glide past distinctive ice formations that are close enough to reach out and touch.
GO FOR A KAYAK ON OUR ANTARCTIC WHALE JOURNEY
5. Discover Antarctica's history
Learning about the region's first explorers might not be one of your top reasons for visiting Antarctica but in order to appreciate this part of the world's astonishing and all-encompassing beauty, you have to understand how humans came to find it.
During your sea crossing you'll be treated to lectures and presentations on the likes of Sir Ernest Shackleton, Sir James Clark Ross, Roald Amundsen, and Robert Falcon Scott, all of who were principal figures in what is now known as the Heroic Age of Antarctic Exploration.
LEARN ABOUT ANTARCTICA ON OUR BEST OF ANTARCTICA: PRISTINE WILDERNESS TOUR
6. Take the polar plunge
If you thought kayaking the Antarctic seas was as immersive as it gets, then don't we have a surprise for you. Introducing the polar plunge. Think jumping into -1.8C degree water for the refreshment of a lifetime (and a pretty formidable thing to put on your travel resume).
Pro tip: try not to think about all of the weird and wondrous animal species that live in the Antarctic Ocean's dark depths while you're in it.
Feeling inspired?