The land of lost cities and ancient ruins, camel rides and dead seas, and sprawling wild deserts; when it comes to a holiday that the whole family can enjoy, Jordan really has it all. And that's before we've even covered the delicious food,  generous and welcoming locals, and the chance to safari the desert dunes in 4x4s or fall asleep under the stars in the Wadi Rum desert!  Part history lesson, part epic adventure, a family holiday to this Middle Eastern oasis is an experience your kids will be telling their grandkids about in years to come.
Need more convincing? Here are 6 of the best reasons why Jordan is the perfect destination for your next family holiday.
1. The food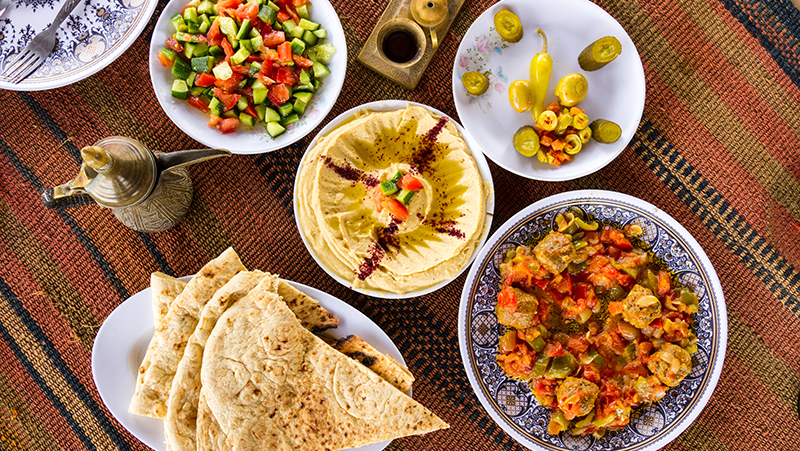 Any parent who has travelled with a young family can probably attest to one fact: meal time is one of the most stressful experiences of an entire family holiday. The whole experience can be fraught with danger and tantrums; unknown dishes, exotic flavours, new vegetables (when they haven't even mastered the basics back home!).
Thankfully that won't be an issue in Jordan; the food here is so delicious that even the pickiest of children are just about guaranteed to keep coming back for more. A mix of Middle Eastern and Mediterranean influences, think mezze platters, traditional hummus, roasted plates of meat and veg, plus lashings of yoghurt, spices, and rice. No matter what you decide to eat, it's pretty hard to go wrong at mealtime in Jordan.
2. Follow Indiana Jones' footsteps
There really is nowhere else like Petra. This incredible lost city, made of rose-coloured stone and carved out of Mount Hor's rock face by the Nabataeans in the 3rd century, is an incredible sight for the whole family to see. After crossing Wadi Rum on Camelback, Lawrence of Arabia style, you'll arrive at the Siq which leads to the infamous and awe-inspiring treasury (pictured above). If you and the kids are feeling a little more adventurous, lace up the hiking boots and walk the 800 steps to the Monastery where this ancient civilisation held religious festivals. It's a history lesson unlike any other (and a walk down memory lane for any mums and dads who watched Indiana Jones as kids!). Just watch out for the pushy donkeys on the path!
3. Camp Bedouin style in Wadi Rum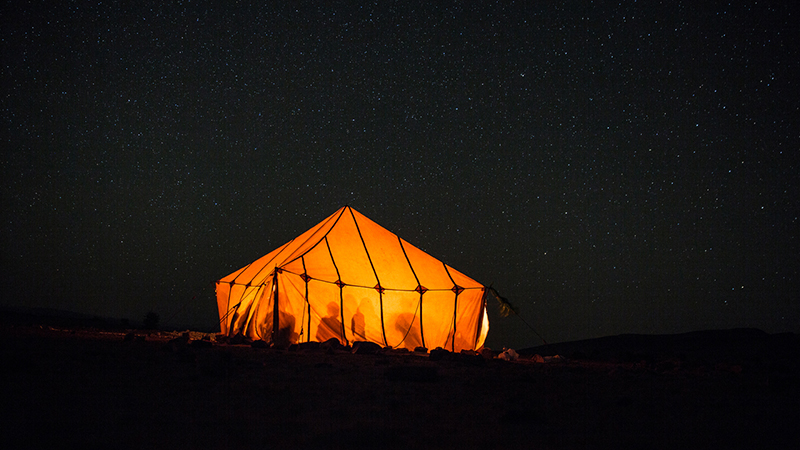 Camping is a great family activity, but often it conjures up images of soggy sleeping bags, mud, and thermal pyjamas. Switch everything you think you've known about camping for shooting stars, the sandstone desert and the friendliest of hosts. Camp out under the Milky Way in a Bedouin-style tent surrounded by impressive sand dunes and mountains, and just remember: sleeping inside the tent is not mandatory – the stars are much brighter outside!
4. The Seas
Come for the adventure, stay for the beaches. Jordan has two amazing swimming spots: The Red Sea, and the Dead Sea.
The warm waters of the shallow Red Sea are home to a series of beautiful coral reefs that even the Great Barrier Reef can't compare to. Kids will love snorkelling over the colourful reefs, and counting how many Nemos and other friendly fish they can spot.
How many times have your kids relentlessly tried to float on top of the swimming pool and scare their brothers and sisters? Well, the Dead Sea is something else: as it's the lowest place on earth, 400 metres below sea level, you'll be able to float effortlessly on top of the water. No floaties needed.
5. Play gladiators
Not only will your kids enjoy playing gladiators in the historical town of Jerash, they'll even learn a little something too. A fine example of Roman inhabitants, Jerash is home to some extraordinary complete ruins including a hippodrome and two theatres, still with numbered seats. Kids can enjoy exploring the ruins gladiator-style and walking in the footsteps of Roman soldiers.
6. Make friends for life with friendly locals
The local people in Jordan are known for their friendliness and incredible hospitality and there's one way to get to know the real Jordanians: families will enjoy learning new games with local children, including the traditional '5 stones' and you'll be surprised how much the local children want to teach you!
Ready to explore the magical ancient world of Jordan? Check out our Jordan Family Holiday! 

Feeling inspired?