From natural landscapes to cultural attractions, this island country is full of fascinating sights everywhere you look.
There are a lot of reasons why thousands of travellers flock to New Caledonia's golden shores each year; the landscapes, the people, the culture, the food, and the turquoise water all combine to make a trip to this tropical destination one to remember.
But apart from relaxing on beaches with sand the colour of snow, what exactly is there to do? Well, we're so glad you asked that question. From cultural activities to scenery that's guaranteed to take your breath away, we've put together a list of the best things to do in New Caledonia.
There's no better introduction to the local Kanak culture than a trip to the architecturally designed Tjibaou Cultural Centre: a place where art, history, and knowledge meet to educate travellers on the complexities of a culture that dates back thousands of years.
Filled with exhibitions, museums, libraries, a creation centre, and a botanic garden, you could easily spend an afternoon wandering through the grounds, taking in tribal art including carved rooftop spears and ritual sculptures and marvelling at the 10 structures that are designed to represent traditional Kanak huts located in the centre's very heart.
2. Snorkel through the lagoon waters of Poe Beach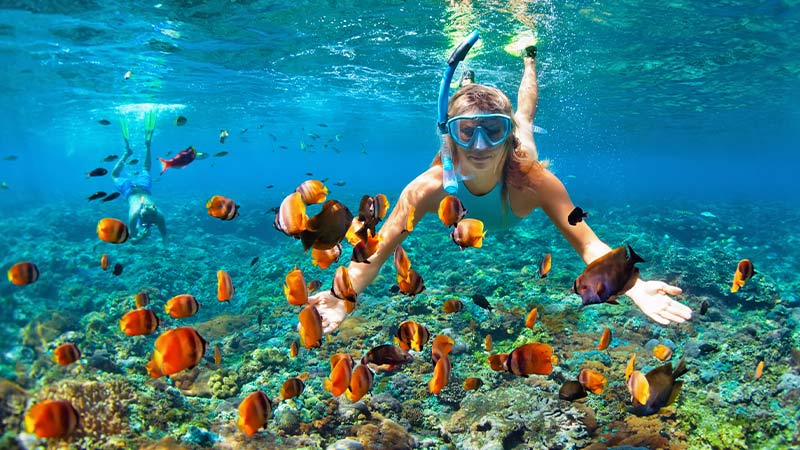 There may be plenty to explore on land in New Caledonia, but once you dip beneath the sparkling waves that surround the island, there's a whole 'nother world just waiting for you to adventure through – this is obvious once you step onto the sand of Poe Beach.
Boasting an impressive 13km in length, this stunning beach would look right at home among the glossy pages of a fancy travel magazine, but its crowning glory is undoubtedly the vibrantly coloured reef systems that are located just off the shoreline.
There's even an underwater nature trail for you to follow while you're snorkelling so you should have no trouble spotting sea turtles, schools of yellow snapper, anemone fish, and dugongs as they weave in and out of their coral homes.
VISIT POE BEACH ON OUR NEW CALEDONIA ADVENTURE TOUR
3. See the Heart of Voh from up high
Some things need to be seen to be believed and the naturally shaped 'Heart of Voh' is one of those rarities. Naturally formed in the shape of a heart over hundreds of years, this romantic attraction can be viewed on a helicopter or scenic flight which will also take you over the top of Mount Katepei (in case you needed more stunning scenery to take photos of).
Take to the skies and marvel at the multicoloured blue of the water below you, the expanse of reef with its coral systems, the many inhabited islands you've had the pleasure of exploring, and of course, the heart-shaped mangrove – we have no doubt it'll be love at first sight.
4. Explore the Blue River National Park
The whole of New Caledonia is a natural playground but the Blue River National Park is something else entirely. Aiming to bring environmental awareness to the forefront of the minds of those who visit, this park spans a staggering 9045 hectares of lush vegetation and natural features such as the Blue River and the drowned forest.
This forest wouldn't look out of place on the set of a film with its white tree trunks piercing the still water's surface. Look on from the shore or rent a canoe and zigzag through the eerie trunks to get closer to the enchanting scene no photo will ever do justice.
From putting together a picnic and sitting down to lunch among the wilderness to hiking one of several trails all with an epic view at the end of them, a day spent at the Blue River National Park is guaranteed to be one of your favourites.
5. Marvel at the Grotte de la Hortense
As it happens, the best attractions are always those that are naturally formed and the Grotte de la Hortense is no exception. Said to be the hiding spot for the wife of a local chief during tribal conflict in 1855, this grotto has been expertly crafted by the sea over the centuries to create an impressive limestone cave you could easily get lost in (figuratively, that is).
Once you're within the cave's walls, it's hard not to get caught up in the history of the place as your guide regales you with tales of the cave's use over the years – you'll even be able to see the smooth rock ledge where Queen Hortense slept to remain safe from neighbouring tribes.
Only a short drive down a sealed road, this is undoubtedly one of the best things to do in New Caledonia.
Feeling inspired?