Excuse the pun, but I'm head over heels for Southern Italy. To be more specific, I'm talking about the region of Puglia – that intoxicating sliver of land fringed on two sides by the Adriatic and Ionian Seas.
Puglia is defined by a collection of small towns and cities. It's where rustic countryside meets extravagant architecture. Where whitewashed streets paint the tops of gnarled limestone cliffs. It's where you'll find some of the best Italian food on offer.
You could easily live out your days in Puglia. But like most of us, you'll likely have limited time on your hands. While it's not a region to feel rushed in, it still pays to be strategic about how you tackle it. Here's what I managed in 10 days.
Getting in and around
Most overseas travellers arrive in Puglia at one of two main gateways, Bari or Brindisi. Both are port cities that, while having their moments, aren't as charming or dramatic as the places in between and further south. Unless you're flying in late at night, I'd suggest keeping your time in both to a minimum.
Before getting into which destinations to visit, a word on transport. Most of the towns and cities are connected by train. The two main train companies available are Trenitalia, connecting bigger places, and Ferrovie Del Sud Est, a local company connecting smaller places. Between these two, you can get to most places easily, efficiently and comfortably.
What about driving? If you're willing to spend money on a rental car, driving can be worth it. Or if you'd rather someone else did the driving, you could always join a small group tour. That way you're free to take in the countryside and get a feel for the region.
Where to go
During the 10 days I was in Puglia, I based myself in three main destinations: Polignano a Mare, Ostuni, and Lecce. Three days apiece allowed me to slip into each of their unique rhythms, as well as explore what the fringes and outlying towns had to offer.
To dig a little deeper, let's start with Polignano a Mare. Like many towns in Puglia, this seaside resort has a compact historic quarter, jammed with beautiful churches, authentic restaurants, hip bars, and boutique shops. But the real highlight here is the epic coastline, vertiginous cliffs, and pebbled beaches – particularly Cala Porto. If this combination doesn't sustain you, similar vibes can be found in Monopoli, a daytrip-worthy town just a stone's throw to the south.
REVEALED: 6 CITIES IN ITALY TO VISIT BEFORE EVERYONE ELSE DOES
After three days of sun, sand and Aperol spritz, Ostuni is an ideal next base. Known as the White City, this labyrinthine gem sprawls across a string of hills overlooking the Adriatic coast. Here, the aim of the game is to get wilfully lost, eat extremely well, and visit smaller historic towns nearby such as Martina Franca, Locorotondo, Cisternino, or Alberobello.
When exploring Puglia's Salento peninsula further down the heel, Lecce is the place to be. Known as the Florence of the South, the city bathes in exuberant Baroque architecture. The streets are alive with metropolitan feels and lined with golden churches, buildings, and lavishly decorated monuments. Lecce is also one the largest cities in Puglia, and within easy distances to beautiful coastal towns, such as Otranto and Gallipoli.
What to eat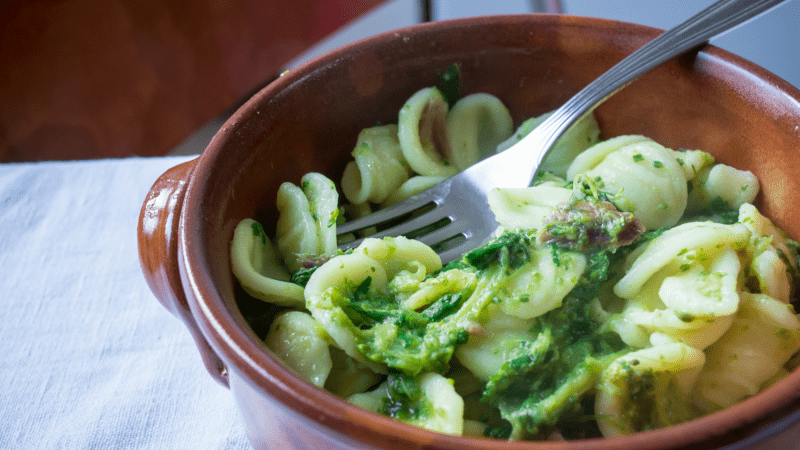 Puglia isn't about fine dining. Though you'll find upmarket places if you look hard enough. The real gastronomic experiences are to be had in the rustic trattorias, the beachside paninotecas, the hidden paninaros, and the elegant enotecas lining the streets.
When it comes pasta, orecchiette reigns supreme. Meaning "small ears" in Italian, you'll find this handmade pasta served in a variety of ways. However, the famed dish of the region is orecchiette with a sauce of cime di rapa. Combining turnip tops, anchovy, chilli and garlic. It's simple and delicious. Other regional classics to try include:
Orecchiette con sugo alla ricotta forte (orecchiette with strong ricotta sauce)
Ciceri e tria (chickpeas with fresh and fried pasta, usually tagliatelle)
Panzerotti (a savoury turnover, often filled with cheese)
Pasticciotto (a pastry filled with egg custard)
Taralli (small Italian crackers – sweet or savoury)
Frisella (crunchy oven-baked bread, served with tomato, basil and olive oil)
Rustico (half puff pastry, half pizza – sealed like a calzone)
Puccia (a sandwich made of pizza dough, stuffed with meats, cheeses and vegetables)
EVERYTHING YOU NEED TO EAT IN ITALY: A CITY-BY-CITY GUIDE
But that's just a taster. Pugliese cuisine is so rich and interesting that it really deserves an article of its own. But for now, just dig in. Travelling around the heel is as much about the food as anything else – and you won't be disappointed.
If Italy is on your bucket list, do yourself a favour and explore Puglia. Though summer's a great time to go, if not a little busy. I found late September to early October perfect for walking around, brisk ocean swims, and seeing the sights.
Eager to experience Italy for yourself? Then check out our range of Italian tours, you're bound to find one that's right up your strada.
Feature image C/O Stefano Valeri via Shutterstock.
Feeling inspired?