Settle down with a cheese board, a glass of your favourite red and discover the true meaning of 'joie de vivre'.
Life doesn't get much better than leisurely cruising the countryside, drifting past sleepy hamlets while sampling some of the best cheese southern France has to offer. What river boating lacks in crystal clear waters and sandy beaches, it more than makes up for in delicious excursions – cycling through vineyards for a taste at the cellar door, loading up on croissants at the village bakery, and browsing fresh produce at farmers markets. Then there's the history, Carcassonne's legendary fortified city, monasteries where monks have crafted wine for centuries and the ruined remains of Castle Decize. Pick up a glass and join us - this is life in the slow lane, Intrepid-style.
Our River Boating trips
Why choose River Boating
Full inclusions 
Our river boating trips come with everything you need to make the most of your time on the water. That includes a leader to steer your boat, kitchen starter pack, BBQ, Wi-Fi and even bikes, so you can cycle to the nearby chateaux.
No experience needed
Your fully-trained onboard leader is there to help you sit back and relax while they operate the boat. If you'd like to pick up some boating skills, they can also show you the ropes.  
Best of both worlds
While drifting along French waterways is a highlight of our trips, there's also plenty of free time on land to explore villages and see the sights. You can choose to walk or even ride along the river on a bike. 
Safety first
Safety is our number one priority, which is why our boats are all top-of-the-line and range from brand new to a handful of years old.
Highlights of River Boating
Sancerre's greatest claim to fame is its number one export: sauvignon blanc. The region's success comes down to the bed of chalk that runs beneath it, making it the perfect site for viticulture. Learn about Sancerre's proud wine making traditions while visiting local cellar doors, and even a goat cheese farm.
Is there anything more quintessentially French than a morning bike ride to the boulangerie to pick up some fresh baguettes? Load up on croissants, eclairs and more, then ride along the canal back to your boat (or stop along the way and enjoy a guilty picnic on the banks).
Wander the historic city of Carcassonne
The second most visited tourist site in all of France (the first being the Eiffel Tower) has a history dating all the way back to the 6th Century BC, with just about every stone bridge, cobbled lane and fairy-tale castle having a story to share. Choose to walk these ancient streets or jump on a bike and race to the city's enticing fromageries.
Our boats
Grand Classique
Spend one of the most relaxing weeks of your life cruising aboard the Grand Classique. Built for comfort and ease of operation (with a top speed of 15 kilometres/9 miles), the vessel is fitted with four twin/double cabins, a fully operational kitchen, air conditioning, Wi-Fi and  sundeck – the perfect viewpoint for watching the French countryside drifty on by.
Gallery
FAQs
Reviews
Read more about River Boating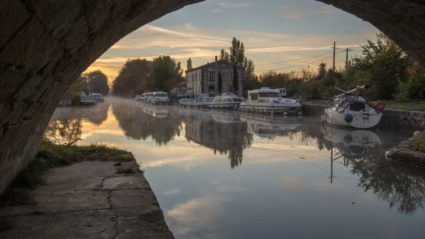 Dec 24, 2017
---
Whether you'd rather kick off your day with a Pain au chocolat or stuff your face...
Sep 29, 2015
---
There is one way of exploring this impossibly romantic region that doesn't occur...
Looking for more boating adventures?
Want wide open oceans instead of canals? Raise the sails and set off on an adventure with our range of small-group sailing adventures.
Ditch the commercial liners for our range of small ship cruises, offering more creature comforts while exploring destinations like Iceland, Greece and Portugal.