From otherworldly national parks to tumbling waterfalls to rich First Nations cultures, Darwin is the gateway to bucket-list-worthy adventures.
Darwin is the perfect place to start exploring all the Northern Territory and Western Australia have to offer. One day you might be swimming in emerald-green pools in Kakadu or learning about seasonal bushtucker with local Limilngan-Wulna guides, and the next you might be soaking up jaw-dropping views at El Questro Station or searching for crocs and native wildlife on Lake Argyle. Whether you want to tackle iconic hiking trails, discover ancient Aboriginal rock art or listen to Dreamtime stories on a cruise through ancient gorges, a tour from Darwin is one of the best ways to experience the rugged beauty of the Outback.
Our tours from Darwin
Things to experience on a tour from Darwin
Discover Darwin
Your adventure begins as soon as you get to Darwin! With diverse cultures, some of Australia's most stunning beaches and a vibrant restaurant and art scene, you could easily spend a few extra days in the Northern Territory's capital city before you hit the road. From hanging out in the lively waterfront bars to eating your way through the city's many cuisines to enjoying a jaw-dropping sunset at Mindil Markets, Darwin is not a city that should be overlooked.
Cruise through Katherine Gorge
For the best Aussie wake-up you could ever wish for, take a morning cruise over the emerald-green waters of Katherine Gorge. From watching the sunrise illuminate the sky in different shades of orange, purple and pink to witnessing the misty fog unfolding above the tranquil waters, the feeling of watching and listening to the early morning sights and sounds of Nitmiluk National Park takes peacefulness to a whole new level. 
Explore Kakadu National Park
Brimming with cascading waterfalls, otherworldly rock formations, bright blue natural pools and more native animals than you can think of, the spiritually significant Kakadu National Park is undoubtedly one of the Northern Territory's highlights. One of the best ways to explore is by lacing up your hiking boots and tackling the trails. You'll discover ancient rock art (some paintings are up to 20,000 years old!), listen to Bininj and Mungguy Dreamtime stories, find traditional bushtucker and learn how to people spot animals from the edge of a billabong. 
Explore the Mary River Wetlands
Home to an impressive network of waterways, lush billabongs and heaps of wildlife, the Mary River Wetlands is a nature-lovers playground. It's home to the largest number of saltwater crocodiles in the world and diverse native bird species, so be prepared for your eyes (and camera) to be occupied for the entire day. If you fancy turning your experience up a notch, then make sure you stay for the sunset to watch the shifting colours take over the sky and sparkle on the water's surface. 
Learn about First Nations cultures
Meet with local Limilngan-Wulna people – the Traditional Owners of Wulna Country (the Adelaide River Flood Plains) – to learn about their rich culture. You'll experience a Cul Cul or 'Welcome to Country' to connect with the land you find yourself on, listen to a didgeridoo performance, discover seasonal bush tucker and medicine, and learn how to weave baskets and dillybags with natural materials sourced from the bush. 
Swim in Litchfield's natural swimming pools
Nestled in the heart of Litchfield National Park, you'll find dozens of lush natural swimming pools fed by tumbling waterfalls. After strolling through steamy rainforests, there's nothing better than jumping into a cool plunge pool to cool down in the outback heat or picking a spot on the rocks and chilling out to the tranquil sounds of water trickling, birds chirping and trees swaying in the breeze. 
Popular Northern Territory tour routes
Tours from Darwin reviews
Read more about travel in the Northern Territory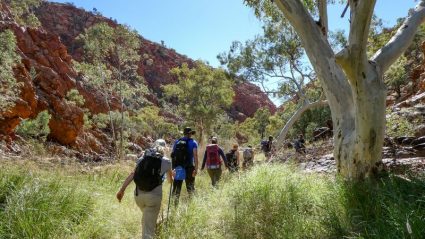 Mar 18, 2023
---
One thing's for sure, hiking the Larapinta Trail will be one of the greatest...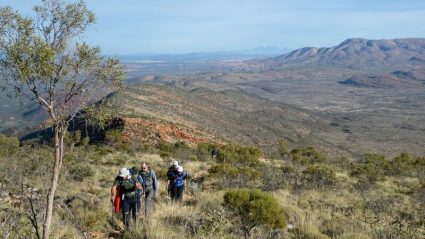 May 16, 2023
---
This trail will leave you feeling different. In the best way possible.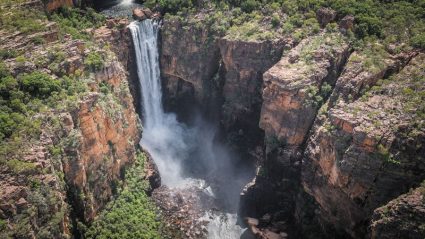 Jan 20, 2022
---
You'll never run out of fascinating natural wonders to explore in the Northern...