There are few places in this big ol' world left under the radar, but Baku is one that should be right at the top of your 'must visit' list.
Baku is the capital of Azerbaijan, a little country that sits at the crossroads of East and West. It's a melting pot of culture, with a history that includes an ancient fire religion, medieval ruins and Islamic traditions; it also spent almost 70 years behind the Iron Curtain.
Here are ten reasons why you need to book a trip right now to eat, sit, wander and have your mind expanded by the compendium of culture that is modern-day Baku.
1. It's full of amazing architecture
In the space of a few blocks you'll go from stately Imperial Russian buildings, to the curved lines of the orient, through to stark communist apartment blocks and incredible feats of modern design. Of course, there is also the heart of Baku, the UNESCO-listed Old City, which dates back to the 12th century.
Whether you are a scholar of architecture or simply a curious traveller, you'll easily be able to spend a day just exploring the exteriors of this mosaic-like city.
EXPLORE BAKU ON OUR 10-DAY HIGHLIGHTS OF AZERBAIJAN & GEORGIA SMALL GROUP ADVENTURE. FULL DETAILS HERE. 
Be sure to get up close to the constructions on foot, but also hit the road for a different perspective. It's safe to jump on a bus or you can grab an 'eggplant taxi'; the British-style cabs in Baku are the colour of the ubiquitous vegetable. On wheels, you'll see how much variety there is in a relatively small area, and you'll also be able to get around to some iconic buildings like the modernist Heydar Aliyev Center, the imposing Flame Towers and the mysterious Maiden Tower.
CHECK OUT OUR FULL RANGE OF ADVENTURES IN AZERBAIJAN HERE
2. There's a hillside on fire 24/7
Yanar Dag, or 'burning mountain', is an iconic landmark of Azerbaijan and it's pretty spine-tingling to get up close to. There's proof from as far back as the fifth century that the entire hill used to be completely aflame, but over time the natural gases have slowly been depleted. A few square metres is all that is left, and it's predicted to go out completely by 2020.
The country has a deep affinity to the element of fire, so much so that it's even known as 'The Land of Fire'. Nearby you'll be able to visit the Ateshgah fire temple; it has a long history as a place of pilgrimage for both Hindus and Zoroastrians. Zoroastrianism is one of the world's oldest continually practised religions, with many elements still present in Azerbaijan's culture. Fire is sacred and you'll find countless references to its flickering flames throughout everyday life for Azeri people.
3. You'll find some unusual museums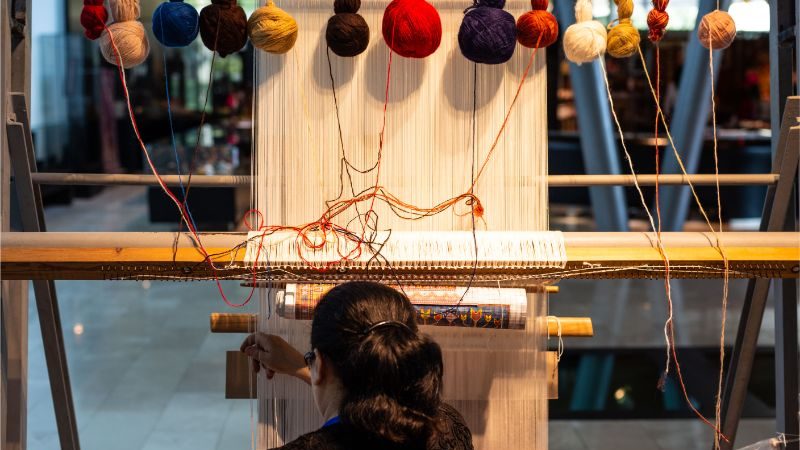 The Azeri take great pride in their carpet-making history, so it's only natural that there's a whole museum dedicated to the woven wonders. The museum has three floors of beautiful artistry and history, where you'll learn that carpets have ALL sorts of uses. There's even a carpeted mustache cover, to protect every hipster's precious facial styling.
RELATED: 10 MUST-VISIT PLACES IN GEORGIA
A museum of a very different variety, the Shirvanshah Museum Restaurant, is a must visit. Along with sampling a number of traditional Azerbaijan dishes, you'll be able to take your pick from a labyrinth of richly decorated rooms in this old bath house. Between staircases and tapestries sit countless rooms, each with a different theme, illustrating a different element of Azerbaijan's history (you can even choose to dine in a meticulous recreation of a Soviet era kitchen). There's a team of over 35 chefs that cater for up to 1000 diners at a time in this popular (and highly regarded) museum slash restaurant.
4. It's a city made for strolling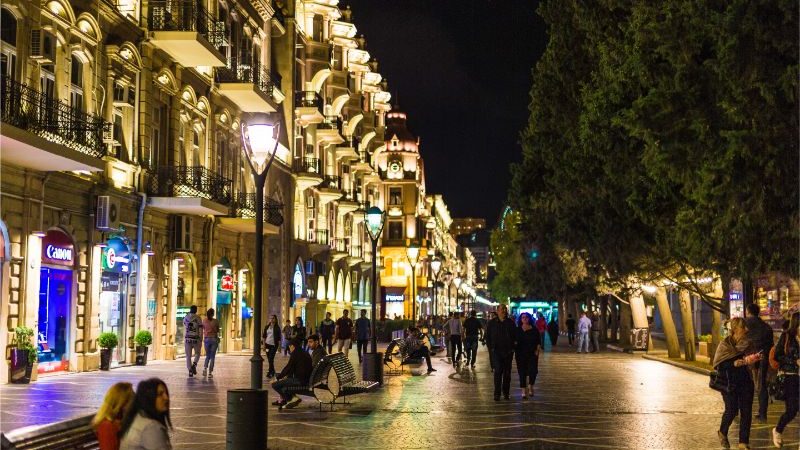 Baku is as pedestrian friendly as you can get and you can easily get around all day (and night) on two feet. Take an afternoon stroll around the Old City, pottering down alleyways and hidden alcoves. Head over to the promenade for a pre-dinner wander, where you'll get a great view of the Caspian Sea and the latest buildings popping up along the coastline. After dinner join the locals for a few hours out and about in the main hub – Nizami Street. A pedestrian and shopping strip, it's lined with underground restaurants and bars. However, the best action is up above, as the city comes to life with residents walking their dogs, catching up for tea and simply soaking up the atmosphere ate into the evening.
5. There's a sweet treat at every meal
Tea reigns supreme as the national drink, with sugar as a side at every serving. Traditionally brewed in an urn, called a samovar, tea here is enjoyed black and served in little hourglass-shaped cups. The shape enables the top half to cool down, while the bottom remains piping hot. Alongside every cup of tea, you'll also likely be served a pot of jam (and additional sugar), and some sweets like the delicious Baku Pakhlava.
6. Azerbaijan wine is a thing
While Georgian wine is shining bright in the spotlight, just over the border lies Azerbaijan. Both of these regions are similar in style and terroir, so try some of the local wine when visiting.
You'll find similar techniques and traditions too, including the use of amphora for fermentation, and some unique grape varieties such as  Madrasa and Saperavi. Hit up one of Baku's newer wine bars such as Kelfi for the full gamut. There's even pomegranate wine, though it's a pretty particular taste…
RELATED: WHY BULGARIA IS THE NEW BORDEAUX
7. It's full of passionate people
An incredible meal tastes darn delicious, but the icing on the cake is the waiter who figures out exactly what you're hungering for and then with a smile, suggests the perfect option from the menu. Yes, of course it's the PEOPLE that truly make a place special.
During my time in Baku, I experienced nothing but genuine hospitality. The Azeri have a deep-set pride of their culture and are keen to share it with anyone who shows an interest. A fan of the food? Don't be surprised if you're welcomed into a kitchen when you ask how something is made. Take a trip to the markets and you'll be asked for a selfie with every stall holder – a toothy grin and a snap truly makes their day.
RELATED: THE ART OF CONNECTING WITH STRANGERS IN UZBEKISTAN
8. You'll spend your days feasting on flavour
Azerbaijan is a country made for foodies. You could spend days here and still be working your way through the countless varieties of dolma, not to mention plentiful mounds of saffron scented Plov (pilaf), Lula kebabs cooked over the coals, grilled vegetables, and rich lamb-based stews like Piti. Bread is non-negotiable – if you can catch it being made fresh in a tendir at one of your mealtimes, be sure to watch the baking process in action.
RELATED: A GUIDE TO THE WORLD'S BEST-KEPT CULINARY SECRET
The cuisine is based on fresh produce, abundant herbs and spices, and regional specialties that you'll not find anywhere else in the world. It's also super healthy, with ferments and pickles on every table, and no shortage of ways to include yoghurt into a meal. Dovga (chilled yoghurt soup) is surprisingly refreshing on a hot day. One paragraph is not nearly enough space to even start on the food in Baku; you'll have to try it for yourself.
9. See some of the world's oldest art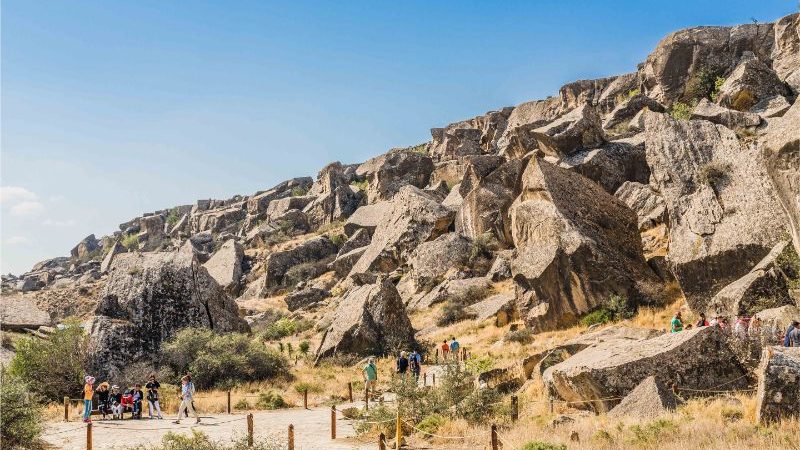 Few people are aware that this little country is home to some of the world's oldest rock art. Just an hour's drive from the centre of Baku, you'll find yourself in the middle of the rocky outcrops in Gobustan National Park.
How these ancient carvings aren't more of a mecca yet is a mystery – the impeccably preserved collection of over 6000 rock engravings are just awesome to gaze at in person. Standing at the bottom of the rock face, it puts life into perspective when you realise that these were crafted by communities as far back as 40,000 years.
10. Musical interludes aplenty
Here is a country that takes music just as seriously as it takes it food. There is a rich tradition of artistic endeavours in Azerbaijan and artists of all disciplines are well respected; there are sculptures all around the city of poets, writers and musicians, as well as countless opportunities to catch a festival celebrating them. Sample some of the traditional (and very intricate) folk music called mugham, catch a classical concert, or hit up a jazz show.
Interested in Azerbaijan? Check it out on a small group adventure with Intrepid now! Explore our range of trips now.  
All photos by Cassandra Charlick. 
Feeling inspired?