Between the mainland of Canada's British Columbia and the misty forests of Vancouver Island, there's a particular stretch of water that's become famous around the world.
This is Johnstone Strait, home to the biggest resident pod of killer whales (orca) on the planet. There's no such thing as a guaranteed whale sighting, but Johnstone Strait is about as close as you can get.
It's a wild land up here. Lots of craggy green peaks and black fjords. Little villages like Sayward or Kelsey bay tucked in amongst the forest. There's not much mobile reception and very little infrastructure. But there is glamping.
Yep, we've just launched our brand new Discovery Islands & Orca Expedition trip, which includes a stay at Orca Camp, a collection of luxury safari tents near the Michael Biggs Robson Bight Ecological Reserve.
It's an awesome way for travellers to (hopefully) spot orca, as well as exploring Canada's remote coastal wilderness. Here's a little taste of what's in store:
1. Kayak Johnstone Strait
Johnstone Strait was carved out by ancient glaciers a couple of millennia ago, running all the way from Telegraph Cove in the north to Rocky Bay in the south. It's one of the big nautical thoroughfares for ships delivering goods to Alaska. But it's also a marine sanctuary, home to killer whales, schools of pink salmon, Dall's porpoises, Steller's sea lions, harbour seals and cruising bald eagles, not to mention minke whales, humpback whales and grey whales. If it's big and it swims, you can pretty much find it here. Our Expedition itinerary starts on the beautiful Quadra Island, before winding up the Discovery Passage and Seymour Narrows.
EXPLORE OUR RANGE OF EXPEDITIONS HERE
2. Spot orca and humpback whales
This is the big reason people come to western Canada. Cold northern currents and schooling fish make it whale nirvana, and between May and October you've got an excellent chance of seeing breaching humpbacks and schools of orca patrolling the channels. As part of our Expedition trip, you'll head out onto the water almost every day, first in Zodiac boats (equipped with whale-listening Hydrophone devices), and later in kayaks. This is the real adventure: waking up early, drinking some hot tea and watching the sunrise, then paddling onto the mist-covered water.
OH CANADA! CHECK OUT OUR RANGE OF SMALL GROUP ADVENTURES THROUGH CANADA HERE
3. Stay in glamping tents
Johnstone Strait is reasonably remote. Most travellers stay in resorts along the northwestern edge of Vancouver Island (Courtney, Campbell River and Saratoga Beach are the most popular spots). But they can all get pretty crowded during whale season, so we've opted for a remote glamping camp instead. You'll get a private safari tent with lots of warm blankets, hot showers on demand, gourmet meals included and whale watching on your doorstep. This is roughing it… in style. Half camping, half comfort. 
4. Relax in a hot tub
Did we say comfort? Yep, our Orca Camp glamping set-up includes a cedar-wood hot tub, a soak in which is almost compulsory after a day kayaking on the freezing waters of Johnstone Strait (there's a sauna on site too). But if all that pampering is making you guilty, there's also a glacier-fed stream that runs alongside the camp ground. This thing is properly cold, but you can swim in it. One for the brave souls.
RELATED: WHY WINTER IS THE PERFECT TIME TO TRAVEL IN CANADA
5. Explore Quadra Island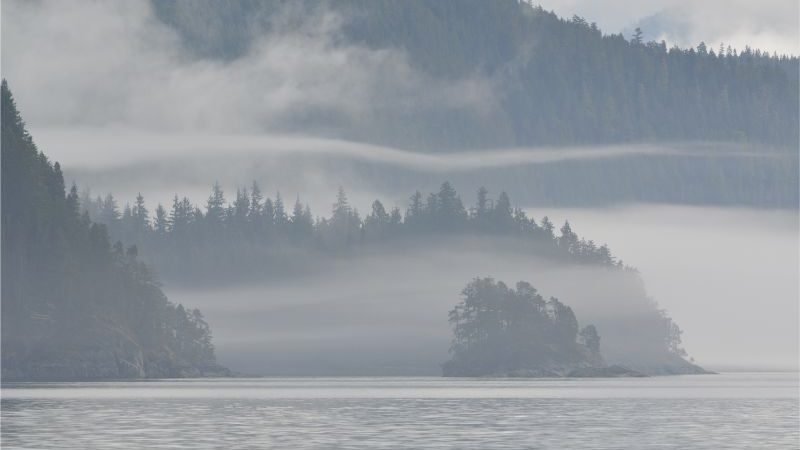 Quadra Island is one of Johnston Strait's most underrated destinations. It's a rustic isle across the water from Campbell River, right at the southern end of the Discovery Passage, covered in forest and criss-crossed with hiking and mountain bike trails. Along with being a great jumping-off point for exploring the Strait, Quadra Island is also home to the Nuyumbalees Cultural Center. This is where you'll find the Sacred Potlatch Collection, a series of cultural artefacts and ceremonial goods of coastal First Nation communities. It took local communities over 20 years to reclaim these treasures from the Canadian government, and now anyone can visit and learn about Canada's Kwakwaka'wakw First Nation heritage. Our orca Expedition includes a few nights on Quadra Island.
6. Eat fresh salmon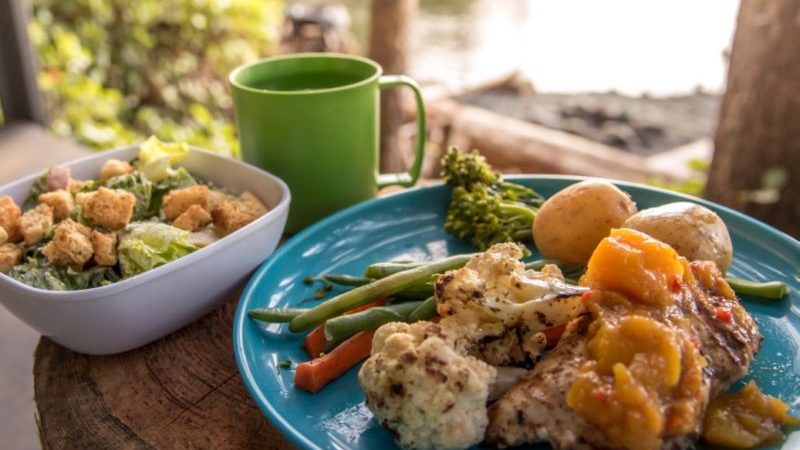 Canada's wild west coast might not be known for gastronomic fireworks (apart from Vancouver's burgeoning food scene), but it is known for amazing seafood. Some of the best wild-caught salmon in the world, in fact. As part of your stay at Orca Camp, you'll get to try fresh local produce, prepared by your guides and camp leaders (some of it caught right here in Johnstone Strait). If you have any particular dietary requirements, we can sort those out for you as well.
RELATED: 9 FOODS TO TRY IN CANADA (THAT AREN'T POUTINE)
Want to learn more about Intrepid's new Discovery Islands & Orca Expedition? Check it out here.
All images C/O Wildcoast. 
Feeling inspired?