You've probably heard the phrase 'Venice of the East' at least once before on your travels. It's a term commonly batted around by tourist boards – everywhere from Malacca (Malaysia) to old town Manila (Philippines) – because it adds a sense of continental flare.
To me, the only spot that can truly own the name is Udaipur, a lakeside paradise of shimmering marble, oozing romance and a European feel you just can't find anywhere else in India.
With the old part of the city tightly wrapped around the crystal clear Lake Pichola, the Venice comparisons flow deeper than just leisurely boat trips. The author Rudyard Kipling was one of the first to coin the phrase when discussing Udaipur in his 1899 work Letters of Marque. "If the Venetian owned the Pichola, he might say with justice, 'see it and die'," he wrote. That's a slightly crude way of saying the place is impossible not to fell in love with.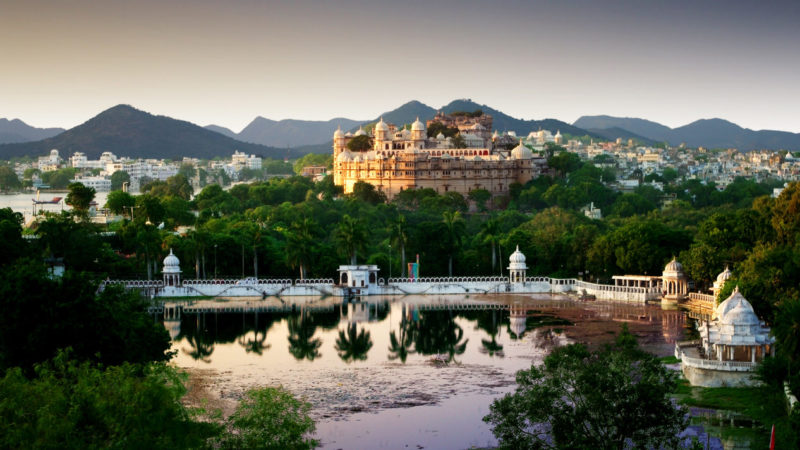 Kipling was right. Winding streets crammed with Mediterranean-inspired cafes, music shops and local craft stores give way to stunning lakeside views. The backdrop of the City Palace's soft meringue-like roofs against the green hills was the perfect decadent setting for James Bond's Octopussy. Several scenes of the 1983 blockbuster were filmed at the 'floating' Lake Palace – the very definition of a luxury hotel. It's exclusively accessible by boat, so non-guests are only able to admire from afar.
With the constant horns and hustle, traveling across India can be exhausting in the burning heat. When I stepped off the train from Jaipur it felt like half a world away, even though both cities can be found within the same state of Rajasthan. Traveling with my girlfriend, one of the first things she remarked was how European the city felt, having been to Venice a few years earlier. No chaos and no army of auto-rickshaw drivers ready to greet you, just calm and peace.
For a few days we were able to immerse ourselves in this fairytale of a city, exploring its palaces, lounging on its rooftops and relaxing on the lake. Yes, Venice is world-renowned as a 'romantic' hotspot – but with a backpacker's budget and crowds around every corner, for me, it fell short. Udaipur wins my heart every time.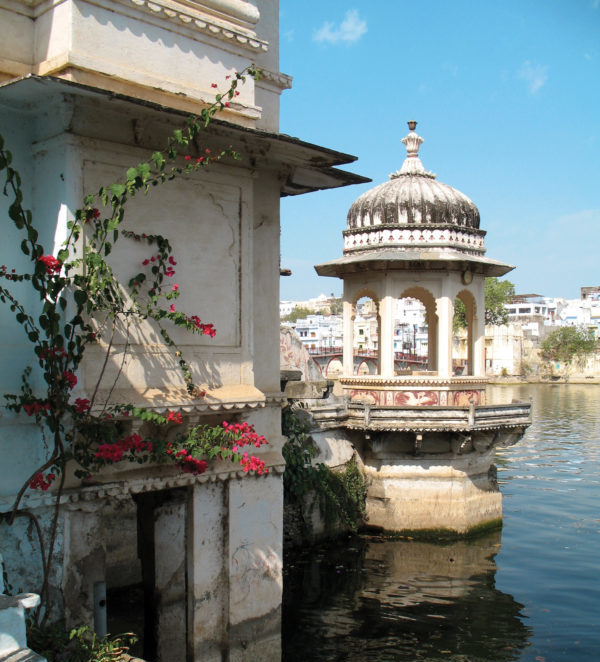 They've got it, so they flaunt it – which is why many of Udaipur's activities are based around the lake, with four mini islands to explore.  The smallest (Arsi Vilas) used to house an armory, but is now home to a variety of exotic birds – including brightly colored kingfishers.
Visiting in the low season, our best option was to glide across the lake in a small chauffeured boat. If you squint, it could have been a gondola – with the added luxury of not having to duck under all those Venetian bridged. Intricate stone elephants carved into the wall greeted us on the approach Jag Mandir, a lake palace you can actually visit, where we sailed for an afternoon drink.
Disclaimer: I was amazed to hear the lake was actually artificially made and was first created for transport reasons, not pleasure. That said, it was constructed in the year 1362 AD – making it older than most cities in North America, so it seems pretty natural by now. Later generations fell in love with its unrivaled beauty, constructing what is now known as the Old Town and City Palace.
RELATED: EXPLORE UDAIPUR ON THIS 15-DAY SMALL GROUP TOUR
The food scene in Udaipur combines the best of East and West in its many restaurants and cafes. If you're chasing romance, look no further than Ambrai – which is located right on the banks of Lake Pichola with prime views of the stunning Taj Udaipur and lit-up City Palace. It's all white linen and silver service, but nowhere close to the same prices you'd fork out for a similar spot in Venice. One of our taxi drivers, Vinnie – a man who had driven his car all over India, said he would never forget a meal in such a place. He was right.
While the menu at Ambrai has a large focus on Rajasthani cuisine, the European influence on Udaipur seeps deeper into the food on offer. It's uncommon in India to find a place like the kitsch Café Edelweiss, a German-inspired coffee shop that belonged on a Munich backstreet. Expect to find bacon and egg sandwiches with cinnamon apple pie for dessert, alongside a good cup of chai, of course.
The curiously named Millets of Mewar gets a special shout out for being one of the only modern-style health food restaurants I saw on my trip, which wouldn't look out of place near my home in East London. Taking a clean eating approach to Indian street food and beyond, Millets of Mewar champion local ingredients and well and truly deliver. The setting might not be directly on the lake, but their Rajasthani millet Thali is equally as unforgettable.
There's a small but bustling marketplace in the center of town, but don't expect a scene from Shakespeare's Merchant of Venice – the wares on sale in Udaipur are better. You'll find hand-painted elephants or deities on fresh silk and small-carved ornaments. Not to mention the usual explosion of color in scarves and textiles that can be found on sale all over India.
But there's more to do than just shop. When in India's most romantic city, what could be more romantic than serenading someone on the local instrument? I took a sitar lesson from a teacher named Krishna who came highly recommended in a few guidebooks. There was a problem with the shutters in his backstreet shop, but he welcomed me into his own home down the road to practise.
The sitar is shaped a bit like a guitar, like the name suggests. With a wider neck and several more strings it produces a majestic high-pitch sound that suits the dramatic landscape of Udaipur. Needless to say it's much harder to play a tune on.
Within an hour I could pull off a few scales, but I didn't quite feel like a Rajasthani version of Romeo. But if he does really exist, he'd live in India's answer to Venice.
Has Udaipur captured your heart? Travel there on Intrepid's 15-day Rajasthan Experience trip.
—
Image Credits (top to bottom): iStock x2, Intrepid Travel, Hotel Amet Haveli, iStock, Ellie Pashley
Feeling inspired?