One of the perks of traveling to Salt Lake City is the number of outdoor activities you can have a go at, and hiking is no exception. We have put together the 6 Best Salt Lake City hiking trails with breath-taking views for you to enjoy when you visit.
Salt Lake City and its surrounding areas aren't short on natural beauty. Shadowed by the impressive Wasatch Mountains, this bustling city is full of world-class walking and hiking trails, just waiting to be explored.
From the bubbling waterfall of Donut Falls to the breath-taking scenery of Cecret Lake, we've put together a list of the Salt Lake City hiking trails that are the best of the best. Whether you're a hiking beginner or you've been doing it for a while, these trails are guaranteed to leave you wanting to return as soon as possible.
When To Go Hiking In Salt Lake City
As Utah can receive snow in the winter months of the year, normally November to March, the best time for hiking in Salt Lake City is best in spring or Autumn (fall). In the springtime you will get to see fast flowing waterfalls, and the beautiful flowers coming into colour. In the autumn time you will get the stunning red and orange colours on the leaves throughout the trees. At lower elevations during summertime, hiking can become incredibly hot, so make sure you are prepared for you hike.
The Top Salt Lake City Hiking Trails
Difficulty: easy & manageable
Distance: 1.8 miles
Duration: 30-minute return
One of the easiest and most convenient hikes to get to on this list, Ensign Peak can be accessed from downtown Salt Lake City, just one mile north of the State Capitol Building. Where this trail lacks in length, it makes up for in beauty with the hike taking you past expansive natural parkland and fascinating wildlife.
While this peak is relatively steep at 374 feet, the views of the city and surrounding mountain ranges (especially at sunrise or sunset) are more than worth the short 20-minute walk, making it one of the best Salt Lake City hiking trails.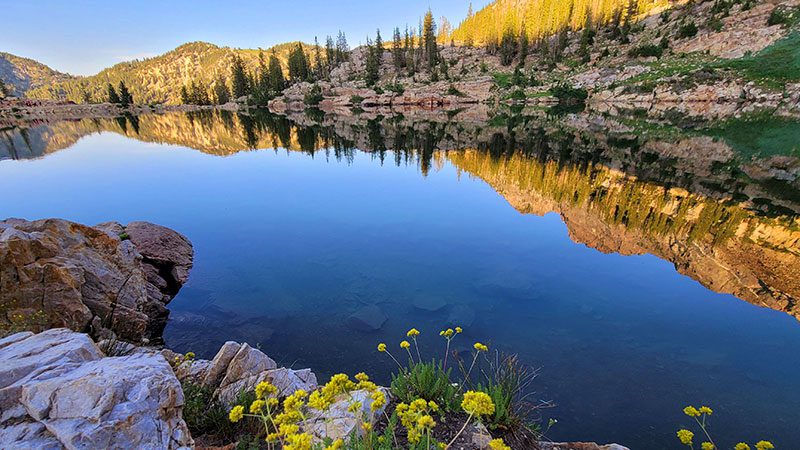 Difficulty: easy & manageable
Distance: 1.7 miles
Duration: 30-minute return
Pronounced 'see-cret', this stunning hiking trail, located about 32 miles from the Salt Lake City center, is anything but. Walked by thousands of travellers every year, the Cecret Lake trail leads you to a small but no less breath-taking lake that's teal in colour and hard to forget.
Regardless of whether you're an experienced hiker or just starting out, this hike will have you exploring Salt Lake City's natural parkland in a gradual way that's easy to manage. With evergreen trees, a meadow full of wildflowers, and native wildlife on full display, Cecret Lake offers one of the best views going 'round.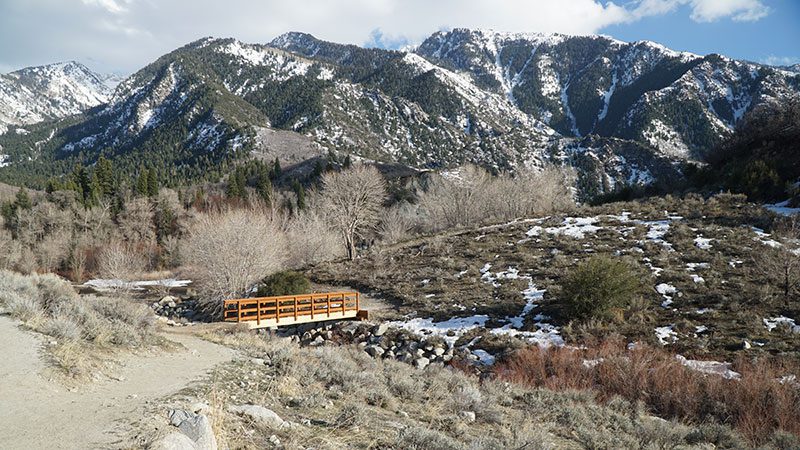 Difficulty: moderate – hard
Distance: 4.6 miles
Duration: 1.5 hours return
While this hike may be difficult with rough terrain, rock scrambling, and a tough incline in some areas, the view when you get to the waterfall will be well and truly worth it. The Bell's Canyon trail takes you to the reservoir with less tree coverage than some of the other hikes, before leading you up to enjoy the best canyon views ever.
As if that wasn't good enough, the Bell's Canyon Waterfall more than makes up for the sweat and effort you put in along the way with the natural landmark standing at 30 feet tall.
Difficulty: easy & manageable
Distance: 3.1 miles
Duration: 1-hour return
The Donut Falls trail is like something straight out of a fairy-tale. Make your way through valleys filled with lush trees and thick scrubs before getting to the main event, the waterfall. Hidden away in a pebble-lined grotto that could've been from a scene in Avatar, the magnificent waterfall is bound to captivate not only you but the whole family.
Getting its name due to water flowing through a uniquely, circle-shaped rock formation, this hiking trail is pretty darn magical and well worth walking the 3 miles to get there.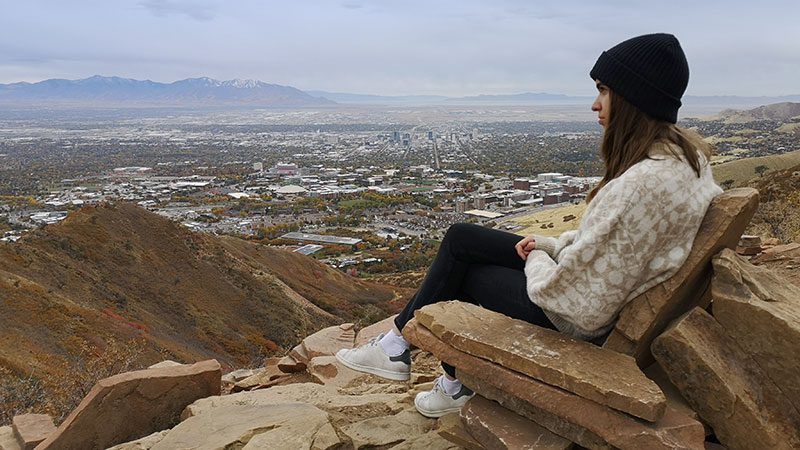 Difficulty: moderate
Distance: 2.3 miles
Duration: 45-minute return
Perfect if you want a bit more of a challenge, the Living Room Hike is fairly steep with an elevation gain of 980 feet but believe us when we tell you that you want to experience the view from the top.
This hike is not covered by shade of any kind which is both good and bad as it means that you'll have uninterrupted views of your surroundings but no protection from the sun so make sure you pack sunscreen with you. Once you get to the couch-shaped and loveseat-like rock formations at the top, you'll soon see that the city to lake views were well worth breaking a sweat for.
Difficulty: moderate – difficult
Distance: 8 miles
Duration: 2 hours, 40 minutes return
Time to get your blood flowing and your adrenaline pumping with one of the best Salt Lake City hiking trails for more experienced hikers. With an elevation of a whopping 4,000 feet (prepare to feel the quad-burn), Mount Olympus offers mind-blowing views of the whole city and surrounding mountain ranges from the summit. While it might be a hard slog to get up there with the trail being relatively unshaded, standing at the top might just be one of the most rewarding things you've ever done.
Whether you prefer to explore crystal-clear lakes or marvel at gushing waterfalls, the hikes of Salt Lake City have a little something for everyone and make for the greatest outdoor adventure.
EXPLORE SALT LAKE CITY'S HIKING TRAILS FOR YOURSELF ON OUR MOAB ADVENTURE TOUR
Feeling inspired?