A few years ago, Sri Lanka was one of the world's leading tourism destinations. But this was brought to a halt with the Easter bombings in 2019, followed by the pandemic and, in 2022, the country's worst economic crisis. Now, Sri Lanka is emerging as travel hotspot once again.
The country remains safe to visit – and with fewer crowds and lower prices on the ground, now is the time to discover Sri Lanka's sprawling beaches, tea-carpeted central mountains, historical temples, elusive wildlife and warm, welcoming people.
From diverse, delicious cuisine to pulse-racing adventure activities, here are six reasons to travel to Sri Lanka.
Active adventures
This tiny island nation is mostly known for its palm-fringed beaches, but there's another side to Sri Lanka that's perfect for adventurous souls. The country's interior is replete with dense jungles, gushing waterfalls, rivers, paddy fields and mountains. Active adventures abound – from cycling through the hill country to kayaking along sparkling rivers – and include some of the best ways to explore the island.  
If you love hiking, take time to watch purple sunsets over the Knuckles Mountain Range. The central highlands are also home to the newly launched Pekoe Trail, a 300-km walking route exploring the heart of tea country. If you are feeling ambitious, hike Adam's Peak, the country's most sacred mountain. This 6000-step hike usually begins at 1 am, but you'll have plenty of company and the food and tea stalls along the way will keep you well fuelled. 
Get moving on our Sri Lanka: Hike, Bike & Kayak trip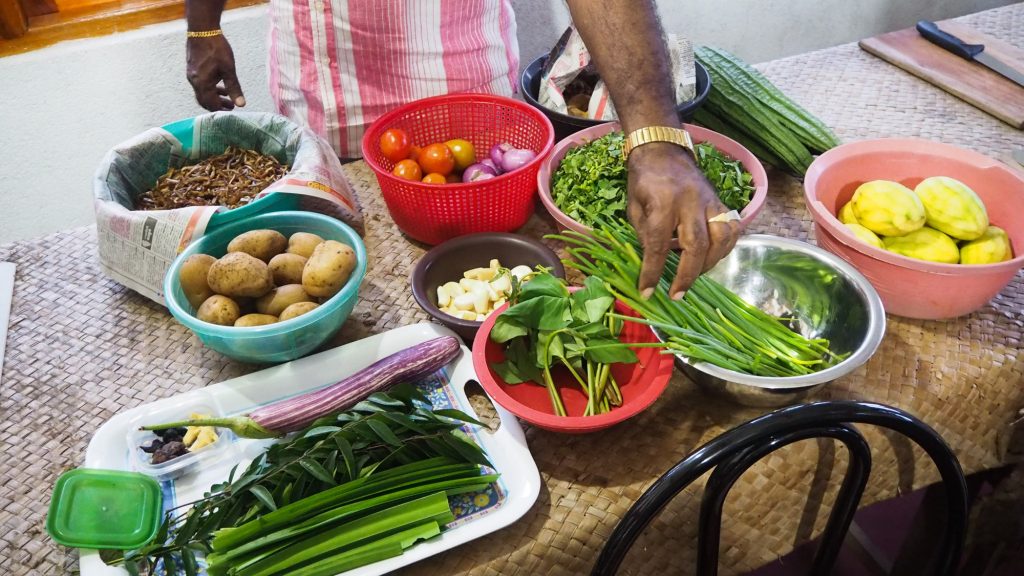 Mouthwatering food
Sri Lanka packs a serious punch when it comes to cuisine. From dishes scented with cinnamon to curries coloured vibrant with turmeric, Sri Lankan food is eye-pleasing and full of flavour. An everyday Sri Lankan meal consists of rice and several curries cooked in coconut milk and a few condiments – think creamy dal curry, fried brinjals (otherwise known as aubergine or eggplant) dressed in vinegar and southern-style fish curry soured with tamarind.
There's more to it than curry, of course. My mornings here begin with a glass of kola kenda, a herbal congee found at roadside stalls. And no trip is complete unless you've munched on hoppers (bowl-shaped pancakes), often served topped with an egg. Don't miss the chance to take part in a cooking class to learn more about Sri Lankan cuisine from a local and try your hand at mastering the ubiquitous steamed rice noodle discs, string hoppers.
Get stuck in on our Sri Lanka Real Food Adventure
Incredible wildlife 
Surprise! You can go on an incredible wildlife safari in Sri Lanka. The island is home to over 20 national parks and is a fabulous place to spot wild Asian elephants – in August, they often gather in their hundreds in Minneriya National Park.
Yala National Park can be a bit packed with jeeps in the high season but I highly recommend going on a safari there (Intrepid monitors numbers and visits an alternative if necessary). Part of the country's dry zone, this is where you'll have a chance of spotting the elusive Sri Lankan leopard, napping on a boulder or hunting for its next prey. But that's not all – you'll come across slumbering crocodiles, water buffalos in mud holes, solitary bull elephants and much more.
Make it happen on our Premium Sri Lanka in Depth trip
TikTok-worthy train rides
Sri Lanka is known for its iconic train rides. Taking the train is rarely the fastest option, but it's a great way to observe Sri Lanka's everyday life and meet local families, who'll share home-cooked food with you, if you're lucky.
While there are many scenic train routes – like the coastal train from Colombo to Galle with Indian Ocean views – the one that stands out is the train from Kandy to Ella. The journey takes about six or seven hours, but the views of rolling hills, tea plantations and British-era railway stations are so stunning that you'll have plenty to keep you occupied.
Ride the rails on our Essential Sri Lanka trip for 18- to 29-year-olds
Ancient history and culture
Sri Lanka's history spans over 2000 years, and relics of ancient civilisations that once thrived in its fertile plains are still visible today. Pair this with a rich Buddhist tradition and other religious influences from Hindu, Islamic and Christian communities and it's easy to see why people describe the country as a cultural melting pot.
Be ready to marvel at historical landmarks – from the UNESCO-listed Anuradhapura, Sri Lanka's first kingdom, to Kandy, the last kingdom before Sri Lanka was taken over by European colonial powers. Kandy also houses the Temple of the Tooth Relic, the most sacred place of worship for the nation's Buddhists. Other highlights include hiking up to the ancient citadel of Sigiriya and strolling the quirky, vibrant streets of Galle Fort, which were forged during Portuguese and Dutch colonial rule.
Climb to the top of Sigiriya rock on our Best of Sri Lanka tour
Local encounters
What makes Sri Lanka truly special is the hospitality of locals. Wherever you go, you'll find always-smiling, friendly people who are ready to offer a helping hand. Locally-based Intrepid guides have a vast knowledge of the country, so they can facilitate immersive, cultural experiences where you often get to interact and connect with locals in a meaningful way. Some Intrepid trips even include the opportunity to dine with a local family in their own home. Trust me, local encounters will be some of your most cherished memories from the emerald island.
Receive a warm welcome from locals on our Sri Lanka Family Holiday
Tempted by the teardrop isle? Browse all of our Sri Lanka itineraries to find your perfect trip.
Feeling inspired?