It's a long uphill climb but smiles are back on innocent faces and time it seems has healed. Despite houses fallen by shelters, schools reduced to utter ruins and loved ones lost, people have readily accepted the devastation brought on by the earthquakes and moved on. Shock, grief and disbelief has waned with the passing of time. During my post-quake assignments with initiative Eutai Mala Nepali, I was touched by the heightened spirits and perseverance of individuals I met along the way. Their stories of putting on a brave face and working as a team was particularly inspiring, which I've documented here in words and photographs.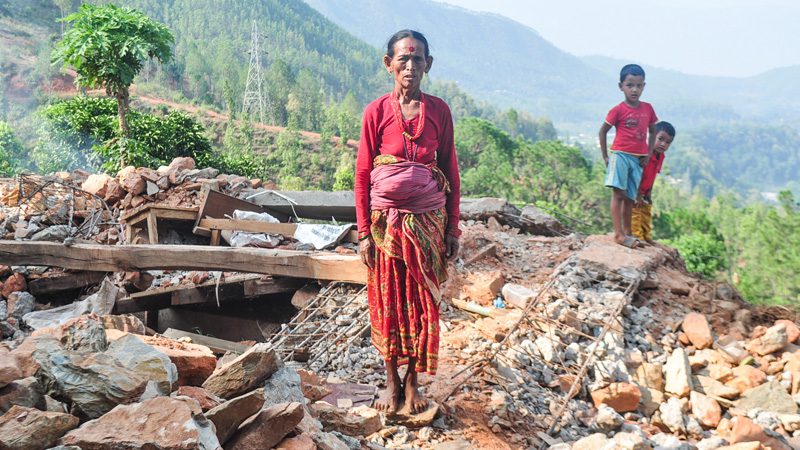 Despite losing all her belongings and narrowly evading death that fateful day, the Tamang lady that offered me stay at her makeshift shelter in Nuwakot's rural village remains calm and composed. Her hospitality is second to none – quite evident from the onslaught of food she puts on my plate for dinner, turning a deaf ear to my pleas to stop. She makes light of her ordeal as she exuberantly recalls how she jumped off the second floor balcony to the ground and walking away from her collapsed home unscathed. The confined space of her small shelter she now calls home barely fits her family and the stockpile of grains and food for reserve. But she hasn't lost hope and the zeal to reclaim her life and that of her family.
The earthquake as devastating as it was brought all Nepalese together. In a gesture of selflessness, entire communities would come together to help each other out emotionally to console as well as physically to construct shelters. While the first few weeks were spent sinking in the trauma, trying to seek relief materials and food, it became increasingly apparent that it was the combined efforts of fellow neighbors that would be most crucial to relieve the plight. Here, folks in Helambu of Sidhupalchowk come together to construct house of a fellow villager. Construction materials and shelter designs were provided by a donor company in Kathmandu while villagers were more than happy to provide free labor for one another.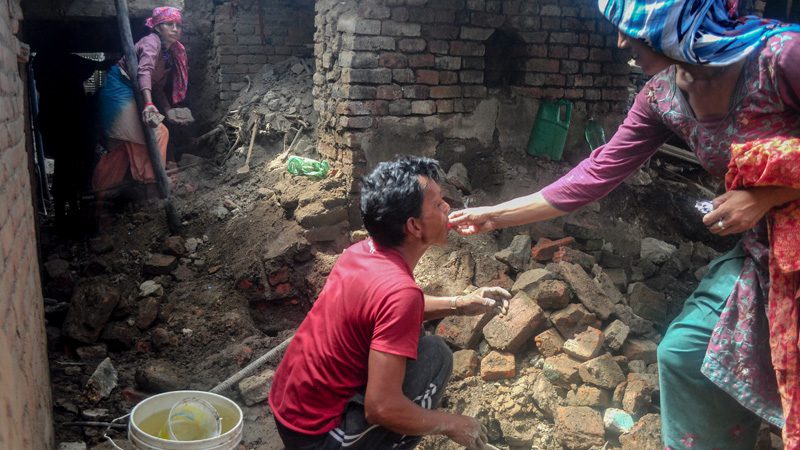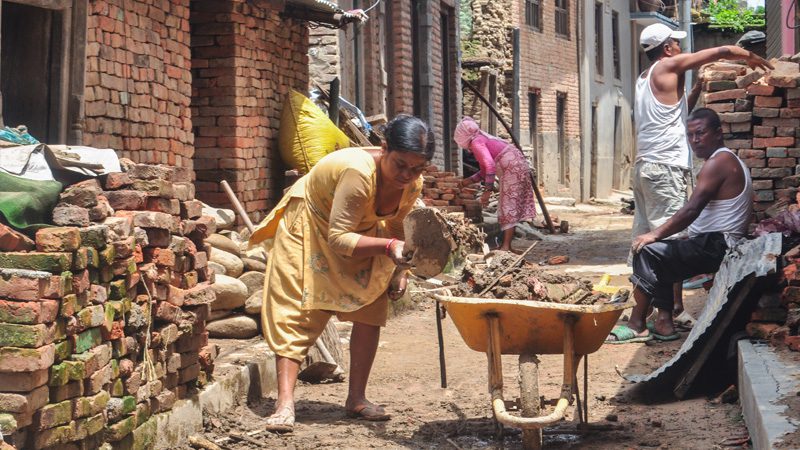 The story is familiar elsewhere too. On a long day's work in Khokana, a local with hands soiled in mud is treated to a candy by a neighbor helping him out with construction. A pillar is being erected in an improvised retrofitting to support the stricken house. Likewise, a lady cleans out the debris of her house from narrow alleys of Bungamati. She is able to salvage some bricks and roofing sheets for a new shed.
Metal artisan Dongol works in a small quarter he made with CGI sheets and wooden frames. His workshop was destroyed in the quake but he wasted no time to pick up from where he left off and puts finishing touches on a statuette of Buddha. After all, he has orders to fill.
With monsoon in full swing, the fields have turned verdant green, a living proof that people regardless of their loss, toil hard in the fields and independently tend for themselves. This means donor-supplied food as opposed to the early days since the quake would no longer be necessary. Seen here in Lalitpur's southern edge, shelters, though they could still use improvements, have become cozy homes, a clothesline and a stock of red chillies left to dry bear evidence.
Even early mornings when the sun casts long shadows can get rather scorching during monsoon. But that does little to deter wonder ladies from heading off to the fields and an elderly gentleman from herding sheeps in the ancient village of Khokana.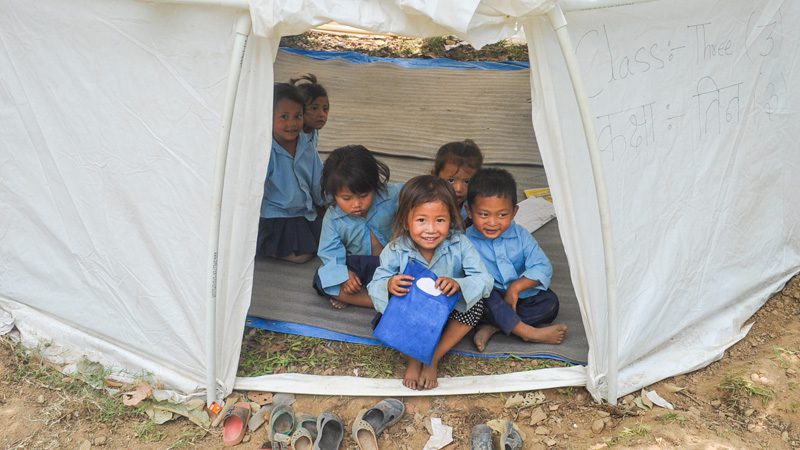 Cheerful to be back in school, children are excited about their tents for classroom. In most cases, schools are gone and classes are running in temporary learning centers, which in Nuwakot's Gerkhu village (as pictured) are tents on playground cleared of rubble. These are not a long-term or even a medium-term solution, but until solid schools are built again in a matter of next few months or perhaps years, these would suffice.
As I defended my empty plate against further servings insisted by the gleeful Tamang host, I was made to question the individualistic and selfish lives that us urbanites have gotten used to. While working with Eutai Mala Nepali I found the people in rural places quite thankful for what they still have – a family to cherish, a small shelter they call home, and spirits far from dampened.
Content provided in partnership with ECS Nepal. Photos and text by Anuj Adhikary. 

Feeling inspired?