In a few months, I leave for Morocco. 
I am going to spend two weeks travelling from Casablanca to Marrakech, crossing the Sahara and the High Atlas Mountains in between. The place is legendary, and the Intrepid trip promises to be amazing. I am thrilled to be going and I can hardly wait to catch my plane.
Plus, I know it is going to do me good and I am going to come back home rejuvenated and energized. Why? Because I am going by myself. Solo. And unapologetically so.
I am a mom but this isn't a family vacation. I am all for those, and almost religiously, I take one every year with my children. These shared experiences bring us closer together and I like to think that we make memories that will last them a lifetime. But this time, this adventure is just for me.
I have two sons. My oldest is eleven and my youngest is six. They are wonderful little people, what any mother would wish for, and I love them dearly. They are a gift and seeing them grow and experience the world around them brings an immense richness to my life.
They also keep me busy, in that over-scheduled and slightly overwhelmed kind of way that comes with raising a family. Between homework, hockey practice, laundry, lunch-packing and the minutiae of everyday life, some weeks are a blur and it feels like a small miracle that we even stay on track. Even our downtime time isn't all that 'down' because we fill it with the activities they enjoy. There's always something fun for them to do or somewhere fun for them to go.
Don't get me wrong, I'm not complaining. Parenting is the ultimate adventure. Because we love our children and truly want the best for them, we will go to the figurative ends of the earth for them. There is little we won't do. But let's face it: parenting can also be tedious, and the demands of motherhood are incessant. I'd be lying if I said I didn't run on autopilot some days. There's a joke circulating on social media that goes something like this: I never know what to say when people ask what my hobbies are. I mean, I'm a mom. I enjoy trips to the bathroom alone and silence.' I laugh endlessly at this, because there's truth to it. I relate.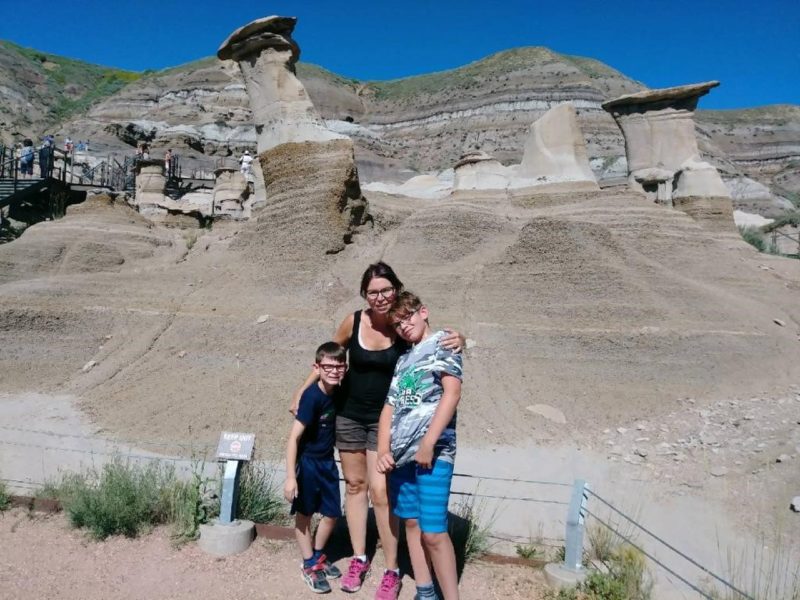 The thing is, as moms, we define a big part of who we are through our children and through motherhood itself and so we dedicate an enormous amount of time and energy to them. We are givers, and this is honorable and good. Raising children is a huge responsibility, and for most mothers, the kids come first.
This also means that often we put ourselves last and that nugget of being that is our own individual self gets lost in the fray. We neglect it, because it's the path of least resistance with children in the house, and perhaps at some level, we think we should. We believe that this kind of sacrifice is what good mothers do.
Then, on those occasions when we even only contemplate giving to ourselves a little, we feel selfish or guilty or fearful of being judged. No one wants to be seen, or see themselves, as a 'bad mom.' I certainly don't.
LOOKING FOR AN ADVENTURE WITH YOUR KIDS? HERE ARE 6 ALTERNATIVES TO ALL-INCLUSIVES
It's funny how a little self-care – or self-indulgence – inspires such inner conflict. Sometimes we fret about the practical things, like spending money on ourselves that could be spent on our kids. Other times, the dilemma is more existential, and we question our commitment to our children if we consider time spent apart. Personally, I don't bat an eye when my boys need new hockey skates or when there's an out-of-town tournament. We make it happen, because it is important for my boys. However, my calculation is completely different when it comes to what's important just for me.
Or at least it used to be.
Two years ago, I turned 40 – that milestone number that signals we've crested the hill, half my life behind me, half ahead – and something clicked. I started thinking: Was I getting what I wanted out of my life? The answer was predictable and a bit cliché. It was a resounding 'not completely.' I felt out of balance. Fulfilled and at ease in some aspects of my life, vacant and agitated in others. Truthfully, I had known this all along, but was choosing to ignore small but mounting evidence of discontent in my daily life.
Acknowledging it was a powerful experience. It made me accountable. It was time to do a few things differently. I needed to tend a bit more to myself and my personal priorities. After all, as my grandmother says, you can't pour from an empty cup. Or as I now say, a happy mom is a better mom.
Deep down, I'm an explorer but over the years, I had set aside that part of me. Camping replaced travel; I find it tiresome but with kids, it was the easier option and they liked it so that's as adventurous as we got.
That summer though, I took a weekend off. I was feeling lackluster and perhaps a little desperate, so I threw a few essentials in a bag and drove almost 700 kilometers to a little village on the north shore of the St. Lawrence river to go whale watching. I was only gone for two days but it was liberating, and I returned home a little more content with myself. That wistful feeling of 'I wish I could' was gone, replaced by surge of 'Wow, I did it!' And my boys? Well, they had a perfectly good weekend with their dad.
READ MORE: LIFE IS SHORT. THIS STORY IS A REMINDER TO LIVE IT TO THE FULLEST.
The summer after that, I took another weekend to myself to go mountain biking in Vermont. I literally had to dust off my bike, which had sat idle in my garage for years.
I remember the smirk that the customs officers at the border crossing gave me when I explained the purpose of my trip. I'm sure they thought I was nuts, but it didn't matter because I was en route for a little 'me time.' Returning home, I felt rejuvenated, satisfied and convinced that these solo getaways needed to become something that I do. Even better, my boys barely noticed that I was gone, which was a good thing, I think.
SUBSCRIBE TO INTREPID'S NEWSLETTER FOR TRAVEL STORIES, COMPETITIONS, GIVEAWAYS & MORE
And then last winter, a major health scare reminded me that life can be fragile, and the future uncertain. But I made it through and decided to take huge step. I went to India, solo, for 15 days.
An atypical choice for a mom, for sure, but it was a trip I had always wanted to take and after having something terrible happen to me, I needed to give myself something phenomenal before I could move on.
READ MORE ABOUT MY CELEBRATION OF LIFE AFTER CANCER IN INDIA
I remember my youngest asking me, before I left, if he could come too, to India. That question gave me pause and I took a minute to gather my thoughts before I answered. 'No, not this time sweetheart' I said. 'We do lots of things together, and I love doing them with you. But you know how you do things sometimes without me, and you have fun and you learn stuff and you see things you never have seen before? Well, sometimes mommies need to do the same thing. It's good for us just like it's good for you. That's why I'm going to go by myself this time. But I will only be gone for two weeks and I will be so excited to tell you about it when I come back home. And I will be back before you know it.'
So off I went. It was one of the best decisions that I have ever made. India was incredible. It was the trip of a lifetime and it did me wonders.
And when I got back home, I was ready to plan our family vacation.
And after that, I booked my trip to Morocco.
Ready to embrace the world and embark on an adventure? We can help. Check out Intrepid's top trips.
—
(All images courtesy of Lani Innes.)
Feeling inspired?