Plus-size travel blogger Chantel Loura (also known as Voyaging Vagabond) has been exploring the world for the last seven years, backpacking her way through Europe, South America and Australia. Here are her top travel hacks for plus-size travellers. Everything you need to know to stay comfy and confident on your adventures.
Okay, so you've finally bought that plane ticket, scooped up your passport, and you're ready to take off on your next adventure. First off, KUDOS to you! My name is Chantel Loura, your new travel bestie, and the loudly laughing, snack-loving creator behind the plus-size travel blog, Voyaging Vagabond.
For the past seven years, I've been hopping all over the globe with my trusty backpack, and I'm here to offer you some practiced and proven travel hacks to help make long-term, plus-size travel a breeze.
1. Bring comfortable shoes
One thing is guaranteed when you're traveling long term: there's a lot of walking. Whether you're strolling around a sunny park, touring local markets or getting yourself to the bus station, hitting your step goal will be no problem. This means that comfortable, well-supported shoes are a must.
The best shoes for plus-size travel combine functionality, fashion and comfort. I've found tennis sneakers work best in almost any travel situation. Consider wider styles like Superstars, or Nizzas from Adidas. Perfect for a wander around a new city, or a night out.
My go-to sandals are Birkenstocks and Tevas. Birkenstocks come in an array of styles, with softer footbeds, adjustable straps and different models. Tevas are also a trendy option, and they have adjustable straps, which make them easier on wider feet.
2. Find the right bag
Finding luggage that works for you is one of the make-or-break points when travelling.
If you prefer a suitcase, do your best to keep it light. This is always a bold statement for me when it comes to plus-size travel. Due to the size of our garments, it might not always be easy. But you'll be thankful for the light suitcase when you get lost looking for your hostel, or trying to lift your bag onto a train luggage rack. Also look for durable options, since you might be passing along cobblestones, dirt roads, and uneven streets.
For my backpack people, we can all agree on the perks, like having free hands in the airport, or not having to lift a bag up metro stairs. But with these perks it's also important to find a bag that fits your body shape. In the past, I went to a local outdoor supplies retailer and received a proper fitting. During this, an associate took my measurements and presented me with options that work best for me. I've been using my trusty Kelty Redwing 44L bag since then. Seven years later, I still swear by it.
If you're concerned about the hip belt or chest strap fitting, there are solutions for that too. Companies like Osprey, Kelty and Gregory offer accessories that fit onto most of their packs. Accessories like hip belt strap extenders and chest strap extenders can also be found quite cheap on Amazon.
3. Avoid Overpacking
Let me say, you do not want to be that person struggling to wrangle four bags onto a tight van, and you certainly don't want to be that person buckling under the weight of an uncomfortable backpack. I've found myself moving between busy train stations, chaotic airports, tight metro stations, ferry ramps, tight bus aisles, small tuk-tuks, and even the occasional pick-up truck bed. Having one bag that I can easily grab has been a lifesaver when navigating these places.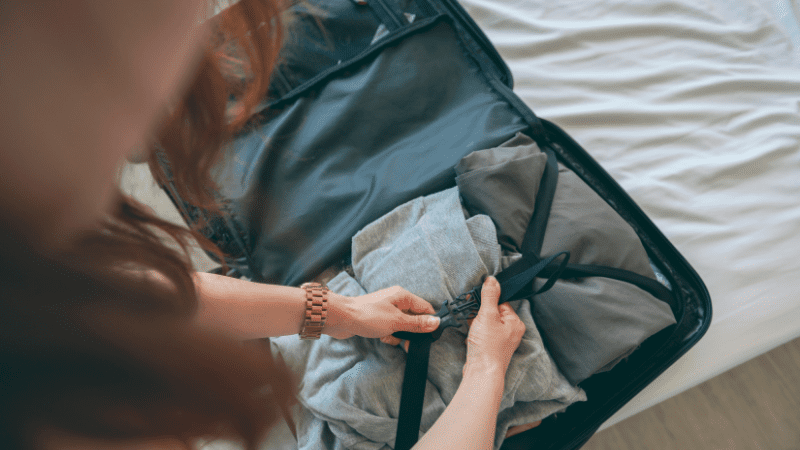 Pack articles of clothing that mix and match and can be styled in multiple ways. Yes, I know you want to pack your Insta-perfect outfit, but consider a few colourful staple pieces instead. Coordinated sets are a stellar option, as well as a vibrant dress that also works as a tank top.
Another tip: get the most out of your space! Use packing cubes and roll all your clothes. Between one large packing cube and one medium packing cube, as a US size 18 traveller, I typically can fit my undergarments, two bathing suits, 10 tops, one skirt, three pairs of shorts, and two pairs of pants. When everything is mix-and-match, that equals about 60 different outfit combinations, and that's not even including my accessories.
4. Advocate for yourself
Many plus-size people carry certain defence responses that we've learned to avoid persecution for our size. Rather than use our voice to say we're uncomfortable, we stay silent, we try to make ourselves smaller and do whatever we can to avoid attention to our weight. Because (frankly) we don't want to be judged.
But I'm here to say, that time is over. Speak up for yourself when travelling! If you need a moment to catch your breath, take it. If you need a seat belt extender on a flight, you deserve that safety. If you want to skip an activity because you have different mobility capabilities, there's nothing wrong with that. If you need to take up space, you are worthy of that, without feeling bad. If you need a bottom bunk to sleep comfortably, ask for it. You'll find that people are kinder than you might expect, and most will be happy to accommodate you where they can.
Stop suffering in silence and say what you need. This is your trip too and there's nothing wrong with going at a pace that works for you.
5. Avoid ChubRub
Ohhhh ChubRub, the fiery prison sentence that we know all too well as plus-size travellers! It's the terrible after effect of thighs rubbing together for an extended period of time, resulting in a tender, sensitive rash that makes walking extremely uncomfortable and painful. However, here's the good news: there are countless options to avoid this.
One of the most popular is wearing bike shorts underneath your skirt or dress. However, if you're travelling to a warm destination and want to avoid the extra layer, consider one of the many anti-chafing creams available. One of my personal favourites is Thigh Rescue from Megababe. This small deodorant stick easily fits in my bag, making it super easy to touch up during the day.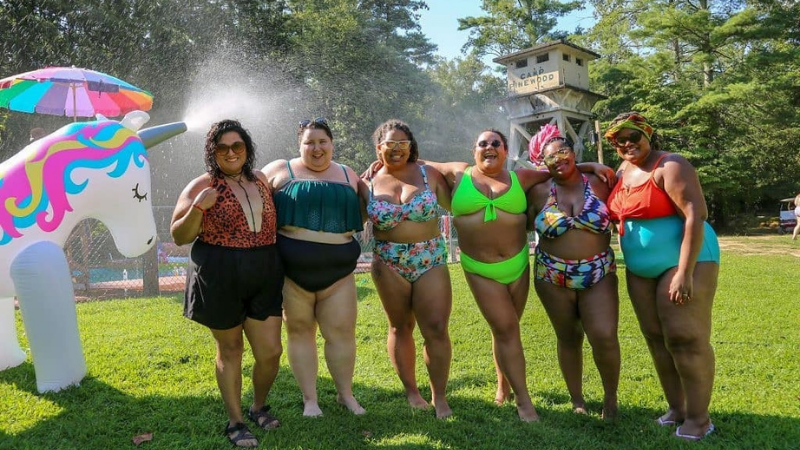 6. Do your research
If you're worried about weight limits or whether certain activities will be available to you, do your research first. Send emails with your questions, or better yet, give the business a quick call. If you are unable to find the research you're looking for, try posting in plus-size-friendly travel groups on Facebook – Fat Girls Traveling and Curvy (Girls LOVE Travel®) are good places to start – or check plus-size travel websites like Chubby Diaries and Plus Size Travel Too.
Even looking up the hashtag #plussizetravelbloggers on IG and TikTok will expose you to so many great plus-size creators. They offer valuable insight and deliver a whole lot of travel inspo.
If you want to follow Chantel's adventures, you can check out her website or follow her on Instagram.
Feeling inspired?