When I booked my backpacking adventure through Latin America, I knew that my 24th birthday would fall somewhere between Nicaragua and Colombia. Being a non-planner, I wasn't sure exactly where I'd end up until about one week prior.
To be honest, I wasn't too keen on the idea of Panama City. I'd pictured myself in some remote jungle romantically out of reach of Wi-Fi, or sipping sundowners on a secluded beach – to me a city didn't feel quite so unique and adventurous for my special day. It's well-worn wisdom on the road that you should never have expectations – whatever they are, they will always be smashed to pieces. Lo and behold, my expectations about Panama City were proven wrong and I had a birthday that I won't forget.
Panama City is unlike any other city in Central America. The country has the fastest growing economy in all of Latin America, and the impressive skyline reflects this development. But don't let it fool you – this city is characterized by contrasts.
While the waterfront is lined with high-rises, slums sit just beneath them. The bay is occupied by both humble wooden fishing boats, and gigantic shipping vessels waiting to pass through the Panama Canal. The confrontation between rich and poor is obvious, along with the distinction between new and old. Lights shine from skyscrapers on one side of the bay, while the crumbling Casco Viejo (Old Town) sits on the other. These juxtaposing worlds are the result of an intriguing and dramatic history, laced with corrupt dictatorships, drug-trafficking scandals and a complicated relationship with America.
It's fair to say, when it comes to Panama City, there is more here than meets the eye:
Old town
Panama City's Casco Viejo is an absolute must-see. This UNESCO World Heritage site is only four blocks wide, but packed with photo opportunities and uncovered stories.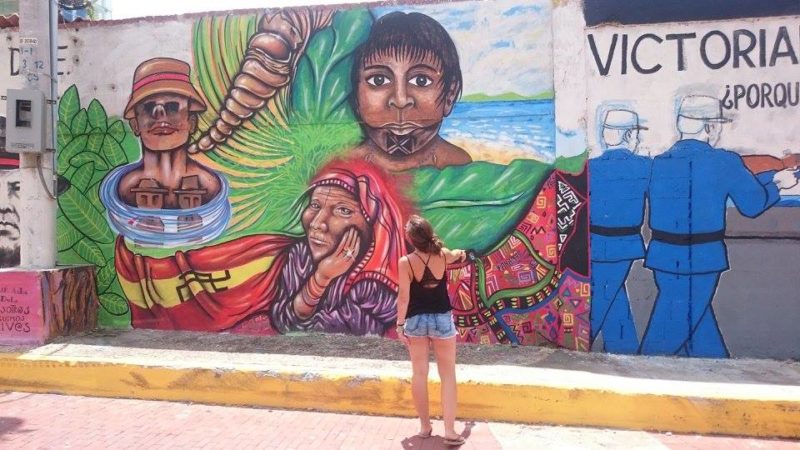 Although considered too dangerous to visit until only a few years ago, this debilitated area is fast-developing into a hipster haven, so make sure you get there before all of its dilapidated charm is replaced with trendy bars and hotels.
Wandering is the activity of choice. While exploring this colorful neighborhood I discovered graffiti with both political message and vivid artistic quality, as well as aged wooden houses painted in blues, pinks and greens. I found shells of buildings that had trees and vines growing within arched, broken windows.
As I photographed one doorway, its owner emerged to chat to me. He was friendly and welcoming, and interested in where I was from and why I was there. He explained how property here was being bought up at an incredible rate, and that he was nervous as to how development would affect the beauty of the area.
RELATED: 7 FOODS YOU SIMPLY HAVE TO TRY IN CENTRAL AMERICA
Trump Ocean Club
Nothing could bear a stronger contrast to the beautiful Casco Viejo than the capital's city center. The Trump Ocean Club, which defines the Panama City skyline with its sail-like shape, looms among lofty neighbors as a hallmark of the American money that has influenced the growth of this city, and that remains there still today. The Trump Tower is the region's tallest skyscraper, and hosts casinos, numerous bars, hotels, and as I discovered, infinity pools.
Having been told that in one of the Tower's casinos there was unlimited champagne for a mere $10, I of course went on a mission to find said place. I did not find any bubbly, but I did discover just how immense this building is, and how opulent. Money's presence hangs in the air like an overpriced perfume, and if you are a humble backpacker like myself, while you are free to explore the numerous bars with their illuminated infinity pools, the lingering staff will make it known that you are not welcome to stay too long.
VISIT PANAMA AND COSTA RICA ON THIS AWESOME 13-DAY TRIP
Panama Canal
This is on the top of most people's to-do lists for Panama City. At first I wasn't particularly interested, but an engineer in my hostel convinced me it would be a sin not to see one of humanity's greatest engineering feats.
I can assure you, even as someone completely disinterested in engineering – this is impressive. Visit in the morning or afternoon to make sure you see a ship passing through the Miraflores Lock from the observation deck.
It's impressive to learn the role the Canal played in the country's history, and in fact the world's history, when you consider the impact it had on world trade. The Museum at the Miraflores Lock, which tells the story of the Canal, is a real highlight.
The canal's history is littered with heavy casualties – many Europeans and Africans came to Panama to assist the build and died of tropical diseases – and numerous characters. It was France who initiated the ambitious project in 1881, but then cast it aside thinking it too expensive. Once they were out of the picture, it became a wrestling match between Colombia, the US and Panama as to who owned this lucrative band of land. In 1999 it was officially returned to Panamanian ownership from the US, and now creates around $2.5billion in revenue per year. Bet the French are kicking themselves.
SUBSCRIBE TO INTREPID'S NEWSLETTER FOR TRAVEL INSPO, COMPETITIONS, GIVEAWAYS & MORE
Manuel Noreiga
If the Canal's history wasn't interesting enough for you, you're bound to enjoy the story of Manuel Noreiga. He deserves his own Netflix series.
In the 1950s, Noreiga was a major cocaine smuggler, in cahoots with Colombia's notorious Pablo Escobar, while at the same time being one of the CIA's most valued spies, and even receiving training from the US Army in counterintelligence. The Americans ignored Noreiga's illicit dealings while he was useful to them, but in the 1980s Noreiga soared up the political food-chain to become military dictator of Panama – allegedly murdering his way to the top spot. Unhappy with the position Noreiga now held, the US indicted him on drug-trafficking charges in 1988. He was removed from power and sent to the States, where he served 40 years in prison. But it didn't end there – after finishing his sentence in the US, he was extradited to France and convicted of murder and money laundering, then extradited again back to Panama to serve a further 20 years in prison, where he remains today.
Ancon Hill
Once you've explored all that the city has to offer and learnt about its colorful history, Ancon Hill is the perfect spot to let it all soak in.
This 654-foot vantage point overlooks the commercial city center and Old Town on one side, and the Bridge of the Americas and Panama Canal on the other. This tranquil park is a calming respite from the busy city, and walking up through the trees is a welcome change from the urban sprawl below.
Being able to take in all of Panama City's sights from one place allows you to reflect on the history that built this city, and imagine how it will evolve into the future.
Tempted to visit this unique city? Check out our range of small group adventures in Panama.
—
(Image credits from top to bottom: iStock/OGphoto, Intrepid Travel, Jen Welch x6)
Feeling inspired?