Mongolia's annual Naadam Festival is a centuries-old tradition that dates back to the era of the great Khans and their dynasties. Wrestling, archery and horse racing—the three skills that Chingis Khan considered essential for any Mongol warrior—are showcased today at the country's largest celebration of the "three manly sports".
Heads up though: Naadam is not as it once was. The modern spectacle feels increasingly like a performance for tourists and foreign dignitaries rather than the cultural pillar it has been since its inception in 1920. Today many locals retreat to the country's rural plains to watch the events on television with their families, while thousands of international tourists flock to Mongolia for the 3-day festival each July. And while many come to experience its unique cultural showcase, some argue that the sports themselves—the historic crux of the events —have become secondary to the performances. More and more, efforts are being allocated towards the grand the opening ceremonies and creating a carnival-like atmosphere.
Travellers still keen to experience a truly authentic Naadam Festival will not be disappointed though. They simply need to know where to look. In the weeks leading up to the headline event in the country's capital, Ulaanbaatar (UB), several of the smaller surrounding provinces host what locals refer to as "Mini Naadam." In the absence of bright stadium lights, admission prices and national media coverage, these grassroots events truly capture the Mongol spirit.  They are hard to find, but impossible to forget. Often tucked between towering mountains and rolling expanses of green hillsides, they can easily missed. But when you find one—well, you'll know.
Last year I spent three weeks in Mongolia, and I was lucky enough to experience two "Mini Nadaams." One was in the province of Ikh Tamir and the other was in the Tuwshruuleh region. Even though I'd arrived to Mongolia most excited about the headline Nadaam competition in UB later in the week, it was at these two events that I developed a true understanding of this remarkable festival.
Our group had just departed Lake Khovsgol, a beautiful mountainous region stretched along the border of Siberia. We made our way south towards our homestay in Shine-Ider.  Almost 5 hours into the trip, our driver spotted some commotion off of the highway, which immediately caught all of our attention. (On the roads that wind across the wild plains of Mongolia, you are lucky to see another car or person every few miles.)
We pulled off to the side of the road and ambled up a rocky path towards the foot of the mountains. It was mere minutes until we set eyes on the Ikh Tamir Mini Naadam.  Children were running everywhere, playing makeshift carnival games, dodging their elders on horseback as if each was competing in his or her own unique obstacle course. Vendors sold everything from traditional threads to khuushuur dumplings, and old friends piled into Gers (yurts) to sip from jugs of Airag, fermented horse's milk that serves as the national drink over the summer. There was a certain aura about this place, from the moment you sat down on the rough and well-worn grass, you immediately felt like you are part of something special.
The announcer took to the microphone. The wrestling was about to begin.
We took our seats on the border of the ring, which had been formed within a circle of spectator vehicles. The locals watching from their cars were quick to blow their horns at any spectators caught standing. We learned to stay low and out of their line of sight.
With little fanfare, 8 wrestlers paraded onto the field and commanded the crowd's attention with each pounding step. Before the matches got underway, all the wrestlers participated in the traditional "Eagle Dance" (Devekh), which symbolizes power and bravery. They were paired with an opponent and matches began simultaneously.
There are no weight classes at the Naadam festival. Young boys are paired up—and subsequently tossed to the ground—by grown men. We watched four sets of matches which were happening simultaneously. It was hard to know where to look as men in traditional garb circled each other and grappled their opponents to the ground. Three of the matches finished within one minute of starting, but one resilient pair kept going. One boy appeared content to dismiss the notion that bigger means better.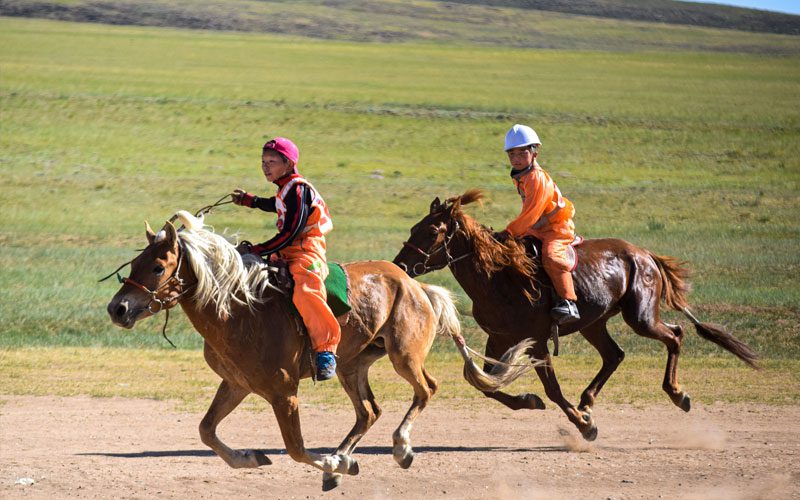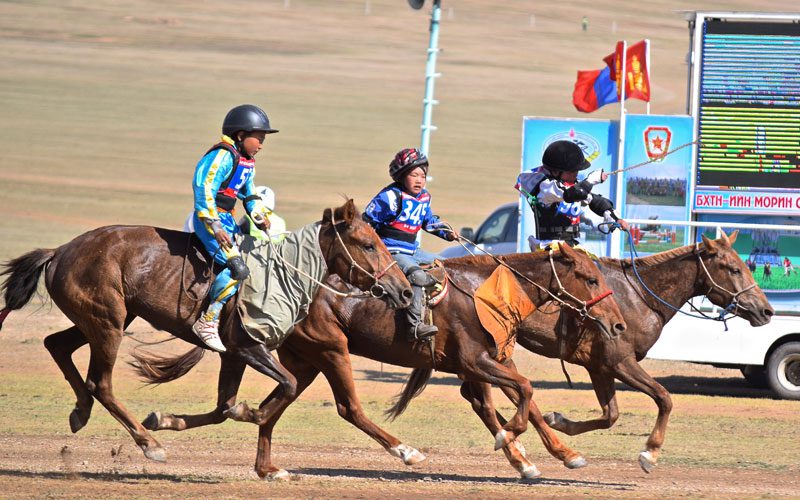 His name was Buyanbaatar. At centre stage, he grappled with a man clearly much older and broader than himself. Together, they drew the attention of the crowd, who began buzzing as a Disney-quality underdog story emerged right before our eyes. The two tussled for several minutes before, after a tense grapple, Buyanbaatar slammed him to the ground. The whispers of the crowd began immediately, and while applause is not customary, you could tell his fellow townsman were impressed with this valiant showing.
Humble in victory, Buyanbaatar calmly participated in the traditional celebratory eagle dance and patted his opponent on the rear—a sign of solidarity and respect. He then went to the side to await his next match. It was at this time we asked our local guide Tem to translate a conversation and learn more about this young wrestling prodigy.
Dressed in his traditional wrestling robes, Zodog sleeves and Huudag bottoms, Buyanbaatar told us the gentleman he had just defeated was 35 years old. He acknowledged that, while an underdog in the match, with no age or weight classes you must learn early on to accept whichever fighter is put in front of you.
For Buyanbaatar these situations were not unfamiliar. He has grown up around wrestling and is even studying physical education at the university in Ulaanbaatar. The name, Buyanbaatar actually translates to "graceful warrior," which is as good a sign as any that he was born into this. Competing in his home province gave him and his family great pride, but, like any young wrestler, he still hopes to take his talents to the national level someday.
As rain began to pour down and the festival came to a brief halt, I reflected on where we were and what we had just witnessed. The mini Naadam at Ikh Tamir was a shining example of Mongolian culture and the true spirit of this historic competition. These wrestlers, archers and horse racers are not here on display for tourists. They are local heroes participating in traditions that are so vital to their Mongolian culture. These are not athletes vying for a paycheque, or sponsorship deals. Rather, they are warriors competing for pride, for themselves and for their country.
The Naadam Festival is one of the most pure and honest cultural celebrations that I have experienced anywhere in the world. Today, travellers can choose to enjoy it alongside thousands of other spectators, crammed into stadium seating. Or, if you know where to look, you can watch from the front lines, surrounded by the country's spirited people, vast hillsides and rugged landscapes. If you are anything like me, when you are faced with these two roads, you will always opt for the one less travelled.
Want to check out Naadam? There are two departures on our Wild Mongolia trip will be visiting during the festival: 28th June and 10th July. 
Words and images c/o Michael Sadowski. Long may he reign. 

Feeling inspired?