"Whenever I get on a plane to go somewhere far away, I just know I'm going somewhere special on the other side. It's like you get on a magical spaceship and when you get off it you're somewhere exciting," my niece Lindsey remarked as we were about to embark on our 30 hour journey from Minneapolis to New Zealand. 
I looked at her and thought, what a fun way to look at long distance flights that most people think are a burden.
Ask 10 people and seven will have New Zealand on their bucket list.  This was my second trip to New Zealand, but this time I was taking my 17-year-old niece as part of my ongoing Niece Project travels.  When I gave her the choice to pick anywhere in the world to travel with me, she chose New Zealand; it was at the top of her bucket list.
We did the New Zealand North Island Explorer over her Christmas break from school. It's one of the busiest times in New Zealand, so I was thrilled to leave all of the logistics to Intrepid so we could simply enjoy our time together making memories and ticking off bucket list items on the North Island.
New Zealand deserves all of the bucket list accolades it gets.  What makes something a bucket list destination? For me it's about unique experiences you can have in a place.  There are a number of experiences on the North Island that are unique to New Zealand as well as experiences that have a unique New Zealand history.
Here are a few of the attractions we were lucky enough to experience:
Black water rafting
We started our trip by doing something totally unique to New Zealand: black water rafting in Waitomo. I did this exact same activity 10 years ago when I traveled through New Zealand, and I've never experienced another tour like it anywhere in the world.
We squeezed into wetsuits, put on helmets, and turned on our flashlights to get ready to explore the underworld of Ruakuri Cave for black water rafting.  As you go deep underground into the cave system you'll be greeted by glowing worms as well as a 'river' flowing through the caves. The darkness of the caves creates a natural anticipation and uneasiness; every drop, jump, and waterfall section was full of screams and laughter from our group.
READ MORE: 6 UNDERRATED NEW ZEALAND TOWNS YOU SHOULD VISIT
The home of the adrenaline rush
"This is the best day ever!" Lindsey exclaimed.  Now that's a statement every aunt wants to hear.  I too was a bit woozy with endorphins the day we did our combo jetboat/bungee jump.
Our Intrepid guide, Sue, suggested this adventure combination as the ultimate thing to do in New Zealand, and she was right. After all, both jet-boating and bungee jumping originated in New Zealand.  So why not knock these things off your bucket list in their birthplace?!
Lindsey and I were both terrified as we walked to the bungee ledge, but fears turned to screams, and screams turned to laughter.
View and hike around active volcanoes
The North Island is basically one big thermal wonderland.  It's that heat and energy that makes the North Island landscape so unique. We stopped in Tongararo Park for a couple of nights and spent our Christmas morning waking up surrounded by volcanoes!
In the park you'll view two volcanoes, Mount Ruapehu, an active stratovolcano, and Mount Ngauruhoe, an active composite cone.  At times you'll actually see smoke coming from the cones, but they were pretty quiet for Christmas.
There are a number of bucket list-type hikes you can do around these two beauties. Lindsey and I did the Lower Tama Lake Hike with stunning views of the cones, while others in our group braved the day-long and unpredictable Tongararo Crossing over the volcanic terrain.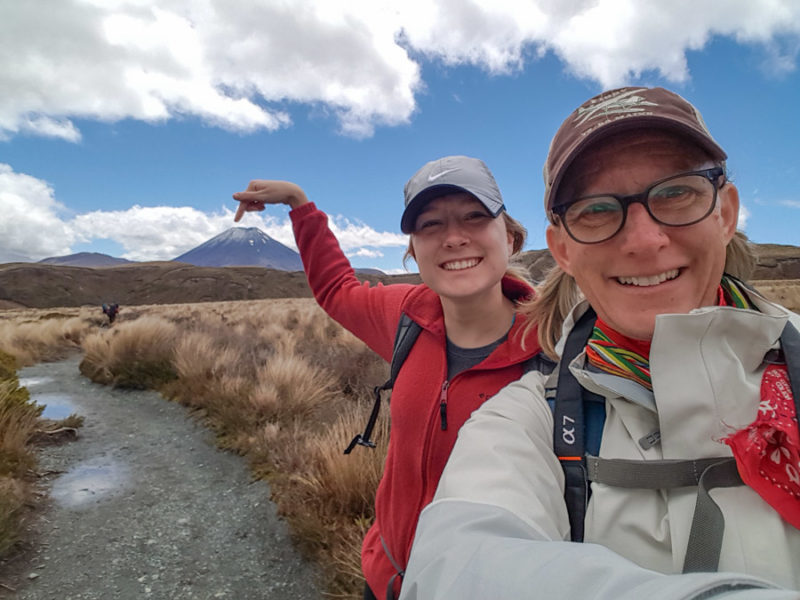 SUBSCRIBE TO INTREPID'S NEWSLETTER FOR MORE TRAVEL INSPO, COMPETITIONS & GIVEAWAYS
The heat is on
If you really want to put the heat on then you'll enjoy experiencing Te Puia Geothermal Park in Rotarua.  You'll see and feel the heat bubbling up beneath your feet! Plus, for a really unique experience, see Pōhutu, the largest active geyser in the southern hemisphere. It erupts once or twice every hour and sometimes reaches heights of 100 feet.
Lindsey and I were both mesmerized by bubbling mud and colorful pools. But we loved simply sitting on the warm thermal rocks on the chilly morning visit!
Learn about Maori Warriors
The Maori culture is the heartbeat of the Island, and completely unique to New Zealand.  This cultural attraction is your chance to learn how to be a Maori warrior and understand how they lived and survived in such a harsh environment.
Be prepared to learn to be feared, as well as go nose-to-nose in a 'hongi' as a way to share breath between tribes, and you'll even get an opportunity to learn the famous haka war dance. It's a fun hands-on experience complete with warriors and a giant cultural feast to end the night.  Our fearsome Intrepid 'tribe' left with a whole new appreciation for the Maori culture.
You can choose to do any of the above bucket list activities or choose from a variety of other adventurous and cultural add-ons as part of the North Island Explorer trip.
—
All of these places and experiences are great, but they are even better when you make these memories with someone.  Traveling through New Zealand with my niece and Intrepid made the experience even better than my first time in the North Island.
After all, when you can share a place with someone, it makes it that much more special. And by the time we ended our two weeks in the North Island, our whole Intrepid group was like a big family to us.
So get on a big magical spaceship and be prepared to land somewhere really special. New Zealand's North Island is what bucket lists are made for!
Ready to pay this special, scenic country a visit? Check out Intrepid's range of small group adventures in New Zealand.
—
Images all c/o Sherry Ott at ottsworld.com. 
Feeling inspired?