If your definition of 'camping' is staying at a motel, our new Intrepid Premium trips could be for you.
Whether you're relaxing at a 5 star resort in the middle of the desert or bedding down for the night surrounded by the beauty of Milford Sound, your accommodation on a Premium trip has been hand-picked by experts to provide a deeper appreciation of the local culture, history and architecture of the destination you're exploring. Here are some of our favourite new Premium accommodation options in Australia and New Zealand.
Sails in the Desert
This famous resort hotel at Uluru was originally named after its soaring white sails but these days the focus is more about celebrating the surrounding area's cultural and spiritual landscape. Guest rooms and public areas showcase the earthy colours of the Red Centre and striking works by First Nations artists feature throughout. Allow time to browse the on-site gift shop's traditional artworks and crafts, many of which have been created by the local Anangu people. The extensive hotel buffet has live cooking stations and an impressive selection of healthy, continental treats. Sails also features Yulara's largest pool, a resort-style oasis surrounded by lush grass and towering ghost gums. Keep an eye out for kangaroos hopping past while you're enjoying a refreshing dip.
STAY AT SAILS IN THE DESERT ON OUR PREMIUM RED CENTRE TOUR
Wanaka Homestead
Stylish yet comfortable, the five Alpine-style rooms and personal service at the family-run Wanaka Homestead make this a memorable boutique stay in New Zealand's South Island. Think of it as your cosy home away from home while you're exploring Wanaka. Your day starts with a delicious breakfast with eggs made to order and a continental selection that showcases the region's tasty produce. On chilly nights, kick back with a glass of pinot noir in front of the fireplace. If the weather is good, sitting outside on the lawn surrounded by the region's spectacular scenery is the place to be. If you want to head into town, take a stroll along the shores Lake Wanaka and you'll be there in 15 minutes.
STAY AT WANAKA HOMESTEAD ON OUR PREMIUM NEW ZEALAND SOUTH ISLAND TOUR
Milford Sound overnight cruise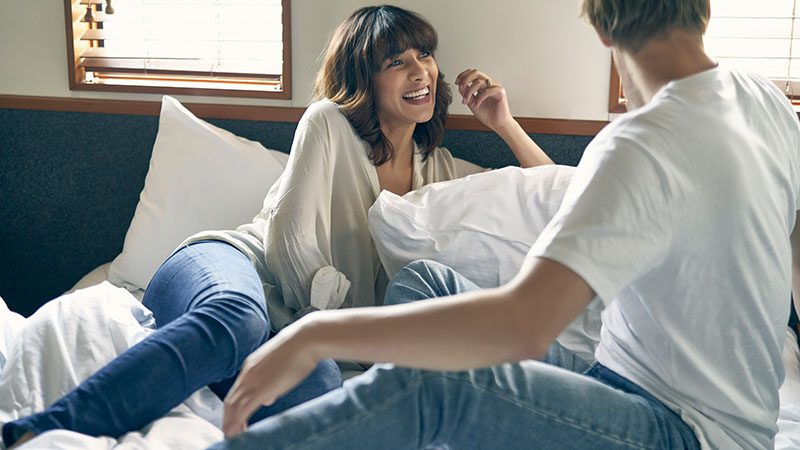 The South Island's Fiordland is filled with eye-popping scenery carved by glaciers over thousands of years and you'll be in a prime spot to enjoy it when you spend the night here on an overnight Milford Sound cruise. Climb onboard your heritage-built vessel and get settled in your comfy cabin, then make your way onto the deck as the boat leaves the dock. After you've taken in the scenery, it's time to head inside and sit down to a delicious three course dinner. During the day, the landscape is filled with steep fiords, lush rainforest, cascading waterfalls and mirror-like lakes with granite peaks that have been untouched for centuries. When darkness falls, the night sky is scattered with a million stars.
STAY OVERNIGHT ON MILFORD SOUND ON OUR PREMIUM NEW ZEALAND ENCOMPASSED TOUR
Kamana Lakehouse
With its lofty perch high above Queenstown's other accommodation, the glorious views of Lake Wakatipu from Kamana Lakehouse stretch all the way to the Remarkables. You'll find not one, but four, cosy fireplaces in the communal bar, lounging and dining area known as The Space. It's the perfect spot to kick back with a glass of sparkling from nearby Central Otago and enjoy the sunset. Rooms are spacious and contemporary and come with plush beds and large bathrooms. Don't miss the hotel's large Kamana Soak Tubs which overlook the beauty of the lake and the distant mountains and are available for private bookings for up to three people.
Kings Canyon Resort
Kings Canyon might be 300 kilometres from the nearest town but there's no need to rough it at this comfortable resort. The 128 rooms are spacious with a casual ambience that encourages you to relax and soak up the beauty of the surrounding landscape. With a couple of comfortable chairs and views over the grounds which contain more than 15,000 native plants, this resort is the perfect place to kick back and relax at the end of a day spent exploring the magnificence of Kings Canyon. If you can't get enough of the view, there's a terrific lookout just a few minutes' walk from your room.
EXPERIENCE KINGS CANYON RESORT ON OUR PREMIUM RED CENTRE TOUR
Feeling inspired?