It is impossible not to be touched by the ancient beauty and spiritual significance of Australia's Red Centre.
Watching Uluru shed its dark cloak and glow in the first light of dawn, discovering natural medicines with the Luritja people near Kings Canyon and finding the Garden of Eden in the middle of a desert are just some of the ways you can experience this vast and surprisingly diverse part of Australia.
From marvelling at the world's most famous rock at Uluru-Kata Tjuta National Park to strolling through an internationally acclaimed artwork and dining at linen-napped tables surrounded under stars, here are eight incredible ways to immerse yourself in the magnificence of Uluru and the Red Centre with Intrepid Premium.
1. Experience the magic of Australia's famous monolith
Uluru is a monolith that's around the same height as the Eiffel Tower but only a small part of it is visible; it is said to extend up to six kilometres underground. Most people are familiar with Uluru's iconic picture postcard sunset or sunrise view but these look nothing like the opposite side of the rock with its rugged valleys and craters. This northern section hasn't been photographed commercially for years due to its spiritual significance, which means the only way to truly 'see' Uluru is to walk around its base.
2. Stroll through a carpet of lights
Field of Light was originally conceived as a pop-up art installation by British artist Bruce Munro. Since its debut in 2018, it has been extended indefinitely due to its overwhelming popularity. The installation is called Tili Wiru Tjuta Nyakutjaku by the Anangu people, which means 'looking at lots of beautiful lights' in the local Pitjantjatjara language. Consisting of 50,000 hand-blown light bulbs interconnected with fibre optic cables, this stunning masterpiece slowly pulses and changes colour. Stroll along the trails which travel through this massive installation after enjoying a special dinner under the stars.
Dine under the stars on our Premium Red Centre tour
3. Explore the dreamy Garden of Eden
The Garden of Eden is real and you'll find it in the Red Centre. Kings Canyon is far from the desert wasteland some visitors expect. This aptly named waterhole at Kings Canyon is like an oasis, tucked into a crevice of rocks and surrounded by huge cycads and other lush flora, and home to more than 600 species of plants and animals. Years ago, the Garden of Eden was part of a vast yet shallow sea. Look carefully and you'll see the fossilised ripples of a once-sandy ocean floor.
See the Garden of Eden on our Premium Red Centre tour
4. Dine on native bush foods
Australia's appreciation of native bush foods has come a long way since the late 1800s when colonial botanist Joseph Madden said, "Native food plants are nothing to boast of as eatables". Back then, locally sourced ingredients such as finger lime and kangaroo were considered little more than a source of nutrition. Now they draw international acclaim from diners, enthusiastic home cooks and some of the world's best chefs. In the Red Centre, you can sample delicacies such as lemon myrtle feta, finger lime margaritas and spicy bush tomato chutney, and learn from specialist suppliers like Kungkas Can Cook.
Meet specialist suppliers, Kungkas Can Cook, on our Premium Red Centre trip
5. Discover the Dark Sky
Home to its very own Dark Skies Festival, Alice Springs is one of the best places in Australia to take a virtual trip to the moon and beyond. Get an introduction to all things celestial, learn how to navigate using the night sky, and see if you can spot your zodiac sign. If you've ever wondered just how big the universe is, now is your chance to find out. You'll also get the chance to look through a very, very big and very impressive telescope for a superb view of the night sky.
6. Experience the spirituality of Kata Tjuta
For most travellers who visit the Red Centre, the focus is almost always Uluru and seeing the rock at sunrise and sunset in all its colourful glory. While there's no doubt Uluru is spectacular and a special place, especially for Australia's Anangu people, what surprises many visitors is that Kata Tjuta (The Olgas) holds even more spiritual significance. Seeing this amazing formation of rocks will have you mesmerised and completely captivated. Perhaps even more so than Uluru. Join a guided walk into Walpa Gorge in the centre of Kata Tjuta or conquer the longer Valley of the Winds walk.
Experience the magic of Kata Tjuta on our premium Red Centre tour
7. Walk around the rim of Kings Canyon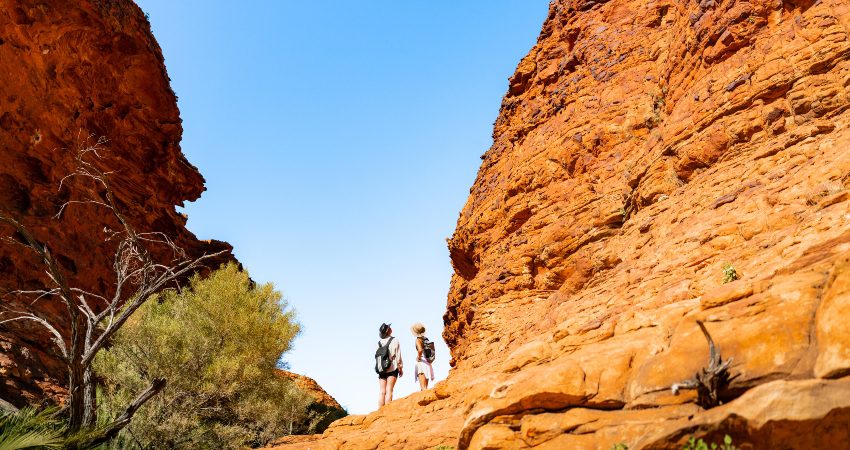 Grab a few litres of water, pull on your hiking boots and get ready for one of Australia's best walks. Join your leader as you climb the stairs to the top of Kings Canyon where you can walk around the canyon rim and take in the view which seems to go on forever. It's a heart-pumping climb taking approximately 3 hours but it's definitely worth it. You can also saunter through Priscilla's Crack, made famous after featuring in Priscilla Queen of the Desert, a classic Australian film.
8. Learn about First Nations culture with the Luritja and Pertame people
The Luritja people have lived in the area around Kings Canyon for more than 20,000 years, surrounded by a mountain range that was formed around 300 million years ago. Join a local Luritja guide and gain a unique insight into First Nations culture as you learn about the local landscapes, bush tucker, and bush medicines and how they are used for healing. Along with extracting witchetty grubs from acacia tree roots and learning how to cure common ills with native plants, you'll also see local artwork and discover how the Luritja and Pertame people use spears and boomerangs used to hunt wildlife.
Feeling inspired?